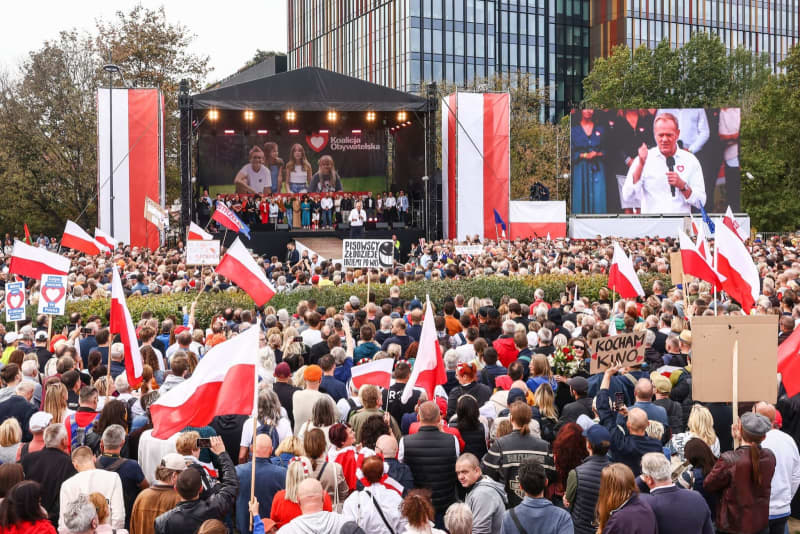 Around 1 million people joined a demonstration by Poland's largest opposition alliance in Warsaw against the policies of the ruling nationalist Law and Justice (PiS) party.
Sunday's march through the center of the Polish capital comes two weeks before parliamentary elections. Densely packed, participants marched carrying signs with slogans including "We've had enough and we want change" and "Together we have the strength."
"Nothing can stop this force," former Prime Minister Donald Tusk said on Sunday. "Let no one in power have any illusions. This change is inevitable."
The demonstration, dubbed the "Million Hearts March," was called by Tusk's center-right Civic Coalition, which emerged from his former Civic Platform party. The left-wing Lewica alliance also supported the demonstration.
The opposition hoped to build on the success of a similar rally held in June.
Tusk said nearly 1 million participants joined at the start of the event, while the PAP news agency, citing unofficial police information, reported nearly 100,000 protesters.
Poles will go to the polls on October 15th. In all polls so far, the nationalist PiS, in power since 2015, leads by a clear margin, but may need to find a coalition partner to form a government.
According to a poll by the Ibris Institute on September 27, the governing party should obtain 35.1% of the votes and can hope for a third term in government.