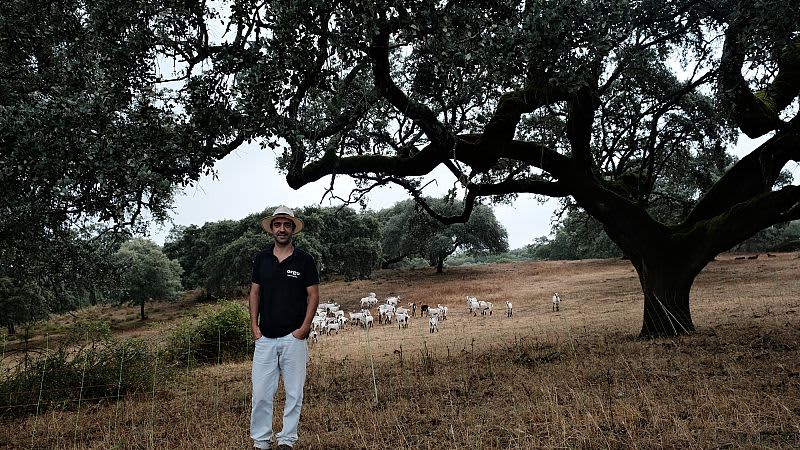 In the rolling hills of the Alentejo, black Iberian pigs and merino sheep graze under the old holm oaks of Herdade S. Luís.
Nearby, Serpentina goats nibble on brambles and clear undergrowth of flammable grasses. They are helping prevent fire just before the peak of summer, when the hills become dry and temperatures can soar up to 45°C in the south Portugal.
While the pigs, goats and sheep are busy nibbling, the jays and hoopoes fly over the thousands of trees on the estate and José Mendes piles up cork boards freshly extracted from the 700-hectare oak groves.
Every summer he swings his ax and then carefully peels the outer layer of bark off the cork oaks without damaging the trees – a skill he learned over more than four decades as a cork cutter.
"What I like the most is seeing these beautiful old trees" Mendes says as he stands under the sprawling branches.
It is employed between May and August each year to extract the cork when the trees are in their active phase of growth.
Once the plug is removed, it grows back slowly. It can be harvested every nine years, an average of about 15 times in the two hundred years of each tree's life. When they get old or become brittle they come to "retire" from cork extraction but continue to produce acorns and give shade to the Farm animals.
"Many of the cork and holm oaks here are more than two centuries old, they have been managed by my family for many generations," says Francisco Alves, the owner of the property.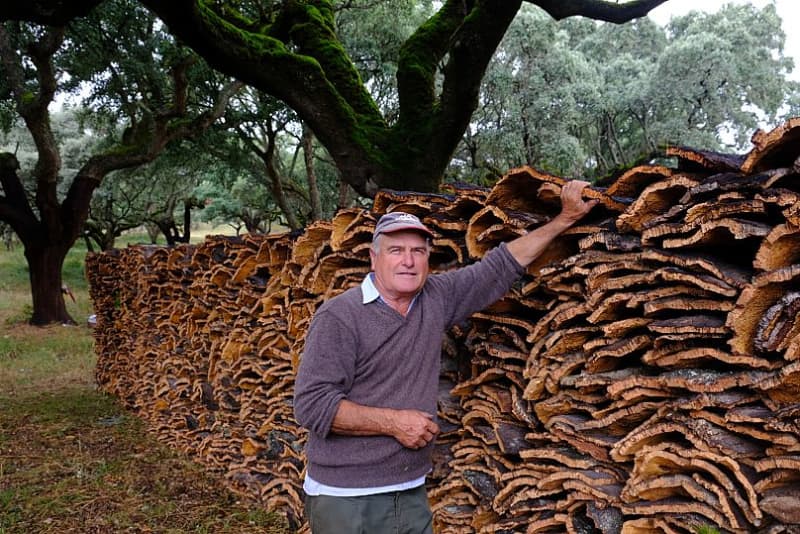 Anthropocene: This lake in Canada could prove that we've entered a new chapter in Earth's history
EU and UK exported 1,000 tonnes of banned pesticide to poorest countries, investigation reveals
Producing food in a hot, dry climate
Herdade de S. Luís is part of the vast Montado estates, an ancient cultural landscape that extends from the hills to the Alentejo plains that combines trees with livestock and crops.
"Montado is the perfect system because it allows us to integrate different land uses," says Alves.
"The animals help prevent fires and can fertilize the soil. They feed on acorns and also benefit from the shade of oak trees.
Like most of the Mediterranean region, Southern Portugal is experiencing worsening drought and desertification. In Alentejo the soils are poor and it often doesn't rain for nine months.
But the Montado system manages to create abundance even in conditions of scarcity.
"It's a way of using the land that respects existing resources," says Teresa Pinto-Correia, a professor at the University of Évora who studies rural landscapes and agricultural systems.
"It is a very rich ecosystem, where biodiversity is preserved but at the same time it is a productive system".
Shaped by human activity for pastures and cork, it can also produce acorns, fruit, honey and mushrooms.
The Montado is included in the European Union's Habitats Directive and is considered High Nature Value farmland supporting hundreds of species, including the endangered Iberian Lynx and the threatened imperial eagle.
Interspersed trees adapted to drylands, animals and crops can increase food production but also build soil, regulate water cycles, protect against erosion, increase biodiversity and sequester carbon.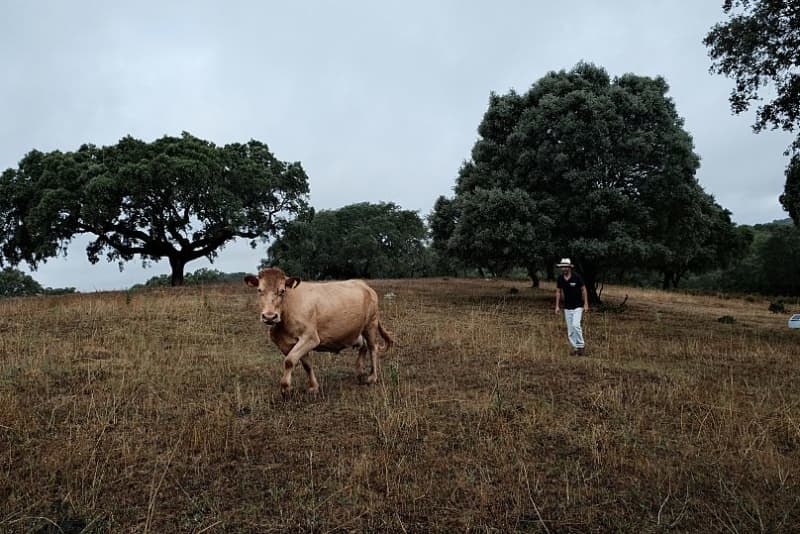 Regenerative grazing
Alves not only carries on the centuries-old tradition of Montado. He's also combining it with newer regenerative techniques to empower soil health in his fields and produce better quality food.
In Herdade de S. Luís no chemicals are used and no plowing is done so as not to move the soil.
Alves closely manages where and for how long animals forage and their effect on the land. He uses the electric fence to limit them to one section of the field at a time. Here they graze for a few days, deposit the manure and then are moved to a new plot. Moving grazing to new plots allows grazing land time to be reclaimed.
"Animals shouldn't have to graze on the same pasture all the time, because that leads to land degradation," he explains, adding that this multi-species regenerative grazing system is designed to mimic the way herbivores move through the landscape.
He regulates the movement of his herds to make sure grazing is done in a sustainable way that keeps the soil healthy.
Studies have found that, when carefully managed to prevent overgrazing, extensive grazing can stimulate plant growth, help spread seeds, reduce soil erosion and improve water retention.
Alves says regenerative methods are improving not only soil health, but animal welfare as well. Grazing multiple species together can reduce pest populations and increase grazing efficiency. Unlike conventional breeding, he doesn't spend a lot of money on medications and rarely has to take his animals to the vet.
Her father even introduced a maternity leave system for the black Alentejano of the farm pigs. Pregnant pigs are taken to huts under oak trees where they spend peaceful weeks before and after giving birth.
How fire turned a goat herder into a climate migrant in 'empty Spain'
What is biochar and why is it reaping such positive climate outcomes on farms and forests?
Is regenerative grazing sustainable?
Despite regenerative grazing's promises to respect soils and ecosystems, the system is not without its controversies.
Livestock is one of the world's leading producers greenhouse gas emissions. In the EU, the agricultural sector it generates about 10% of the region's emissions, and livestock is responsible for 81-86% of agricultural emissions. Judging by its climate footprint, meat fares poorly compared to foods of plant origin.
While well-managed grazing can help maintain healthy ecosystems and increase soil quality, productivity and carbon storage capacity, some researchers argue it is not a climate solution because it cannot offset livestock greenhouse gas emissions.
From a cattle farm gone vegan to Scottish seaweed: all the winners of PETA's new Farming Awards
A report from the Food Climate Research Network suggests that improved grazing management could offset between 20 and 60 percent of the grazing sector's average annual emissions. This is only a small fraction of what is emitted by all livestock.
Studies have also found that high-density grazing can increase soil compaction and erosion, so it is only considered sustainable if the density is low.
George Monbiot, known for his environmental activism, wrote that grazing creates "the most harmful agricultural products" because pasture-fed meat requires large amounts of land. He claims the only way to limit the environmental damage of agriculture is to have the highest yields from the smallest amount of land.
But small numbers of grazers can be consistent with healthy ecosystems and a low greenhouse gas footprint.
In southern Portugal, hundreds of species have adapted to the centuries-old Montado and have found habitat in the different tiers of trees, shrubs and grasses. They would be at risk if traditional land uses changed.
Alves recognizes that it is not possible to satisfy the current global appetite for meat with regenerative grazing. The solution, he says, is to eat less but better quality meat.
"Many vegans anyone who has visited my farm understands that this is a good way to preserve the environment," he says.