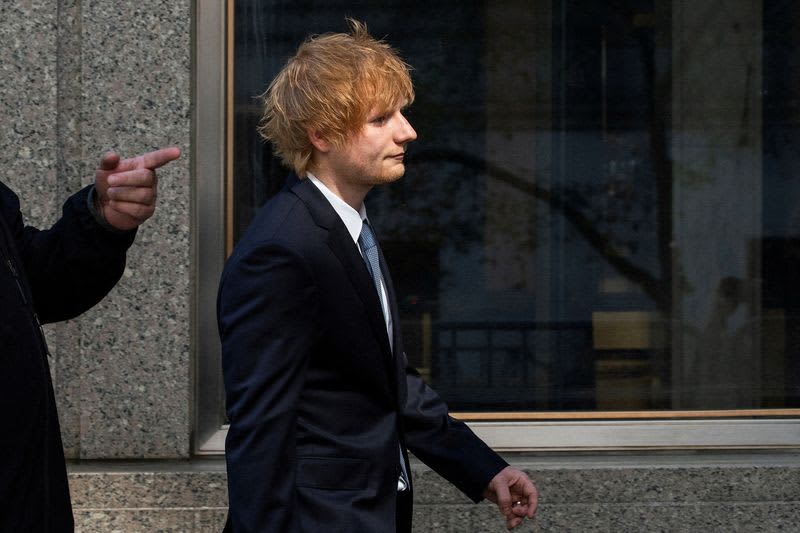 By Jack Queen and Luc Cohen
NEW YORK (RockedBuzz via Reuters) – With Ed Sheeran on the witness stand in federal court in Manhattan on Tuesday in a copyright trial, jurors were warned to remain calm as they watched a video of the British pop star performing a medley of his song hit "Thinking Out Loud" and the classic Marvin Gaye track "Let's Get it On".
"We don't allow dancing," U.S. District Judge Louis Stanton instructed the seven-member jury.
Lawyers for the estate of singer-songwriter Ed Townsend, Gaye's co-writer of the 1973 hit, showed the video to bolster their allegation that Sheeran, his label Warner Music Group and music publisher Sony Music Publishing owe them a share of profits for allegedly copying the song .
Ben Crump, an attorney for the estates, said in his opening statement that the performance amounted to a "confession" from Sheeran.
When questioned by Keisha Rice, another attorney for the plaintiffs, Sheeran said many pop songs use the same three or four chords and that he "mash-ups" many songs during his concerts.
"You could go from 'Let it Be' to 'No Woman, No Cry' and back again," Sheeran testified, referring to Beatles and Bob Marley classics. "If I did what you're accusing me of doing, I'd be a total idiot to get on stage in front of 20,000 people and do it."
The trial is the first of three Sheeran could face due to the similarities between the two hits.
In her opening statement, Sheeran's attorney Ilene Farkas, said the two songs are distinct and told jurors that plaintiffs should not be allowed to "hog" a chord progression used in countless songs.
Sheeran at one point got frustrated when Rice cut short his response about the medley.
"I feel like you don't want me to answer because you know what I'm going to say is going to make a lot of sense," she said.
Sheeran is expected to testify again later in the trial as part of the defense case.
If the jury finds Sheeran liable for copyright infringement, the trial will enter a second phase to determine how much he and his labels owe in damages. The first trial should take about a week.
(Reporting by Jack Queen and Luc Cohen in New York Editing by Matthew Lewis and David Gregorio)