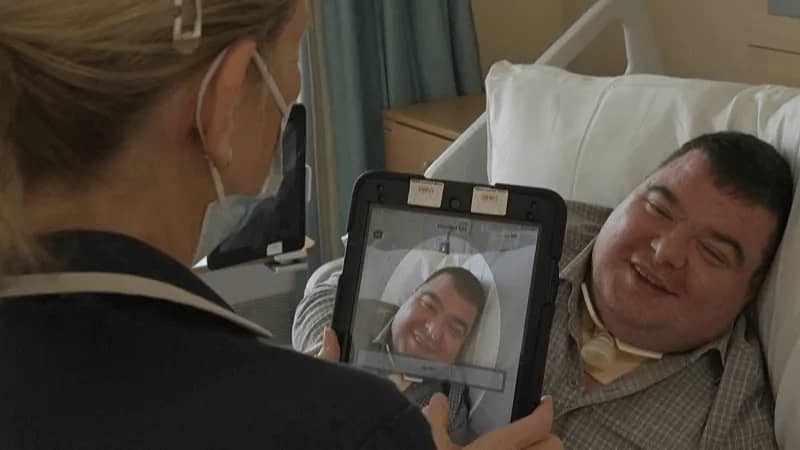 "I'm in pain," says a digital voice as 33-year-old Nathan Armstrong stares at an iPad at Royal Preston Hospital in Lancashire, north-west England.
He's using SRAVI, short for Speech Recognition For The Voice Impaired, a lip-reading app being trialled in UK public hospitals among patients who have difficulty speaking, due to throat cancer, surgery sore throat or a stroke.
Created by a Northern Irish company, it uses artificial intelligence (AI) to decipher patients' lip movements and help them better communicate with healthcare professionals and their families.
Romania's prime minister has hired the world's first government AI adviser. What will he do?
Patients simply say a sentence in front of a smartphone camera and the app will interpret it and say it out loud for them.
Armstrong, who has had vocal cord paralysis since he was a child, underwent a tracheostomy in 2019.
While the surgical opening in his windpipe helped him breathe easier, it caused him to lose his voice. Since most of the air he exhales goes through his tracheostomy tube rather than his vocal cords, he can only speak by covering the breathing hole and forcing air through his mouth.
The new lip-reading app has had a "big impact" on her life, she says, in the hospital and beyond.
Sam Altman says "potentially scary" AI is on the horizon. This is what keeps AI experts up at night
'A true godsend'
"Breathing is very difficult and tiring. So it helps me to communicate with others, without having to have an assistant or someone with me," she said. "I can do everything by myself, which gives me more freedom to do things with my children as well."
The Belfast-based company behind the app, Liopa, says it can understand more than 40 common phrases \- like "I need the toilet" or "call my family" – and the software keeps learning to improve its performance.
The health workers of the hospital where the experiment is being carried out are also satisfied.
"SRAVI has been a godsend," said Linda Phillips, research nurse for the trauma and acute care team at Royal Preston Hospital.
"I want to be alive": Has Microsoft's AI chatbot become sentient?
"I'm a real junk lip reader. So it's really, really helped me. And I feel like I'm able to deliver better care because I know what the patient is asking of me."
While the UK National Tracheostomy Safety Project stresses the importance of communicating with patients undergoing tracheostomy and laryngectomy, the tools for this have been limited.
Communication cards and analogue and digital tablets have helped, but some patients are too weak to have that "fine finger dexterity," said Shondipond Laha, a critical care consultant at the Royal Preston Hospital.
"Those things are useful, but they're very hard to express whole sentences, for example," she added.
For more on this story, watch the video in the media player above.