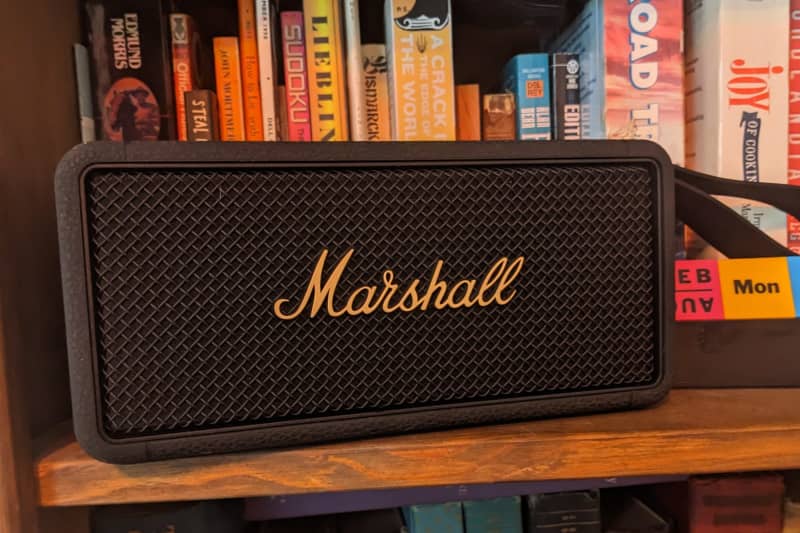 At first sight
Expert evaluation
Professionals
Excellent clarity and separation Rich, punchy bass and plenty of it IP67 weatherproof 20-hour battery life
Against
Significantly more expensive than the competition in its class
Our verdict
If its hefty price tag isn't a standoff for you, the Marshall Middleton is the best-sounding midsize portable Bluetooth speaker we've tested. It also has an IP67 weatherproof rating, making its superior sounds a minor miracle.
Price at time of review
$299.99
Today's best prices: Marshall Middleton Bluetooth Speaker
Retail Price Marshall Headphones (Zound Industries) $299.99
Price comparison of over 24,000 shops worldwide
Marshall Middleton's mid-sized portable Bluetooth speaker costs three or more times as much as most of the competition, but its sonic performance, build quality, iconic design, and protection from the elements fully justify its price.
Marshall-branded speakers like this one appeal to guitar-hero enthusiasts of a certain age and income range. The industrial design of the speakers echoes that of the very loud and very popular guitar amplifier head units that rock stars ranging from Eric Clapton to Jimi Hendrix, Pete Townshend and dozens of others started using in the 1960s. I mention income range here because Marshall brand speakers tend to be expensive.
The Marshall Middleton is hands down the best sounding, weatherproof mid-sized portable speaker I've ever heard.
In case you don't know, Marshall speakers and headphones are built by the Swedish company Zound Industries under license from Marshall Amplification; that is, the company that builds Marshall amplifiers is not directly involved in the design and manufacture of these other products. Given the quality of this speaker, that shouldn't bother anyone; we just want to make that clear because marketing doesn't.
This review is part of TechHive's in-depth coverage of the best bluetooth speakers.
Designed from a classic past
The Marshall Middleton measures 4.29″ x 9.06″ x 3.74″ (HxWxD), and its sturdy build quality results in a carrying weight of 4 lbs. A soft, detachable lanyard makes it easy to carry (more on that later). Having owned several Marshall amps, I find the Middleton more reminiscent of than directly resembling the classic look. The silicone-like coating on the top, bottom and sides is black, not the dark green sported by most Marshall amps. The front grille is thatched somewhat like modern guitar speaker cabinets, if not necessarily Marshall-type. There is, of course, the familiar brass Marshall logo on the front, as well as a matching gold rocker button on the top of the unit.
There are also grilles on the back and each end of the speaker (for passive radiators), but these are simply hole patterns, they are not thatched, like the front. There are two 3-inch woofers inside the cabinet, each driven by a 20-watt class-D amplifier, and two 0.6-inch tweeters. Each of the tweeters is driven by a 10 watt Class D amplifier. That's a decent amount of juice for a speaker this size, and the Marshall Middleton gets pretty loud.
You can take this speaker just about anywhere, guaranteed by the manufacturer's IP67 weatherproof rating. That IP code means the Marshall Middleton is impervious to dust ingress and that it can withstand submersion in up to one meter (3.28 feet) of water for 30 minutes without fail. Given that there's an exposed USB-C port (for charging its battery or to use that battery to charge another device, like your smartphone) and a 3.5mm aux input on the rear of its cabinet, I find that the valuation is a bit surprising. I don't know how Zound keeps the water out, but this isn't the only speaker I've met to make such a claim, so there must be a catch. However, I would make sure those ports are completely dry before plugging anything in if the unit goes for a swim.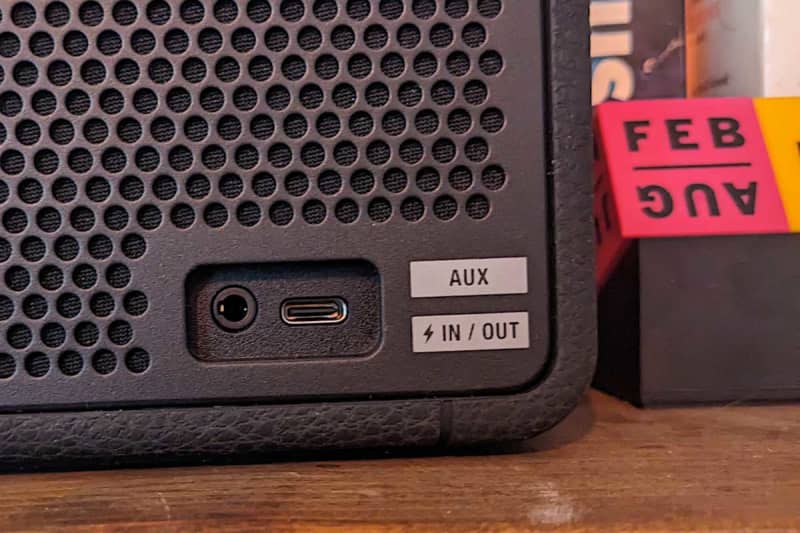 Jon L. Jacobi
The controls on the top of the unit consist of the aforementioned multifunction rocker switch, which acts as on/off (press and hold), volume (up/down), previous/next/forward (right/left), and stop (quick press ). Separate touch-sensitive strips adjust bass and treble levels (press the top of the strip to boost and the bottom to cut), as well as small buttons for Bluetooth pairing and battery level control.
There's also a dual-purpose level meter for the tone controls and battery to the left of the multifunction rocker button. While the controls are easy to use, they're not particularly easy on the eyes and you'll notice in the image below in the Sound section.
The lanyard I mentioned earlier folds under and around a retaining rod built into the top right corner of the speaker cabinet. A combination of a push post and screw cap keeps the whole deal together. I'm not really doing it justice here, but it's large enough and soft enough to make the 4-pound speaker comfortable to carry. And yes, it looks a lot like a guitar strap.
Sound and running time
To be completely honest, I've heard other Marshall brand speakers that sounded very good, but not as good as their price tags would suggest, so I was ready to sell this one short. That would have been a mistake.
The Marshall Middleton is hands down the best sounding, weatherproof mid-sized portable speaker I've ever heard. It vies for the best of the breed even before you consider its IP67 weatherproof rating. Actually I can't remember a Bluetooth speaker that created a better first impression playing Jerry Goldsmith's theme (RIP) at Star Trek: First Contact. He shone with AC/DC's "Thunderstruck," Toto's "Africa," and everything else I threw at him.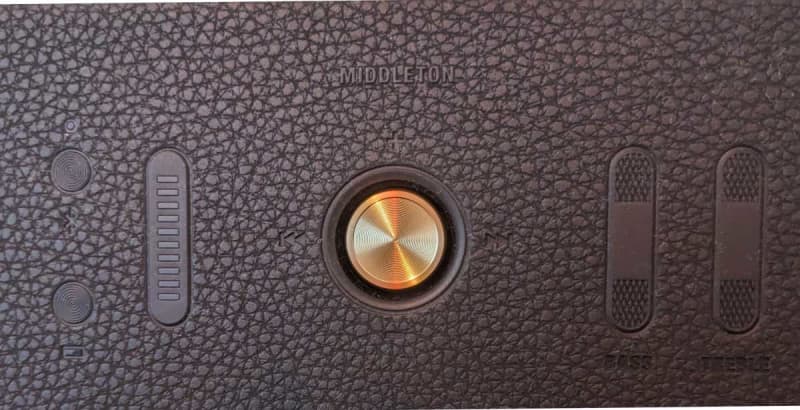 Jon L. Jacobi
What are the tonal characteristics that impressed me so much? First, there was clarity. I bumped the treble up a notch or two, but the top end was salient without being harsh, as so many small speakers are when over-EQed. The cymbals sparkle, if you'll pardon the poetic license. There's also a lot of banging; that is, bass response. In fact, sitting on my desk, I had to roll back the low end due to an excess of bass due to the acoustic coupling with the wood. The low end is also what's known in the industry as "tight," avoiding the floppiness in the lower registers you find in much of the competition.
The midrange is well defined and there is little overlap confusing this portion of the sound spectrum with many small speakers. But what really amazed me was the sense of stereo separation. It's not as well defined as it would be with decent speakers, but with the speaker facing directly at me, I could detect right/left panning of many instruments. That's rare, especially in a speaker this size.
Many Marshall-branded Bluetooth speakers, including this one, support a feature the manufacturer calls "Stack Mode." This feature allows multiple speakers to play the same music from the same source. This is a clearly ironic reference to the practice of placing a Marshall amplifier head on top of two speakers to produce what is famously known as a "Marshall stack". There doesn't seem to be support for True Wireless Stereo (TWS) here, a technology for creating pairs of stereo Bluetooth speakers, and I didn't have another Marshall Middleton to test either scenario.
After listening to the Marshall Middleton at low volume for about 8 hours, the speaker indicated that I had used up half its battery. This tells me that the manufacturer's 20-hour battery life claim is reasonable. I've mentioned this speaker gets loud, but I should cover that comment by saying it's loud for a mid-sized portable Bluetooth speaker, not comparing it to some of the 100-watt behemoths we've reviewed.
Expensive, but the best
It goes against my nature to definitively state that any mid-sized portable speaker is worth $300. But while you might find a speaker approaching Marshall Middleton's sonic signature for less, you're unlikely to match it. This has been sitting on my desk well past the time other Bluetooth speakers have been back in their box. Consider it a sound endorsement.