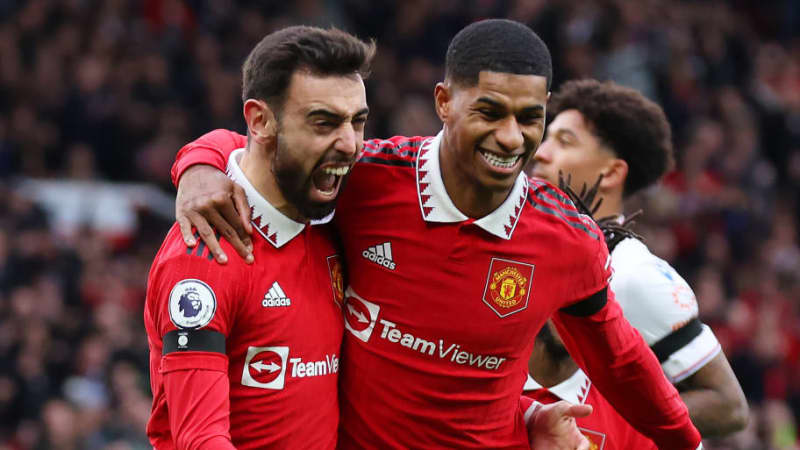 By Toby Cudworth
Marcus Rashford says he "loves" playing under Bruno Fernandes at Manchester United and has nothing bad to say about the club's vice-captain.
The Portuguese playmaker has come under intense criticism for his on-pitch behavior while at United embarrassing 7-0 defeat to Liverpool Sunday.
Fernandes was labeled a "disgrace" by Gary Neville during Sky Sports' post-game coverage, while Roy Keane said "the aging players didn't show any leadership skills, they were embarrassing."
Some have questioned whether Fernandes, who captained United again on Sunday in Harry Maguire's absence, is fit to be part of Unitedbut received strong support from the in-form Rashford.
'"I love playing with Bruno, as you can imagine," Rashford he told the media ahead of the Europa League clash between United and Real Betis. "For a striker like me, he is the perfect player to play with.
READ NEXT
"I think he's been a good leader for us, even when he wasn't captain, which is always a good sign. He's helped other players become better leaders.
"The reality is that we cannot be a well organized team with only one leader as captain. He has done a lot for us in terms of leadership skills and that has been from the moment he arrived."
When asked about criticism fernandes received, Rashford added of his support for the 28-year-old: "I have nothing bad to say about Bruno. Like the coach said, nobody's perfect. Sometimes you want to win so badly you end up doing things that are a bit ' out of character, I stand by Bruno 100% and stand by him.
"As a team we have to support him because he's a fantastic player and, as the coach said, we wouldn't be in the position we are in if he didn't play for us."
LISTEN NOW
In this edition of The Promised Landpart of the 90min podcast network, Scott Saunders AND Rob Blanchette discuss Manchester United's shock 7-0 defeat to Liverpool at Anfield, who should be the next club captain and more.
If you can't see this embed, click Here to listen to the podcast!
This article was originally posted on 90min.com as Marcus Rashford defends Bruno Fernandes after harsh criticism.