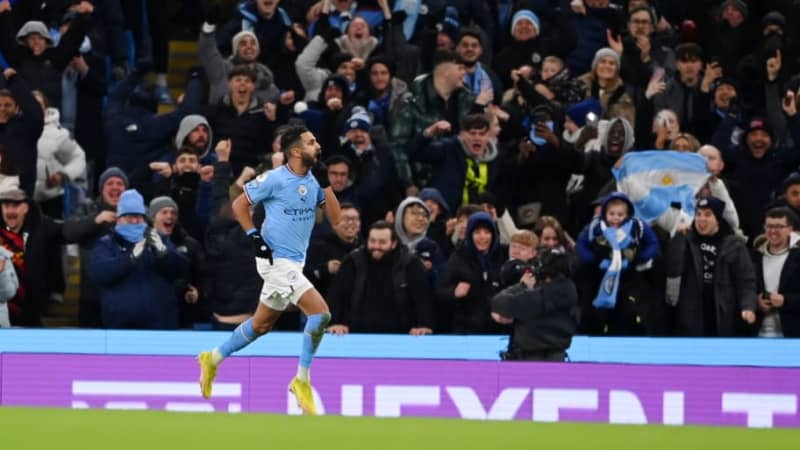 By Jack Gallagher
Riyad Mahrez inspired a second-half comeback for Man City, netting a brace as the Citizens came from two goals down to record an important victory.
Spurs had taken a first-half lead thanks to goals from Dejan Kulusevski and Emerson Royal, before Julian Alvarez, Erling Haaland and a brace from Mahrez completed a brilliant comeback.
As expected, Manchester City dominated possession in the early exchanges, but Tottenham were largely able to limit the home side's shots on target.
Cristian Romero proved to be particularly impressive in the first half hour and perhaps provided the only real highlight of that period when he came back to fire a brilliant sliding tackle on Jack Grealish.
The match opened up a little more after that period, with Tottenham working their way into the final third a little more frequently. In doing so, however, they left themselves more open in defence, allowing City to get their first notable shot on target in the 38th minute. That effort would come from young Rico Lewis, who got Hugo Lloris into a decent saw with his 25-yard drilled effort.
Their next chance would come minutes later when Nathan Ake sliced ​​the ball over the Spurs defense and into Erling Haaland's path. After checking well, the Norwegian saw his next lateral shot well saved by Lloris.
After some decent saves, Lloris would deliver his customary clanger in the 43rd minute, rushing out in an attempt to beat Haaland from a cross into the heart of the penalty area. Haaland got there first, but only managed to head the bar.
Then, out of nowhere, Tottenham took the lead.
The goal would come from awful play from Man City, with Ederson playing a terrible ball on Rodri inside his own penalty which Rodrigo Bentancur ripped off his feet. The ball would then fall to Kulusevski who coolly flicked wide into the net.
Just before the break Tottenham scored still. This time it was Emerson (of all people) who scored the goal, with the full-back reacting first in the six-yard box to head for home after Ederson saved a shot from Harry Kane.
Early in the second half Man City found a way back into the game, when Alvarez reacted well to a goal scramble to fire the ball into the roof of the net.
Planet League's Rich Holmes and Sustainable Clarets' Cat Jebson join Shebahn Aherne to discuss the football climate ahead of Green Football Weekend.
If you can't see this embed, click here to listen to the podcast!
Minutes later, City equalised.
The second would come from Haaland, who hooked a delicate header through Mahrez's goal to make it 2-2.
For all the momentum with City, it was actually Spurs who nearly retook the lead on the hour. After brilliant play from Kulusevski down the right wing, the Sweden international put the ball back into the back of Ivan Perisic who saw his next shot on goal deflected off the post by Lewis.
Spurs and Perisic would regret making a mistake minutes later when Mahrez made it 3-2. The Algerian – in electric form in the second half – passed Davies on the right of the penalty area before passing Lloris.
The wide player bagged his brace in the 89th minute, capitalizing on a painful first touch from Clement Lenglet before chipping the ball over Lloris.
Manchester City player ratings
POR – Ederson – 2/10 – His painful play led to the first goal.
RB – Rico Lewis – 10/7 – Manchester City's best defender and he's only 18 years old. A serious talent
CB – Manuel Akanji – 4/10 – Poor on the ball at times. To anyone who has watched the Bundesliga over the last five years, it remains a mystery that Guardiola starts Akanji week after week.
CB – John Stones – 5/10 – The pass was better than that of his partner.
LB – Nathan Ake – 5/10 – Fought against Kulu.
RM – Riyadh Mahrez – 10/10 – He ignited the style early in the second half to get his side back in the game, before scoring the third goal to give City the lead.
CM – Rodri – 4/10 – Slow in possession, slow to react on exit. Not at its best.
CM – Ilkay Gundogan – 6/10 – In a real midfield battle against Bentancur and Hojbjerg.
LM – Jack Grealish – 4/10 – Cut instead of confronting her man too often.
ST – Erling Haaland – 7/10 – He missed some really good chances in the first half but finally scored his goal in the second.
ST – Julian Alvarez – 10/7 – He repaid his manager for starting him off by scoring City's first goal of the night.
SUB – Kyle Walker – N/A.
SUB – Bernardo Silva – N/A.
Tottenham player ratings
POR – Hugo Lloris – 4/10 – He made some good saves but probably could have made better for City's third.
CB – Cristian Romero – 10/7 – He was brilliant in the first half, single-handedly stifling most of City's attacks.
CB – Eric Dier – 6/10 – Put in a pretty decent performance.
CB – Ben Davies – 3/10 – Overthrown a couple of times too many in the second half.
RWB – Emerson Royal – 6/10 – He scored a very rare goal and also did well in defense.
CM – Rodrigo Bentancur – 7/10 – How much difference he makes to this Tottenham team-mate cannot be underestimated. His diligence prepared the opening of Kulu.
CM – Pierre-Émile Hojbjerg – 6/10 – He has worked hard to track down City midfielders.
LWB – Ivan Perisic – 4/10 – He then nearly gave Tottenham a 3–2 lead, but was denied by Lewis and the post.
AD – Dejan Kulusevski – 7/10 – He scored the opener and caused problems for Ake throughout.
ST – Harry Kane – 6/10 – A few nice touches and his movement put City in difficulty.
LW – Heung-min Son – 2/10 – Lacking in trust. By far Tottenham's least effective striker on Thursday night… and for the rest of the season as well.
SUB – Ryan Sessegnon – N/A.
SUB – Yves Bissouma – N/A.
SUB – Clement Lenglet – 0/10 – He came off the bench and made a mistake which led to the goal. Full bad.
SUB – Richarlison – N/A.
This article was originally posted on 90min.com as Man City 4-2 Tottenham: Player ratings as Riyad Mahrez inspires comeback.