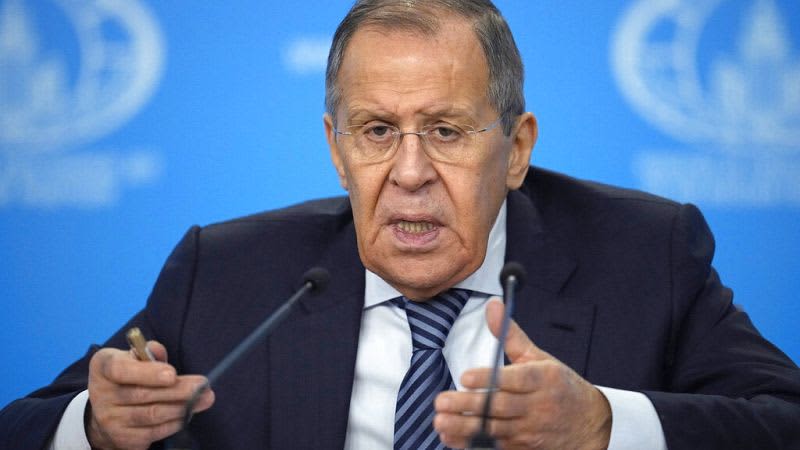 Russian Foreign Minister Sergey Lavrov lashed out at Western support for Ukraine in a series of scathing rhetorical jabs during an hour-long press conference in Moscow.
As the West steps forward military aid to Kievthe rhetoric of the Kremlin seems to be becoming more and more hostile.
Speaking to reporters, the top Russian diplomat said the West was responsible for the war in Ukraine.
"What is happening now in Ukraine is the result of many years of preparation by the United States and its allies to start a global hybrid war against the Russian Federation," Lavrov said.
"In fact, nobody is hiding it. Just recently Croatian President Milanovic said that it is NATO's war against Russia. It is a simple and honest statement," he added.
The West decides and decides for Ukraine without Ukraine.
Lavrov also appeared to rule out peace talks, saying it was the West that prevented Kiev from negotiating.
"The West decides on behalf of Ukraine. It was they who forbade Zelensky from reaching an agreement with Russia at the end of March last year, when such an agreement was ready," he said.
"The West decides – and decides for Ukraine without Ukraine."
The Russian foreign minister has accused the United States and NATO of direct involvement in the war in Ukraine
Lavrov blames West for war in Ukraine, accuses him of Russophobia at UN General Assembly
Russian President Vladimir Putin has long accused the West of provoking the war in Ukraine and justified his decision to send troops to Ukraine on February 24 with the need to "demilitarize" and "denazify" the country and prevent Kiev to join NATO.
Ukraine and its Western allies have rejected such arguments as a cover for an unprovoked act of aggression.