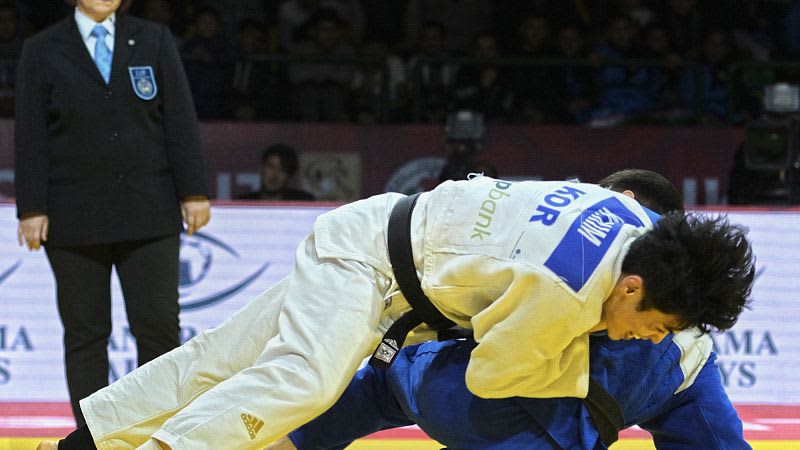 After hosting an exciting world championship last year, the World Judo Tour returns to Tashkent.
On Friday, Yunusohbud Sport Arena was filled with enthusiastic judo fans who came to support their local heroes.
At 60 kilograms, Korean Kim Won Jin showed great tenacity, changing direction beautifully, to overwhelm Kazakhstan's Serikbayev to capture the second Grand Slam gold of his career.
Kazakh Judo Federation President Kuanyshbek Yessekeyev was present to present the medals
"Since I got a very good result today, I will enjoy it as much as possible and get ready for the next competition. I will do my best to get the gold medal again for the next event. That's how I feel," said Kim Won Jin.
Stojadinov wins for his injured friend
In the 48kg category, the Serbian Andrea Stojadinov showed excellent judo throughout the day, facing the Portuguese judoka Cristina Costa in the final.
During the intense contest, Stojadinov tied the score with just four seconds left, forcing a gold score and then claiming his first gold on the World Judo Tour.
The medals were awarded by the host of the International Judo Federation (IJF), Xinjian Zhou.
"My best friend found out seven days ago that he can't continue judo due to some medical problems and I promised him I would fight for both of us. And I'm really happy that he ended up with a gold medal because I really wanted to give it my all now that I know what people are going through and what can happen in life," Stoyadinov said.
Emotional victory
Mascha Ballhaus made a statement in the 52kg final. She scoring a first waza-ari against two-time world champion, Shishime Ai, and keeping up the pressure to achieve what was a thrilling victory and a first World Judo Tour gold medal.
IJF Vice-President Dr. Laszlo Toth presented the medals.
Tajikistan's Nurali Emomali landed an impressive ko-uchi ippon to defeat local up-and-comer Nurillaev in the 66kg category, leaving his home crowd stunned.
The Minister of Youth Policy and Sports of Uzbekistan, Dr. Adkham Ikramov, awarded the medals.
The Georgian wins the eighth gold
In the 57 kg category, Japanese expert Tamaoki Momo showed great strength to hold off Georgian Eteri Liparteliani, winning her eighth gold medal at the World Judo Tour.
IJF host Saken Mussaibekov was present to award the medals
As the first day of judo in Uzbekistan draws to a close, it is clear the crowds have been treated to an unforgettable display of skill and sportsmanship from their local talent.
Uzbek judokas delivered breathtaking moments, leaving the audience in awe.