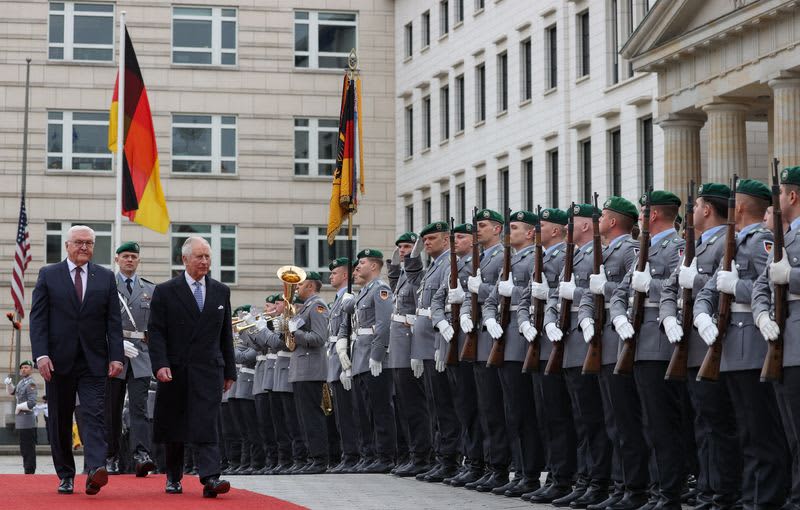 By Sarah Marsh
BERLIN (RockedBuzz via Reuters) – King Charles spoke on Wednesday of the "lasting value" of the UK-German relationship, saying in his first state visit abroad since taking the throne last year that he would do everything possible to strengthen bonds.
The King was greeted with full military honors at Berlin's Brandenburg Gate earlier in the day as he began his visit to Germany, part of efforts to restore Britain's relationship with Europe following its exit from the European Union in 2020.
"I was struck by the warmth of friendship between our nations," Charles said in a speech, delivered partly in German, at a state banquet in the German capital hosted by President Frank-Walter Steinmeier.
Underlining the "generosity of spirit of the German people", the British monarch paid tribute to the nation's hospitality by hosting more than one million Ukrainian refugees.
In his ongoing focus on sustainability, Charles credited Germany's expertise in organic farming with "significantly improving my farms and my soil."
Charles, who succeeded his mother Queen Elizabeth upon her death at 96 in September, was due to travel to France first but canceled that leg of the tour due to violent social unrest.
That Charles had chosen European powers France and Germany for his first state visit, even before his coronation in May, was an important "European gesture," said Steinmeier, who greeted Charles and his wife, the Queen consort Camilla, in Berlin.
"Today, exactly six years after Britain began its exit from the European Union, we are opening a new chapter in our relationship," said Steinmeier.
During a three-day visit to Berlin, Brandenburg to the east and the northern port city of Hamburg, Charles will attend engagements that reflect the issues facing both countries, such as environmental sustainability and the Ukrainian crisis, and will also commemorate the past , according to Buckingham Palace.
Out of respect, the fighter jets escorted Charles' plane to Berlin, where he became the first visiting head of state to receive a ceremonial welcome at the capital's most famous landmark, the Brandenburg Gate, a symbol of division of Germany during the Cold War and subsequent reunification.
WELCOME
Charles greeted hundreds of supporters along the historic square and waving German and British flags, after hearing a rendition of the national anthem and watching soldiers hoist the British flag on a mast.
Underscoring Charles' interest in environmental causes, one of his first engagements in Berlin was a sustainability forum, addressing issues from hydrogen and renewable energy to industrial decarbonisation, according to Buckingham Palace.
There, he met German Foreign Minister Annalena Baerbock of the Green Party, a junior partner in the country's three-way coalition, as well as businessmen, academics and civil society representatives.
"Today, we, friends and partners, look ahead – and that is why we are very consciously starting this state visit with a decisive argument for our future on this planet," said Steinmeier.
He said he was grateful that Charles got involved in these issues to begin with. "We too benefit from your conviction today, Your Majesty," said Steinmeier.
Charles is due to speak in the lower house of Germany's parliament, the Bundestag, in Berlin on Thursday and meet some of the Ukrainians who have taken refuge in Germany since the Russian invasion of their homeland.
"We are feeling how deep our connection runs, especially in these times," Steinmeier said in his speech at the banquet. "Germany and the United Kingdom are today, even militarily, the two greatest supporters of Ukraine in Europe".
The German president gave Charles a photo from his first visit to Germany as a child in 1962 with his father, the late Prince Philip, to visit relatives. Charles has visited Germany on more than 40 occasions as prince, including 28 previous official visits.
The British government makes the final decision on such state visits, which are part of its use of the 'soft power' of the monarchy.
As such, the trip was a clear sign of British Prime Minister Rishi Sunak's drive to restore relations with Europe, said Anand Menon, director of the UK academic think tank in a Changing Europe.
However, any warmer relations with Europe brought about by the visit could cool off if other post-Brexit issues flare up.
Britain has plummeted from Germany's fifth most important trading partner to eleventh in 2022, behind the Czech Republic.
(Reporting by Sarah Marsh, Phil Noble, and Emma-Victoria Farr; additional reporting by William James, Michael Holden, Rene Wagner, and Andreas Rinke; editing by Bernadette Baum and Mark Heinrich)