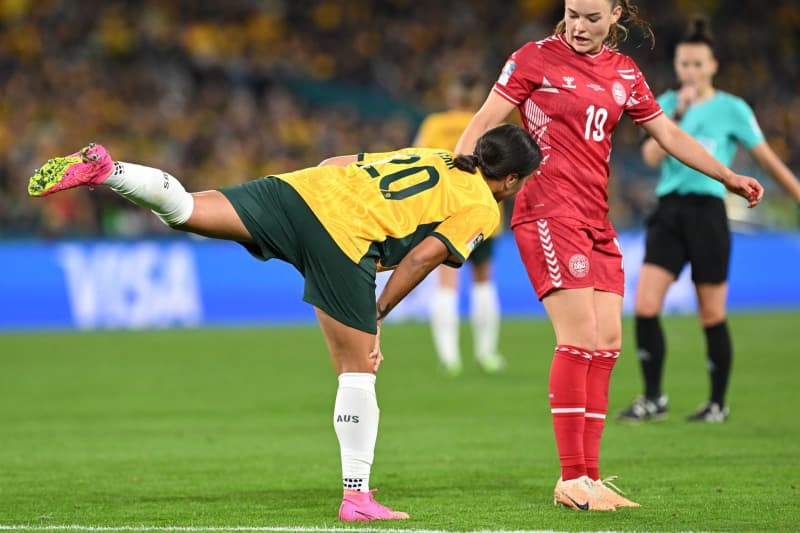 Co-hosts Australia never looked in trouble and reached the quarter-finals of the women's World Cup with an 2-0 win over Denmark on Monday.
The Matildas had another reason to celebrate as top star Sam Kerr made her comeback after missing the group stage due to a calf injury.
Australia have never made it past the quarter-finals at a World Cup, but will have the chance to achieve their best result at home against either France or Morocco, who play on Tuesday.
"I'm really proud. You can't really beat this feeling. Apart from the Nigeria game, every match has just been awesome. We just want to keep experiencing this more and more," goalscorer Caitlin Foord said.
"We'll enjoy this one tonight and then we'll keep a close eye on France-Morocco tomorrow. But if we play like that, I'm confident we can beat anyone," she added
Foord broke the deadlock in the 29th, sprinting down the left to conclude a fantastic counter-attack for Australia.
Chances were scarce until Australia extended their lead when Hayley Raso smashed the ball into the net in the 71st to seal their spot in the quarters.
But the big crowd at the Stadium Australia was again euphoric when Kerr came on for her first appearance at her home World Cup, which Australia is co-hosting with New Zealand.
Kerr was forced to sit out during the group stage due to a calf injury picked at the eve of the tournament.
"I'm really happy we got Sam back on the pitch – for her and the team," coach Tony Gustavsson said.
Denmark had the better of the possession and territory, especially in the first half, but struggled to be dangerous in front of the goal for all their dominance.
Gustavsson said that Australia "were under a lot of pressure in that first half," but "didn't get rattled."
"This team is very mature in playing tournament football and they found a way to win. I'll keep half an eye on France-Morocco tomorrow but I'm going to download and analyse this game first," he said.