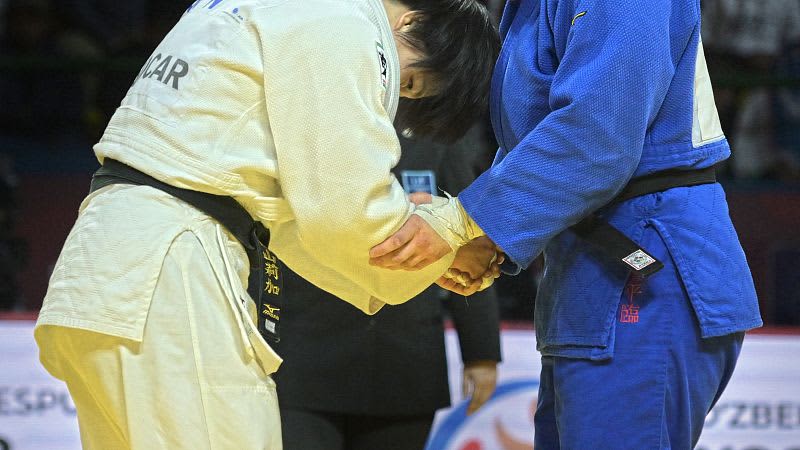 In Tashkent the new generation of Uzbek judokas had the opportunity to meet their local heroes and receive selfies and autographs, including that of the 2022 world champion Davlat Bobonov, who was in action on the third day of Tashkent \- Heavyweight Day!
It was a beautiful judo performance from start to finish.
Wearing his world champion's red patch, Bobonov was on fire throughout the day, producing unforgettable judo, scoring in each of his contests, the crowd was on its feet as he made his way to the final, where he met Japan's Sanshiro Murao .
Bobonov triumphed in an intense bout, giving his home crowd what he came for. A beautiful day for Bobonov!
The Minister of Youth Policy and Sports of Uzbekistan, Dr. Adkham Ikramov, awarded the medals.
"I love the competitions that take place at home. They are tough from one point, but the support from local fans is amazing and that helps me win" Bobonov explained.
Class less than 78 kg
Japan's Rika Takayama faced Italy's Giorgia Stangherlin. Takayama produced clinical groundwork to pin the Italian and claim the under 78kg title.
The medals were awarded by the IJF Education & Coaching Director Mohammed Meridja.
"I wanted to become the champion here," Takayama said, "so I'm very happy to have won this competition."
Class under 100 kg
The passionate crowd was also excited for the under 100kg class. Judo veteran Varlam Liparteliani of Georgia took first place. In the final he defeated the Austrian Aaron Fara, first scoring a waza-ari and then holding it by ippon.
IJF Events Director Dr Lisa Allan awarded the medals.
Class above 78 kg
In over 78kg Japan's Wakaba Tomita climbed to the top step of the podium by defeating China's Shiyan Xu, taking the gold number 4 for the Japan team.
The medals were presented by IJF sports director Skander Hachicha.
Class over 100 kg
In the men's over 100kg final, another Uzbek Alisher Yusupov took on Japan's Saito Tatsuru.
Snatching victory from the jaws of defeat to clinch the final gold medal of the event, driving the crowds crazy and bringing an incredible three days to a perfect conclusion.
The general secretary of the NOC of Uzbekistan, Oybek Kasimov, was present to award the medals.
Another splendid competition concludes in Tashkent. Uzbekistan continues to elevate the sport of judo!