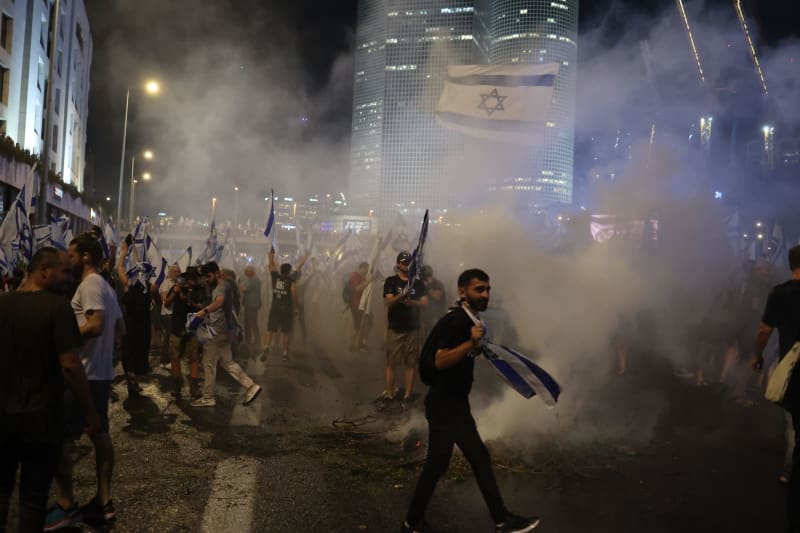 After renewed protests this week, Israeli opposition leader Benny Gantz has called on the government to resume negotiations on its controversial judicial reform.
Gantz urged Prime Minister Benjamin Netanyahu to immediately announce that he will halt unilateral legislation and return to dialogue.
"If not for democracy, if not for security, if not for the economy, then for the integrity of the people of Israel and the prevention of bloodshed," said the opposition leader.
Months of negotiations between the government and the opposition brokered by President Isaac Herzog have led to no compromise.
For months there have been mass protests against the reform. The number of participants in recent demonstrations has increased again after the government resumed the restructuring of the judicial system.
Thousands of people blocked a central highway and several roads in the coastal city of Tel Aviv on Wednesday. Similar protests have taken place in many other cities.
Several people were injured by, among other things, the use of water cannons. One person is at risk of losing his sight, Israeli media reported on Thursday, citing the hospital treating the patient.
Netanyahu temporarily halted judicial reform in March after massive pressure, but he's moving forward again.
Netanyahu's government is believed to be deliberately weakening Israel's Supreme Court with these reforms.
The government accuses the judges of excessive interference in political decisions. Critics see the separation of powers and thus the democratic order of Israel in danger.