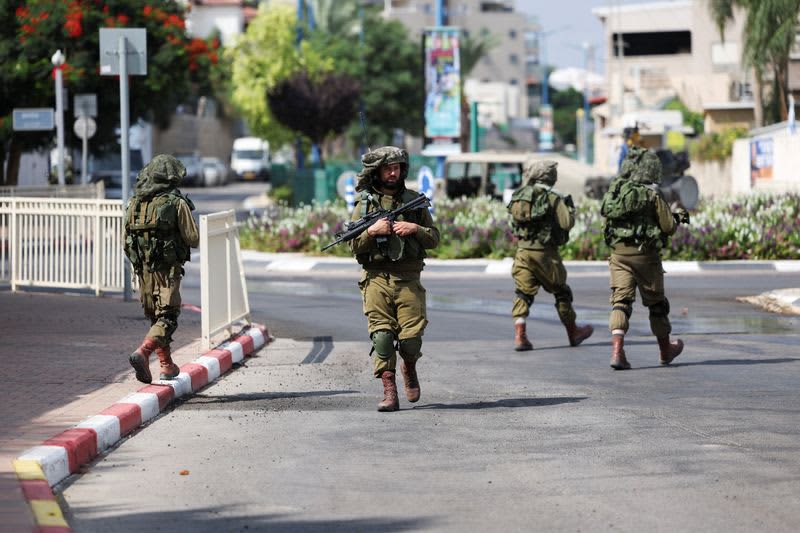 (RockedBuzz via Reuters) – "Civilians of Gaza City, evacuate the south for your safety and that of your families," the Israeli army told more than a million Palestinians in the Gaza Strip's largest city.
He gave them 24 hours to mass tanks for an expected ground invasion. In Gaza, during Friday prayers, preachers urged people not to leave their homes.
The United Nations said evacuating everyone was impossible due to disrupted electricity supplies and shortages of food and water after a week of retaliatory airstrikes following the Hamas attack on Israeli border areas on Saturday .
CONFLICT
* "The United Nations believes it is impossible for such a movement to take place without devastating humanitarian consequences," said U.N. spokesman Stephane Dujarric.
The World Health Organization said local health authorities told them it was impossible to evacuate vulnerable hospital patients. "So moving those people is a death sentence," WHO spokesman Tarik Jasarevic said.
* Palestinian President Mahmoud Abbas told US Secretary of State Antony Blinken in Amman on Friday that he "rejects the forced displacement" of Palestinians in Gaza, WAFA reported.
* US Secretary of State Antony Blinken said the Israeli government showed him photographs and videos of Hamas atrocities. Blinken said he showed a child "riddled with bullets," beheaded soldiers and burned youths in their cars. "It's just depravity in the worst way imaginable," he said.
*Saturday's Hamas attack killed more than 1,300 Israelis. More than 1,500 Palestinians were killed in retaliatory attacks.
* Protests in support of the Palestinians were taking place in the Middle East and elsewhere. The Al-Aqsa Mosque in East Jerusalem was the center of attention. Jewish communities in France and elsewhere were also planning demonstrations of solidarity with Israel.
* Russian President Vladimir Putin said an Israeli ground offensive in Gaza would result in a level of civilian casualties that would be "absolutely unacceptable."
* Human Rights Watch accused Israel of using white phosphorus munitions in its military operations in Gaza and Lebanon.
* Egypt said it was directing international aid flights for Gaza to an airport in Sinai near the Gaza border.
HUMAN IMPACT
* Israeli airstrikes have made Gaza's main cemeteries unsafe to reach, so grieving families are burying their dead in informal cemeteries dug into empty lots.
* An Israeli family fears for a sick grandmother chased away by Hamas gunmen.
* When Israel called up its reservists and declared war this week, the response was swift and overwhelming.
INTERNATIONAL
* The International Criminal Court has jurisdiction over potential war crimes committed by Hamas in Israel and by Israelis in the Gaza Strip, even though Israel is not a member state, the ICC's top prosecutor told RockedBuzz via Reuters.
"It is not necessary to be the prosecutor of the ICC. The heart of every human being must be chilled, frozen and heartbroken to see the images coming out of Israel and Palestine in these last days," said ICC prosecutor Karim Khan .
* Iranian Foreign Minister reportedly met with Hezbollah chief.
* The United Nations human rights office said: "We call for a global call, an unequivocal call from every member state of the international community, especially those with influence, to insist on full respect for international humanitarian law."
* Republican infighting in the U.S. House of Representatives has left the House unable to act to support Israel's war and pass government spending bills before funding runs out.
* Israel, the White House and some rival Republican presidential candidates criticized former US President Donald Trump after he described Hezbollah as "smart" and said Netanyahu was "not prepared" for the attack.
* US universities have become flashpoints for protests on both sides of the Israel-Hamas conflict, and authorities around the world are preparing for more protests on Friday and over the weekend.
* Turkish President Tayyip Erdogan has told the German Chancellor that a sovereign Palestinian state should be created for a lasting solution to the conflict, the Turkish presidency said.
* China's top diplomat and Foreign Minister Wang Yi said that the Palestinian issue is the heart of the conflict in the Middle East, and that the crux of the matter is that "justice" has been denied to the Palestinian people.
INSIGHTS
* An Israeli invasion of Gaza will face an enemy that has built a formidable arsenal and dug a vast network of tunnels to escape attackers.
* A factbox on the Gaza Strip, ravaged by conflict and economic blockade.
* The war is part of a complex system of international justice that has emerged since the Second World War.
* The conflict hinges on statehood, land, Jerusalem and refugees, pitting Israeli demands for security against Palestinian aspirations for a state of their own.
* "He's elusive. He's the man in the shadows." The secret Hamas mastermind behind the assault: Mohammed Deif.
* The war between Israel and Hamas overturns Biden's dual strategy in the Middle East: mediating Israeli-Saudi détente and containing Iran's nuclear ambitions.
MARKETS AND BUSINESSES
* Bank of Japan Governor Kazuo Ueda said the conflict added to already high uncertainty about the global economic outlook, which made it difficult for the central bank to navigate monetary policy.
* Israel's parliamentary financial committee has approved a plan to provide a $6 billion state guarantee to cover war risk insurance for Israeli airlines.
* Airlines have struggled with the safety risk of evacuation operations.
*What are global companies doing in Israel after the Hamas attack?
(Compiled by Stephen Farrell, Lisa Shumaker and Lincoln Feast)