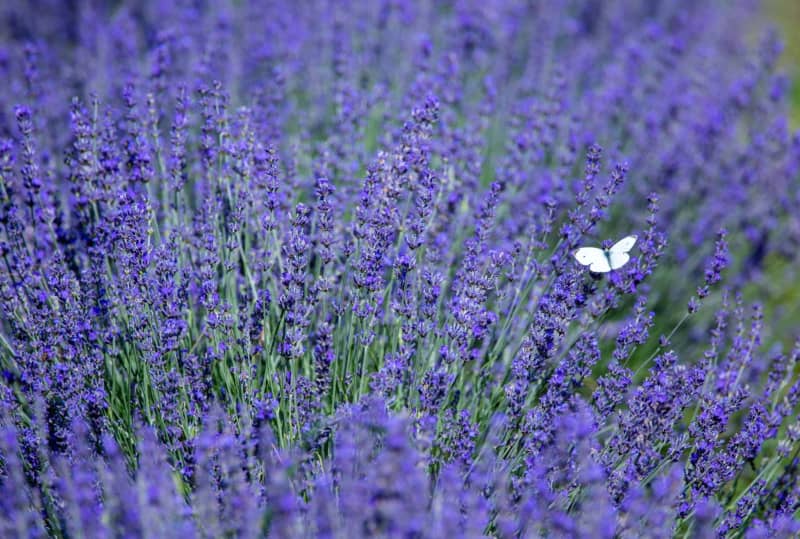 A caterpillar may have caused millions of dollars in crop losses for French lavender farmers this year, according to an agricultural association that has asked the government for help.
"There are dozens and dozens of hectares that have not been harvested because it wasn't worth it. There was nothing left," said Alain Aubanel, head of the Association of Perfumes, Flavors and Medicinal Plants PPAM, based in Manosque, in the south of France. Farmers have lost 90% of their harvest in some cases, he told dpa.
"I estimate the loss at several million euros," he said. The Ministry of Agriculture has defined the damage as serious.
The culprits would be the caterpillars of owl butterflies, which arrived in France with the Sirocco, a warm wind from North Africa. The caterpillars then ate the lavender stalks and dried the plants.
Instead of shining purple, the lavender fields, which are also popular holiday destinations and postcard motifs, appeared grey-brown this summer.
The departments of the Alpes de Haute Provence, Vaucluse and Drôme were especially affected, in particular the areas of traditional cultivation in the mountains, that is, precisely those areas where farmers are unlikely to be able to grow anything else, explains Aubanel.
The fact that the cultivated areas in the mountains are much more affected is due to the fact that the harvest started there later.
"We noticed that there were caterpillars around July 14th. In the lowland areas the harvest was practically finished, while here in the mountains it hadn't started yet."
Aubanel estimates that at least 50% of the crop has been lost to the harmful caterpillar in the Drôme mountain region.
"In the mountainous areas it was a bit of a disaster. In some places the losses were even much higher," he said.
"I know people who have lost 80% of their crops, even 90%. If these people don't get financial help, they risk bankruptcy." The association is now hoping for state support.
Caterpillars are not entirely new to lavender growers. They also hit in 2018 and 2019, but not to the same extent.
"We didn't anticipate the problem this year," says Aubanel. "The bug traps were practically empty. So no one was on watch and we had a colossal attack." Now they are trying to strengthen the trap system. In the coming year, all farmers will have to be particularly vigilant.
But Aubanel is also worried by another factor.
"We are heading towards increasingly warmer times. We are afraid that the insect could become endemic in some regions."
It could also become a problem for other crops. Although the caterpillars mainly ate lavender, Aubanel said they also attacked chickpeas and tomatoes.