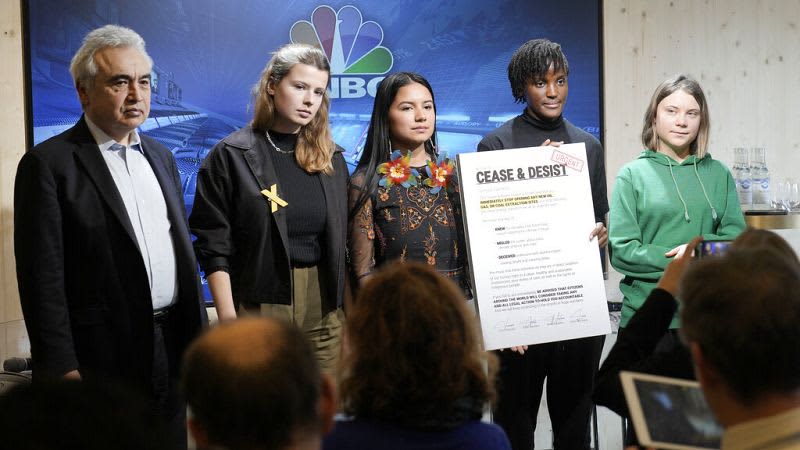 Swedish climate activist Greta Thunberg on Thursday he criticized the meeting of corporate elites in Davos, Switzerland, for "stoking the destruction of the planet" by investing in fossil fuels and prioritizing short-term profits over those affected by the climate crisis.
Thunberg and three other activists met with IEA chief Fatih Birol on the sidelines of the convention.
Activists brought a "cease and cease" letter calling on the heads of fossil fuel companies to halt all new oil and natural gas projects, signed by nearly 900,000 people.
The annual World Economic Forum takes place in the Swiss resort from January 16 to January 20 under the theme "Cooperation in a Fragmented World".
The convention brought together hundreds of world leaders and industry experts for special keynote addresses, panel discussions and separate meetings.
What were the highlights of Thursday's sessions?
Who can spectators expect to see on the final day of meetings in Davos on Friday?
Maria LeptinPresident of the European Research Council; Mikulas Bek, the Czech Minister for European Affairs; Tanja Fajon, the Deputy Prime Minister of Slovenia; Christine Lagardethe President of the European Central Bank; Kristalina Georgieva, Chief Executive Officer of the International Monetary Fund; author, Christopher Keller; Sharp fawnPresident of the National Congress of American Indians e Borge Brende, President of the World Economic Forum in Geneva. RockedBuzz via Euronews' Sasha Vakulina, Meabh McMahon, Fay Doulgkeri and David Walsh were on the field in Davos and covering all the latest developments.