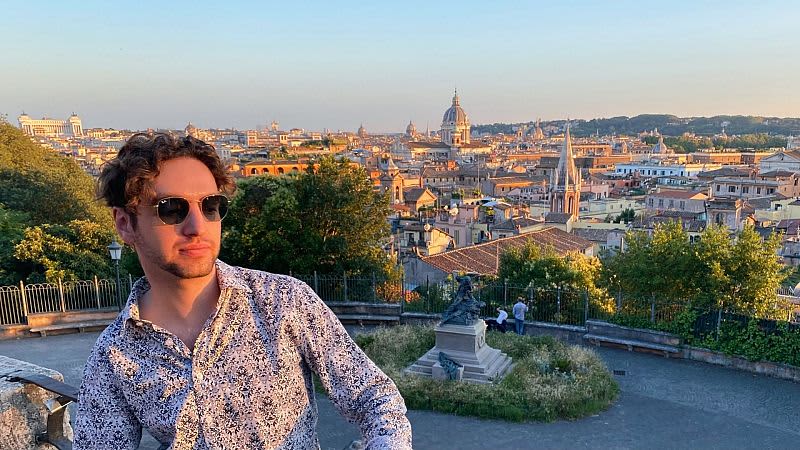 "Welcome to the jungle!"
It was these four words, spoken by a burly taxi driver who picked me up at the Rome train station, that welcomed me to the Italian capital, where I decided to move for my PhD two years ago.
As an Italian by birth and English by education, I had returned to my homeland with giddy optimism, but with a clear warning: as any Roman will happily tell you, it's not a city for the faint of heart.
Social media would make you think otherwise. In everything from sun-drenched Tik Tok videos to ice cream-sugary Netflix rom-coms, Rome is depicted as the epicenter of the "dolce vita."
The result? Tourists flock to Italy at record rates.
So, once all these preconceptions are eliminated, what is it like to live in Rome? And does the sought-after sweet life really exist?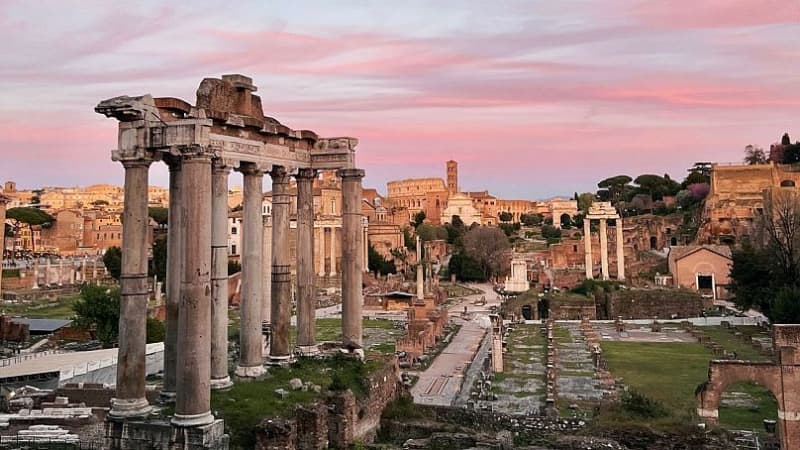 A beautiful chaos: the Roman paradox
The beauty of Rome needs no introduction. Nearly three millennia of history are showcased in a buffet of architectural marvels.
Ancient ruins? Miles of them. Frescoed churches? Over 900. Glamor Art Nouveau? Visit the eccentric Coppedè district. Want to see the pyramids? You even have one: the 2,035-year-old Pyramid of Cestius.
And this is the first thing that will strike anyone who moves Rome. Beauty is truly everywhere, down to the smallest detail. It is discovering hidden courtyards, secret churches, finding ancient Roman mosaics in the basement of a small local restaurant (Trattoria Tritone 1884, for those wondering).
This Swiss village hopes to attract digital nomads with mountain views and communities
Do you want to improve the quality of your life in 2023? Here are the best countries for expats in Europe
Just as beauty is omnipresent, so are squalor and disorganization. THE city it is the victim of urban decay and dwindling public services, testimony to decades of local maladministration.
And this is the paradox of Roman life: the good, the bad and the ugly are inextricably intertwined, making life in the city equal parts idyllic and exasperating.
Adjusting to this chaotic cocktail was certainly a baptism of fire at first, a reminder away from the structured life I lived in. England. It meant hours of queues at offices, maddening transportation delays, and weeks of waiting for home repairs.
But it's a chaos I've come to appreciate, and it's no cliché to say that the spontaneity of Roman life is as glorious as in the silver screen classics.
Life in Rome is about bumping into a nun having coffee in an open-air library near the Vatican. Sister R and I are still in touch on WhatsApp.
It's living in a century-old building and listening to a full-throttle hip hop party on the top floor. Last time I checked, an octogenarian lived there.
It's making friends in an overcrowded place trainhave an aperitif in the lively market of Campo de' Fiori and, immediately afterwards, let yourself be pampered by a plate of delicious spaghetti with lemon on the grandmother's terrace.
Do you want to move to Europe? Here are all the countries where you can apply for a digital nomad visa
Rome's woes are many, but even these can be a source of congenial exchanges, as you strike up a lively conversation with a disgruntled fellow commuter while waiting for a bus to it never comes.
Complaining is Italy's national hobby, and it's one that foreigners who move to its capital quickly adopt. In fact, all my expat friends joke that they can't wait to get out of town, but none of them ever do.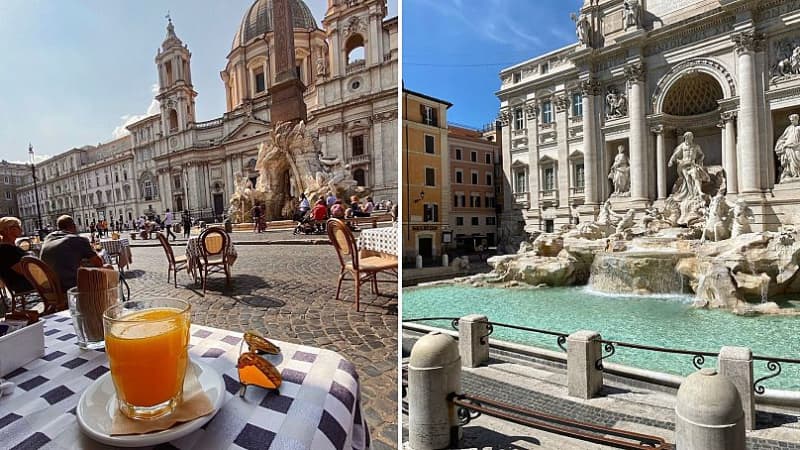 The Not So Sweet Life: The dark side of life in Rome
If you look beyond the glamorous dolce vita facade, however, you quickly discover that life in Rome has a much darker underbelly.
To begin with, the Eternal City is no stranger to the scourge of global inflation, and the real estate market she was its main victim. Landlords, desperate to make a quick buck, have realized that vacation rentals are more profitable, driving up demand and driving accommodation rates through the roof.
The isolation I experienced moving to Rome in 2021, in mid-Covid, might have seemed like a curse at first, but at least it allowed me to grasp the Dish of my dreams at an affordable price for a PhD student. While I feel privileged to be in this situation, I am aware that it is the product of a fortunate circumstance that I may not enjoy for long.
Case in point, one of my friends just got evicted from their apartment by a landlady who, in her words, wanted to "make double the money" with Airbnb.
With jobs hard to find and low-paying, it's no wonder that 71% of 18-34 year olds in Italy still live with their parents. And now, younger generations are taking their grievances to the streets, as students have camped out outside the city's La Sapienza University to protest the rent hikes.
But the struggles that individuals can face when they live Rome go beyond money.
'People are really excited': Digital nomads blamed for Portugal's high prices and housing crisis
Navigating Rome as a foreigner
Things aren't always easy for strangers move to the city. Italian bureaucracy is notoriously labyrinthine. It is invariably more difficult to navigate if you are a foreigner, especially one of color, and speak little or nothing Italian.
For some of my immigrant friends, traumatic experiences at the hands of the local bureaucracy \- being transported endlessly from one office to another – led them to resort to therapy.
And life is not so rosy for the strange community O. While Rome itself is a generally gay-friendly city – as its recent Pride demonstrated – Italy is now governed by a right-wing coalition hostile to the advancement of LGBTQ+ rights and the traditionalist shadow of the Catholic Church still looms.
Moving to France: I didn't speak French when I arrived and now they love me
Just last month, Rome's conservative regional president withdrew his official support for Pride, as Italy slipped down ILGA's Rainbow Index, ranking as the worst Western European country for LGBTQ+ equality.
Such political realities seep into attitudes on the ground. As a bisexual man myself, I remember one early Roman I dated not wanting to hold my hand in public, fearing we would attract unwanted attention.
And a more repressed climate often leads to more toxic behavior within the gay community Yes. "Be careful dating Roman boys" has become a sad, if recurring generalization among my queer male friends.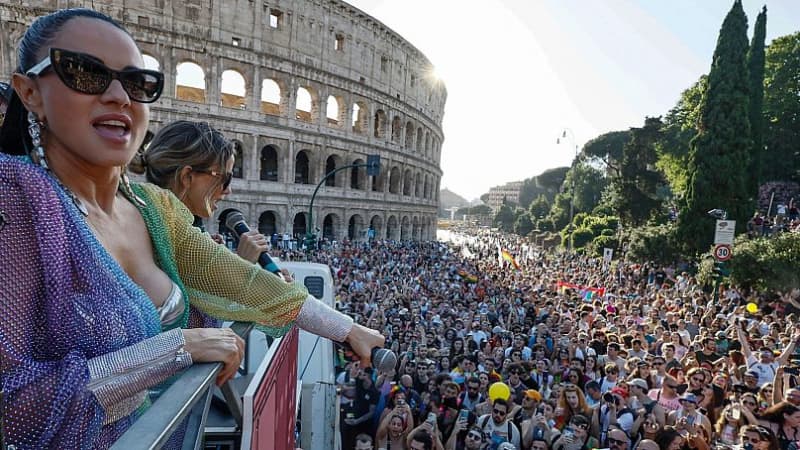 Is it worth moving to Rome?
So, it's worth the move Rome? And is la dolce vita idyllic and carefree a myth or a reality?
Rome is a city that offers a lot, despite what its eternally self-deprecating inhabitants say. Its beauty is incomparable, its rich lifestyle and the human joys it can offer are unmatched.
But it's a city that makes you strive for the pleasures it often leaves hanging before you like unobtainable fruit, a place that can be hard to love.
For anyone considering moving to Rome, make sure you learn some Italian first. And above all, make some local friends who can help you deal with the chaos.
And what about the sweet life?
The concept is based on the assumption that it is basically accessible to everyone: an Aperol spritz and a pizza, accompanied by a fiery sunset on the breathtaking panorama of the Gianicolo terrace, all for a handful of euros.
And there is a grain of truth in that. Many of Rome's major wonders, from its gleaming Baroque churches to decaying ruins, are essentially free. However, the emotional and financial costs of surviving in the city can make such "free" pleasures seem impossible.
How to travel on a budget around Rome, Florence, Venice and elsewhere in beautiful Italy
"Rome it's definitely a beautiful city," a young local told me. "But when you're working for pennies, stuck in traffic for hours, and exhausted when you get home, can you really enjoy yourself?"
Sure, anyone can live the 'Roman dream'. However, for many, it takes a whole nightmare to be able to experience it in the first place.
La dolce vita exists, and it really is sweet. But it often comes at a steeper cost, one that not everyone can affordand not everyone is allowed to.