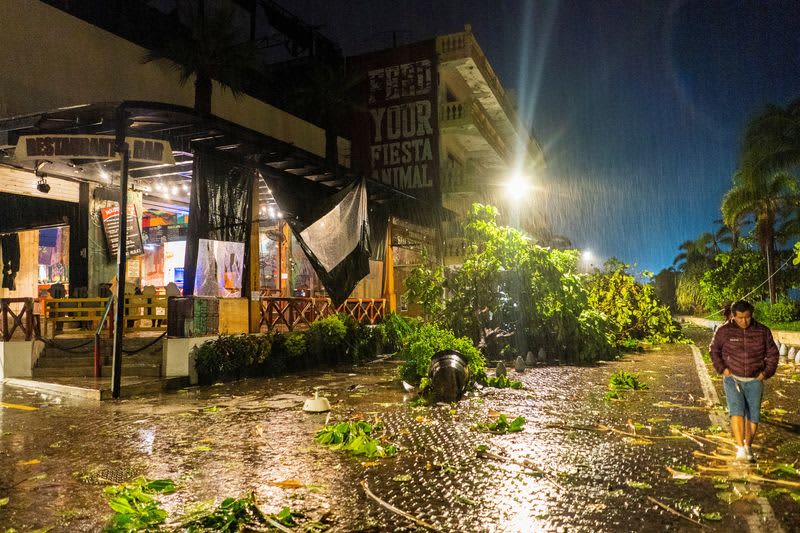 By Cristiano Ruano
PUERTO VALLARTA (RockedBuzz via Reuters) – Hurricane Lidia made landfall on Mexico's Pacific coast on Tuesday evening as an "extremely dangerous storm", bringing powerful winds and heavy rain and killing at least one person, even as it weakened to a storm category 2 as it headed inland.
Authorities in Nayarit state said a man was killed when a tree fell on the van he was driving north of the main tourist destination of Puerto Vallarta.
Lidia made landfall at the small beach town of Las Penitas just before 6pm (0000 GMT) as a Category 4 storm.
In Puerto Vallarta, residents boarded up windows and dragged sandbags from the beach to reinforce flood barriers on their businesses, and the airport said it would remain closed until 8am (1400 GMT) on Wednesday .
The city's streets were empty as night fell, as strong winds hurled water across the palm-lined seafront and shook buildings.
At 9pm (0300 GMT), the US National Hurricane Center (NHC) said Lidia was packing maximum sustained winds of 105 mph (165 kmh) as it passed near the inland town of Mascota, state of Jalisco.
The Miami-based NHC said Lidia is moving east-northeast at 28 km/h and is expected to weaken rapidly as it moves over elevated terrain in west-central Mexico.
"Life-threatening winds are expected along the storm's path overnight," it said, warning of dangerous water levels, flash flooding and storm surge on the Pacific coast.
Videos on social media showed heavy rain as far away as the inland city of Guadalajara. Some people reported that fallen trees blocked roads and rivers threatened to overflow their banks.
"I urge people living between Nayarit and Jalisco, especially in Bahia de Banderas, Puerto Vallarta and Tomatlan, to take precautions," President Andres Manuel Lopez Obrador said on the social media platform X, formerly known as Twitter, urging people to stay away from low-lying areas, rivers and slopes.
A hurricane warning is in effect from Manzanillo's port city of Colima to San Blas in Nayarit, while tropical storm conditions could extend to the state of Michoacan.
Up to 8 inches of rain is expected to fall in Lidia, although up to 12 inches could fall in some areas through Wednesday, the NHC said.
Further south, Tropical Storm Max, which made landfall on Monday, killed two people and injured at least two in the state of Guerrero, media reported.
Lidia comes eight years after Patricia, a Category 5 hurricane – the highest level on the Saffir-Simpson scale – struck near Puerto Vallarta with winds that toppled trees, moved cars and forced thousands of people to flee their homes.
(Reporting by Christian Ruano in Puerto Vallarta and Sarah Morland, Raul Cortes, Brendan O'Boyle, Isabel Woodford in Mexico City; Editing by Stephen Eisenhammer, Stephen Coates, Sandra Maler and Sonali Paul)