There are a handful of situations where clearing your cookies or cache in Safari, one of the places where Safari stores website data to save you from having to re-download it every time you log into a site, can help improve your browsing experience.
The first is when websites simply stop working when you access them on Safari. Perhaps Facebook stops updating with new posts, for example, or images on a site aren't displaying as they should. If this happens, it is likely that the cache has been corrupted.
Alternatively, if you feel that the auto-completed personal information on the sites is incorrect, deleting your cookies may help. These are small files that sites use to save data about you and what you do on the site.
Even if none of these problems affect you, cleaning your browser data periodically can help protect your privacy from snoopers who want to find out what you've been up to online. In this article, therefore, we will explain how to clear Safari cache and cookies on Mac.
We also have an article that explains How to Clear Cache on a Mac.
How to Clear Safari Cookies and Cache for Websites
Clearing cookies and cache data for individual sites can be done through Safari Settings/Preferences.
Open Safari Click Safari in the menu at the top of the screen. Click Settings or Preferences (depending on the version of macOS you're running). Go to the Privacy tab. Click Manage Website Data… Choose Remove All or select individual websites to remove.
After the data has loaded, you'll likely see a long list of websites. You can choose to remove everything or simply select individual websites you want to remove from this list. If you want to select a number of different sites, you can click one and then hold down the Command key to select a second, third, or fourth, and so on. We recommend not selecting hundreds this way – it's better to batch delete in case you have to start over.
If you prefer to check everything and then uncheck the ones you want to keep, you can. Use Command + A to select all, then hold down Command as you click any website you want to keep in this list. Just click Remove Later, not Done, as it will undo all your hard work.
There is a search field that you can use to track down individual sites.
Note that deleting your cookies may remove autocompleted login usernames and passwords for sites, and will almost certainly log you out of that site if you have configured it to automatically log you in each time you visit.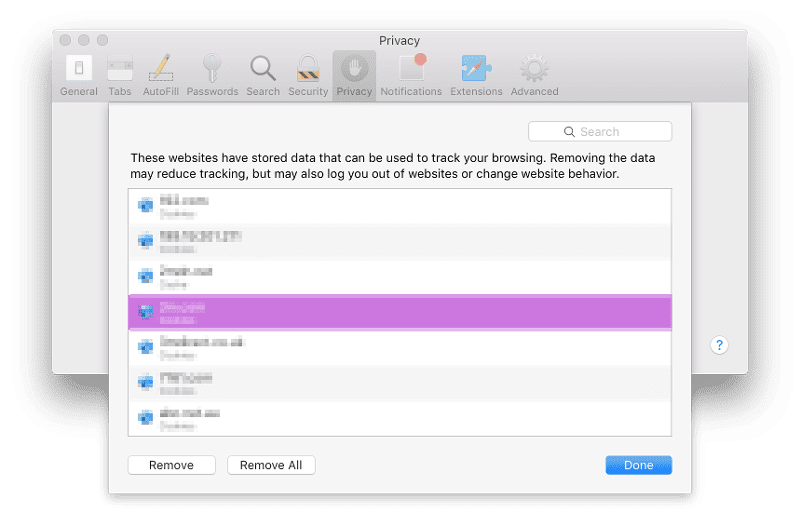 How to Clear Safari Cache
Safari Developer's hidden menu can be used to clear the cache only, leaving your cookies and browser history in place. This is a very useful diagnostic step to take before removing these two items if a website performs poorly.
If you just want to clear all cache, you can do it by following these steps:
Open Safari. Click Safari in the menu bar at the top of the screen. Click Settings/Preferences (depending on the version of macOS you're running). Click on the Advanced tab. Check the box next to Show Develop menu in menu bar. There will now be a new Developer tab in the menu at the top of the screen. Click on this. Click Empty Caches.
Alternatively, click Option/Alt + Command + E.
Close all open Safari windows and select Empty Cache in the Develop menu. Then click File > New Window to launch Safari with a clean cache.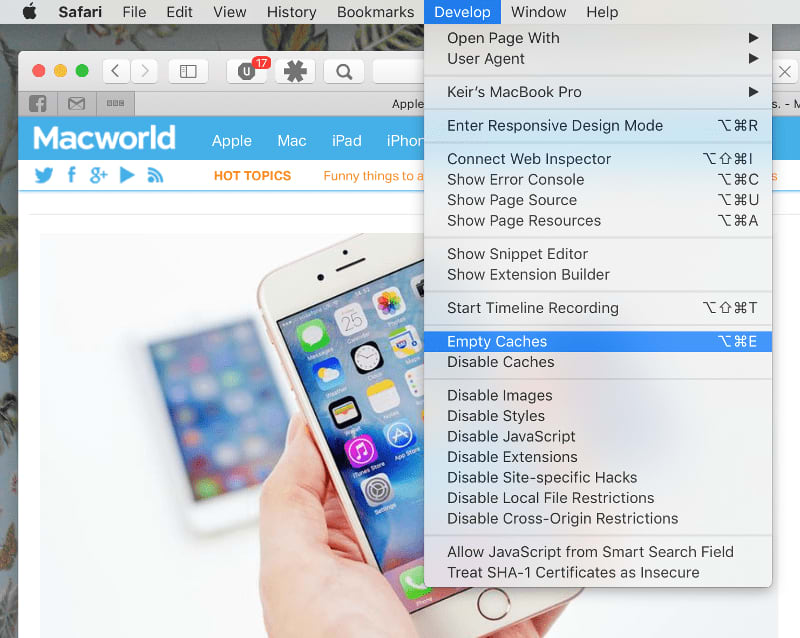 How to remove autocomplete data from AutoFill
Safari's AutoFill tool can fill in your username and password details on websites, as well as your credit card details and other things like your address and email details.
This can be really useful, but it can also be annoying if the data it enters is incorrect or out of context. It's also a problem when AutoFill helpfully fills in old or incorrect passwords or emails and addresses.
You can modify this data or delete it by following these steps:
Open Safari. Click on Safari. Click Settings/Preferences. Choose the AutoFill tab. Here you can change contact information, usernames and passwords, credit cards and other data. Click Edit next to the category you want to access. You'll need to enter your password or use Touch ID to gain access.
Delete the bad data: If you find that Safari automatically fills in incorrect information about you, such as your address, click Edit next to Using information from my contacts. This will open your Contacts app. Your card will be at the top or below My Card. You can add and edit your details here.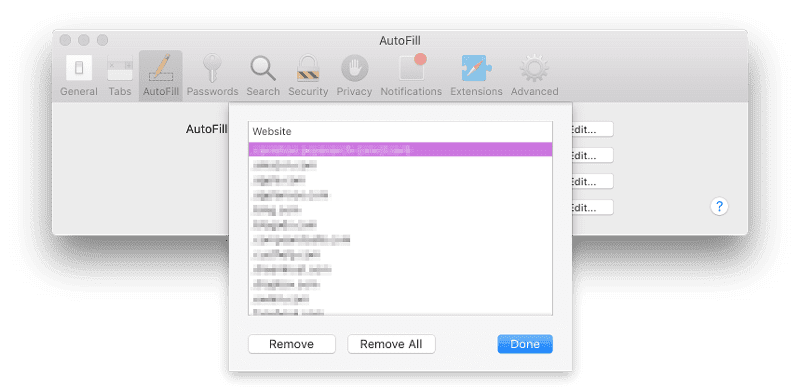 Delete incorrect passwords and site logins: If you want to get rid of bad passwords, for example, you can just click the Passwords tab. If you know which password you want to remove, search for the website or service, then find the old password option (if there is more than one) and select it, then click – under the column to remove it. You can then select Delete Password. If that means no password has been saved for that website, you can then recreate the entry for the site by clicking the Add button. You will first need to provide the site URL (i.e. something like https://facebook.com), then type your username and password next to it (press the Tab key to move from field to field).
See: How to autofill passwords, bank cards, names and addresses for more.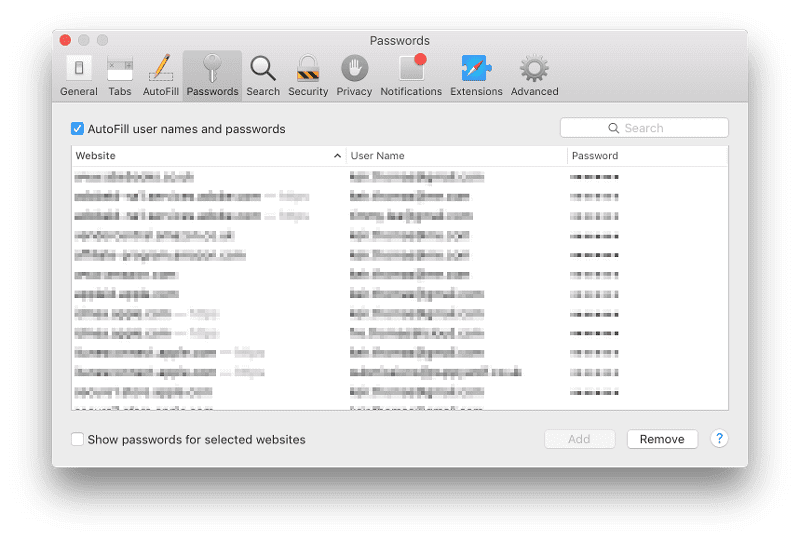 Eliminate system-wide logins and passwords
Logins to the pruning site can also be done through the Keychain Access app, which you'll find in the Utilities folder of the Applications list in Finder, although you should be very careful using this app because it controls pretty much the entire security operation of your Mac! However, by removing incorrect username and password entries here, you'll break pretty much all of your Mac apps that use them, and not just Safari.
Just type the name of the site in the Search field and look for entries of the type Web Form Password in the list of results. Right-click the entry and select Delete.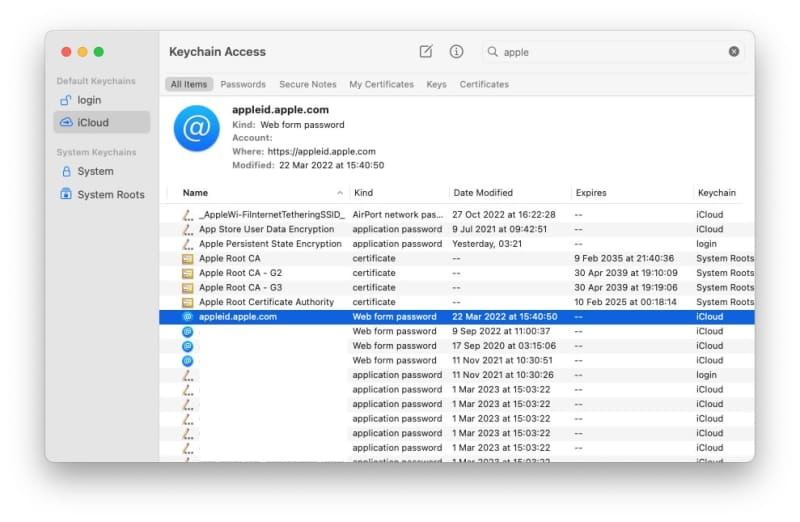 Foundry
If you want to delete your Chrome or Firefox cache, cookies or browsing history, please read: How to delete Mac browsing history. For alternative web browsers check out: Best web browser for Mac.