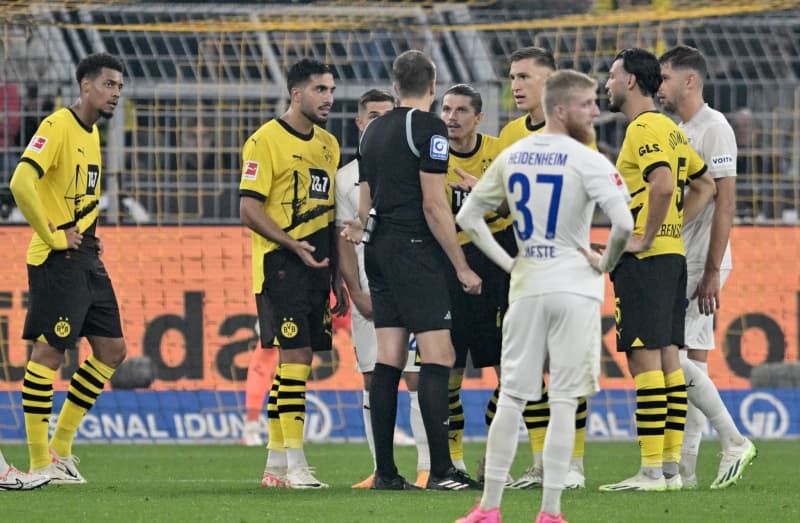 A stalwart Heidenheim recovered from a 2-0 deficit to draw 2-2 at Borussia Dortmund to claim their first ever Bundesliga point on Friday.
The promoted side, who are playing their debut season in the top flight, started the season with two defeats, but goals from Eren Dinkci and Tim Kleindiesnt secured them an equalizer in a chaotic game.
"A lot of emotion, but we want it, we love it," Heidenheim coach Frank Schmidt told broadcaster DAZN.
Dortmund broke the deadlock in the seventh minute through Julian Brandt, and Emre Can added a second from the penalty spot in the 15th minute as the hosts looked set for an easy home win.
Heidenheim got one back in the 54th minute, but the goal was disallowed for a handball after lengthy video review. But Dinkci's conclusion in the 61st minute counts and ignites the game.
Dortmund could have scored a third soon after, but goalkeeper Kevin Müller made a superb save to clear Donyell Malen from close range.
But the real drama began when Heidenheim were initially awarded a penalty after Sebastien Haller struck Jan-Niklas Beste in the face inside the box. The video assistant referee then reversed the field's decision, stating that Beste was in an offside position during the play.
Play had already resumed when referee Tobias Reichel was called on the sideline screen and acknowledged that there was no offside, as it was a new game situation and his initial decision to award Heidenheim the penalty was valid .
Kleindienst felt no pressure and drew his team level in the 82nd.
There was 12 minutes of added time and Dortmund nearly regained the lead, but Felix Nmecha saw his attempt hit the woodwork.
"We fought in the second half. Just like against Bochum last week," said Brandt of the 1-1 draw against neighbors on the Ruhr.
A bad pass in Dortmund's build-up led to Heindenheim's first goal and Brandt stressed that this happens during a match, "but we have to learn, we have to protect the ball."
Heidenheim, meanwhile, have not been shy and have even made their offers to win their first Bundesliga win, but that will have to wait for now.
"The point is very important. We were lucky not to concede 3-0, but we also held on and could have won the game," said Schmidt.
The match marked Niclas Füllkrug's debut for Dortmund after completing his move from Werder Bremen on Thursday.
"I had a great reception, I was looking forward to playing. It was a great moment when it arrived," said Füllkrug.
"Everything is new here for me, obviously it's a crazy game. What happened in the second half shouldn't happen. We had some chances to score, but we missed the 3-0 lead," he added.