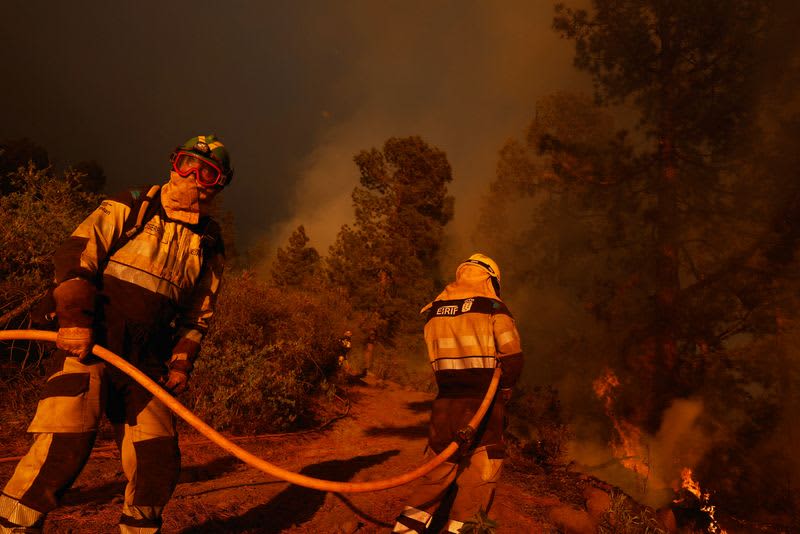 By Crispian Balmer
ROME (RockedBuzz via Reuters) – Italy issued a red heat alert for 16 cities on Sunday, with meteorologists warning that temperatures will reach record highs across southern Europe in the coming days.
Spain, Italy and Greece have already experienced scorching temperatures for several days, harming agriculture and leaving tourists seeking shade.
But a new anticyclone dubbed Charon, who in Greek mythology was the ferryman of the dead, pushed into the region from North Africa on Sunday and could push temperatures above 45 degrees Celsius (113 degrees Fahrenheit) in parts of Italy early of this week.
"We have to prepare for a fierce heat storm which, day after day, will cover the whole country," Italy's meteorological service Meteo.it warned on Sunday.
"Ancient heat records will be broken in some places."
Greece closed the ancient Acropolis during the hottest part of the day on Friday to protect tourists.
Italy's Health Minister Orazio Schillaci said people need to take care when visiting Rome's famous ruins.
"Going to the Colosseum when it's 43C (109.4F) is not advisable, especially for an elderly person," he told Il Messaggero newspaper on Sunday, saying people should stay indoors between 11am and 6pm .
DEHYDRATION
Beyond the Italian capital, health alerts were in place from the central city of Florence to Palermo in Sicily and Bari in the southeast of the peninsula, as temperatures began to rise further north as well.
"It's not normal. I don't remember such intense heat, especially at this time of year," said Federico Bratti, sunbathing on Lake Garda.
In Spain, meteorologists warned of the risk of forest fires and said it would not be easy to sleep through the night, with temperatures unlikely to drop below 25C (77F) across the country.
The heatwave will intensify from Monday, with temperatures reaching 44C (111.2F) in the Guadalquivir valley near Seville in the south of the country, forecasters have predicted.
On the Spanish Canary island of La Palma, meanwhile, at least 4,000 people have had to be evacuated following an out-of-control bushfire following a heatwave, authorities said.
Europe's highest recorded temperature of 48.8C (119.8F), recorded in Sicily two years ago, could be surpassed in the coming days, particularly on the Italian island of Sardinia, meteorologists said.
The heatwave has spread across the Mediterranean to Israel, where Prime Minister Benjamin Netanyahu was hospitalized on Saturday suffering from dizziness and apparent dehydration. He was discharged on Sunday.
"I'm asking all of you to spend less time in the sun, drink more water, and may we all have a good new week," she said.
The United States was also in the grip of high temperatures, with nearly a quarter of the population on alert for extreme heat, from the Pacific Northwest, down through California, across the Southwest and into the Deep South and Florida.
(Reporting by Crispian Balmer in Rome, Alex Fraser in Lake Garda and Graham Keeley in BarcelonaEditing by David Goodman and Frances Kerry)