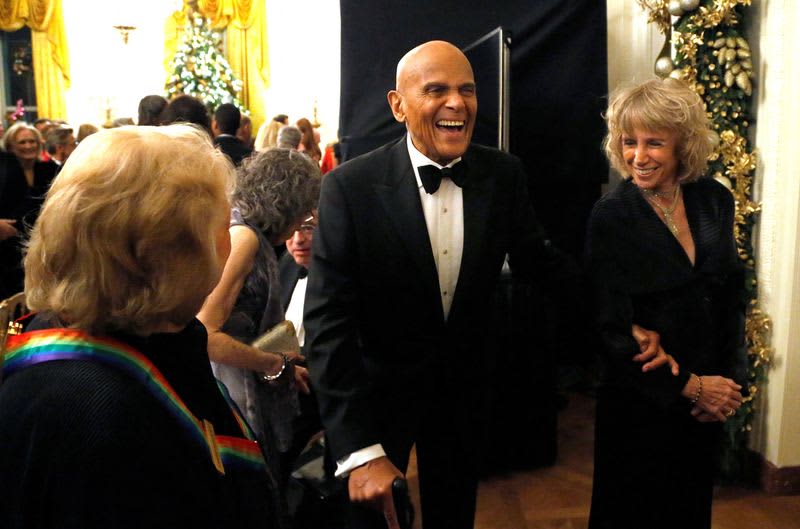 By Bill Trott
(RockedBuzz via Reuters) – Harry Belafonte, a revolutionary singer, songwriter and actor who began his entertainment career singing "Day O" in his 1950s hit song "Banana Boat" before turning to political activism, has died at the age of 96.
Belafonte died Tuesday of congestive heart failure at his New York home with his wife Pamela by his side, the company's longtime spokesman Ken Sunshine said in a statement.
As a black lead who explored racial themes in 1950s films, Belafonte would later move on to work with his friend Martin Luther King Jr. during the United States civil rights movement in the early 1960s. He became the driving force behind the celebrity-studded, famine-fighting hit song "We Are the World" in the 1980s.
Belafonte once said he was in a constant state of anger-driven rebellion.
"I have to be a part of whatever rebellion is trying to change all of this," he told The New York Times in 2001. "Anger is necessary fuel. Rebellion is healthy."
Belafonte was born in the borough of Manhattan in New York City but spent his early childhood in his family's native Jamaica. Handsome and suave, he became known as the "King of Calypso" early in his career. He was the first person of color allowed to perform in many high-end nightclubs and also had racial breakthroughs in films at a time when segregation prevailed in much of the United States.
In "Island in the Sun" in 1954 his character harbored the idea of ​​an affair with a white woman played by Joan Fontaine, which reportedly triggered threats to burn down theaters in the southern United States. In 1959's "Odds Against Tomorrow" Belafonte played a bank robber with a racist partner.
In the 1960s she campaigned with King and in the 1980s she worked to end apartheid in South Africa and coordinated Nelson Mandela's first visit to the United States.
'WE ARE THE WORLD'
Belafonte traveled the world as a goodwill ambassador for UNICEF, the United Nations Children's Fund, in 1987 and later started an AIDS foundation. In 2014 he received an Academy Award for his humanitarian work.
Belafonte provided the impetus for "We Are the World," the 1985 all-star musical collaboration that raised funds for famine relief in Ethiopia. After seeing a grim news report about the famine, he wanted to do something like the fundraising song "Do They Know It's Christmas?" from British supergroup Band Aid a year earlier.
"We Are the World" featured superstars like Michael Jackson, Stevie Wonder, Bruce Springsteen, Bob Dylan, Ray Charles and Diana Ross and raised millions of dollars.
"A lot of people say to me, 'When did you as an artist decide to become an activist?'" Belafonte said in an interview on National Public Radio in 2011. "I tell them, 'I was an activist for a long time before I became an artist.'"
Even in the late 1980s, Belafonte was still talking about racial and income equality and urging President Barack Obama to do more to help the poor. He co-chaired the Women's March on Washington held the day after Donald Trump was sworn in as president in January 2017.
Belafonte's policy made headlines in January 2006 during a trip to Venezuela when he called President George W. Bush "the world's greatest terrorist." In the same month he compared the US Department of Homeland Security to Nazi Germany's Gestapo.
An anthology of his music was released on Belafonte's 90th birthday on March 1, 2017. Just weeks before the launch, Belafonte told Rolling Stone magazine that singing was a way for him to express the injustices in the world.
"It gave me a chance to make political commentary, to make social statements, to talk about things I found unpleasant and things I found inspiring," she said.
Born Harold George Bellanfanti in the Harlem neighborhood of New York, he moved to Jamaica before returning to New York to attend high school.
He had described his father as a violent drunk who abandoned him and his mother, leaving Belafonte wanting a stable family. He drew strength from his mother, an uneducated housekeeper, who instilled the activist spirit in him.
"We are commanded never to capitulate, never to give in, always resist oppression," Belafonte told Yes! magazine.
JOIN THE RESISTANCE
During World War II, those principles led him to enlist in the Navy, which also provided him with stability after dropping out of high school.
"The Navy has been a place of relief for me," Belafonte told Yes! "… But I was also driven by the conviction that Hitler must be defeated… My commitment stuck after the war. Wherever I found resistance to oppression, be it in Africa, in Latin America, certainly here in South America, I I am united with that resistance".
After the Navy, Belafonte worked as an apartment building janitor and stagehand at the American Negro Theater before landing roles and studying with Marlon Brando and Sidney Poitier, another pioneering black actor who would become a close friend.
He also appeared on Broadway in 'Almanac', winning a Tony Award, and in the film 'Carmen Jones' in 1954.
Belafonte's third album, 'Calypso' became the first by a single artist to sell more than 1 million copies. "Banana Boat," a song about Caribbean dock workers with its resounding "Day O" call, made him a star. Surgery to remove a knot in his vocal cords in the 1960s, however, reduced his voice to a hoarse whisper.
In 1959 he began producing films and teamed up with Poitier to produce 'Buck and the Preacher' and 'Uptown Saturday Night'. In 1984 she produced "Beat Street", one of the first films about breakdance and hip-hop culture.
Belafonte was the first black performer to win a major Emmy in 1960 with his appearance on a television special. He also won Grammy Awards in 1960 and 1965 and received a Lifetime Achievement Grammy from him in 2000, but has expressed frustration with the limitations of black performers in show business. In 1994 Belafonte was awarded the National Medal of Arts.
Belafonte has been married three times. He and his first wife Marguerite Byrd had two children, including model actress Shari Belafonte. He also had two children with his second wife Julia Robinson, a former dancer.
(Writing and Reporting by Bill Trott; Additional Reporting by Brendan O'Brien; Editing by Diane Craft and Rosalba O'Brien)