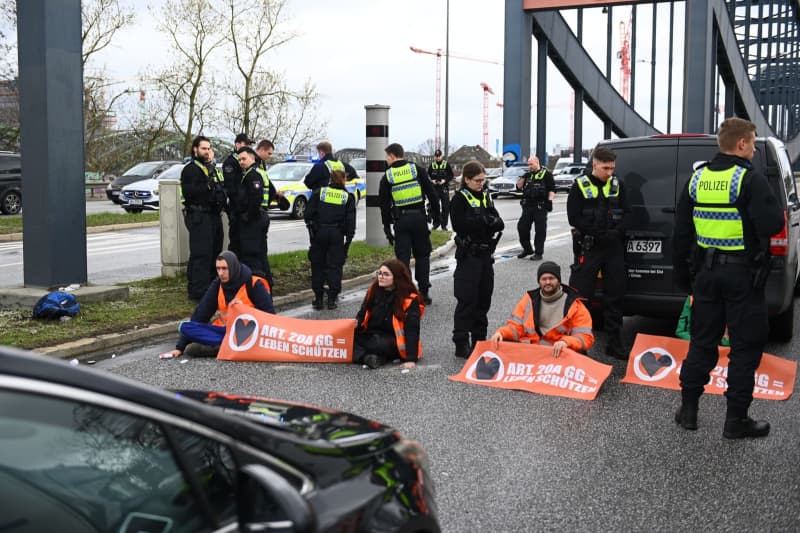 Climate activists from the Last Generation movement blocked bridges over the Elbe in the northern port city of Hamburg, Germany, on Saturday, prompting violent interactions with enraged motorists.
According to the police, four people were blocked on the road with quick-setting concrete in the morning, blocking traffic until the protest action ended in the afternoon.
With construction work closing off other approaches to the city, the bridges over the Elbe are the only way to get to Hamburg from the south.
A video has appeared on social media showing a lorry driver losing his temper, dragging a protester off the road and kicking him in the stomach. "This incident occurred before the police entered," a police spokesman said, adding that an investigation was underway.
A dpa photographer also said aggressive motorists responded to the blockade by kicking and punching activists.
In Berlin, protesters gathered at the Brandenburg Gate on Saturday for a rally and concert in support of a referendum to speed up climate change measures in the capital.
According to the police, around 35,000 people are expected to attend the Klimaneustart (climate restoration) rally. During the five-hour event, several bands will play alongside speeches by well-known activists such as Luisa Neubauer and sustainability expert Maja Göpel.
In a referendum on Sunday, Berliners can choose whether they want the city to become climate-neutral by 2030 and not by 2045 as previously predicted.
For this to become law, a majority of voters must vote yes, as well as reach a hurdle of at least 25% of those eligible to vote.
German Chancellor Olaf Scholz has expressed skepticism about the referendum.
"I firmly believe that what the federal government has decided to do is exactly the right path, namely to ensure the technological modernization of our country," Scholz said on Saturday after a citizens' meeting in Potsdam.
"Dummy dates you can't keep don't help… The only way to do that is to make sure the right decisions are actually being made so that we can have a climate-neutral economy in 2045 and still be an economically strong country."
Nationally, the German government wants to achieve climate neutrality by 2045.