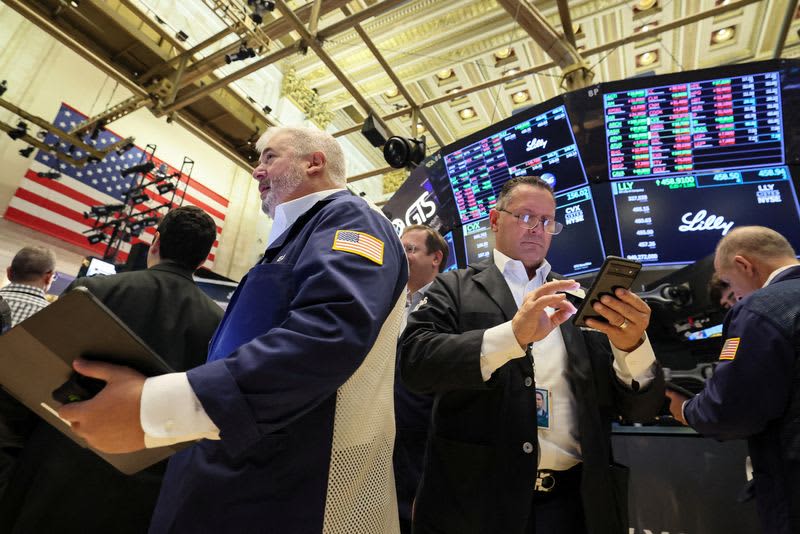 By Sinéad Carew and Amanda Cooper
NEW YORK/LONDON (RockedBuzz via Reuters) – The global stock index fell slightly as Wall Street gained ground in choppy trading on Monday, while bond yields rose and investors continued to digest last week's central bank guidance according to where interest rates would remain higher for a longer period.
The dollar hit an 11-month high against the Japanese yen and a near 10-month high against a basket of currencies, after the U.S. Federal Reserve last week signaled it may raise interest rates further and is likely to hold them higher for a longer period than investors had. expected.
U.S. economic risks that Powell noted in a news conference last week included the auto workers' strike, a possible federal government shutdown, the resumption of student loan repayments, higher energy prices and higher long-term borrowing costs. term.
Chicago Fed President Austan Goolsbee said Monday that entrenched inflation above the central bank's 2% target remains a greater risk than the Fed's restrictive policy slowing the economy more than necessary.
The MSCI All-World Index last fell 0.05% on the day, marking its seventh consecutive decline and longest losing streak since early September 2022.
However, Wall Street's three major indexes closed slightly higher on Monday, providing some hope that the market was stabilizing.
"We're potentially bottoming out from the correction we've had. The market has been volatile the last couple of sessions. A lot of it has to do with the Fed and the focus on what they're going to do," said Tim Ghriskey, senior portfolio strategist at Ingalls & Snyder in New York.
But until third-quarter earnings reporting season, which doesn't begin in earnest until October, there's "reason for the market to remain stuck in a neutral position here," Ghriskey said.
"Earnings could be negative, but they could also be very positive, so there is some money on the sidelines waiting for that," he said.
Investors are also cautious ahead of the next U.S. inflation data, due on Friday, and "may remain in wait-and-see mode" until it is released, said Mona Mahajan, senior investment strategist at Edward Jones.
The Dow Jones Industrial Average rose 43.04 points, or 0.13%, to 34,006.88, the S&P 500 gained 17.38 points, or 0.40%, to 4,337.44 and the Nasdaq Composite gained 59.51 points, or 0.45%, to 13,271.32.
The pan-European STOXX 600 index had earlier closed 0.62% lower.
In U.S. Treasuries, yields were mostly higher, with the benchmark 10-year yield building on three straight weeks of gains on expectations that U.S. rates would remain higher than previously expected.
Benchmark 10-year notes rose 10.2 basis points to 4.542%, from 4.44% on Friday. The 30-year bond rose 14.3 basis points to yield 4.6646%, from 4.522%. The 2-year note was last up 0.2 basis point to yield 5.1249%, from 5.123%.
"The fundamental logic over the last couple of months has been pretty consistent in that the market continues to position itself for the 'higher for longer' type of environment," said Jim Barnes, director of fixed income at Bryn Mawr Trust in Berwyn, Pennsylvania. .
On the currency front, the dollar index rose 0.35%, with the euro down 0.58% to $1.059, while the pound traded at $1.2212, down 0.21 % during the day.
The Japanese yen weakened 0.31% against the greenback to 148.84 per dollar, remaining near the 150 per dollar level that many traders believe could represent a line in the sand for Bank of Japan intervention. Last week the BOJ maintained its ultra-loose monetary policy.
Governor Kazuo Ueda, in a speech on Monday, reiterated the central bank's resolve on interest rates and said there was "very high uncertainty" over whether companies will continue to raise prices and wages.
US crude oil futures settled lower, while Brent held steady after choppy trading on Monday, while Russia eased its fuel ban, following earlier gains on tighter supply outlook, as investors looked at high interest rates that could dampen demand.
U.S. crude fell 35 cents or 0.39% to $89.68 a barrel while Brent closed at $93.29, up 2 cents or 0.02%.
(Reporting by Sinéad Carew, Chuck Mikolajczak, Saqib Iqbal Ahmed, in New York, Amanda Cooper in London and Stella Qiu; Editing by Himani Sarkar, Jacqueline Wong, Miral Fahmy, Mark Heinrich, David Gregorio and Deepa Babington)