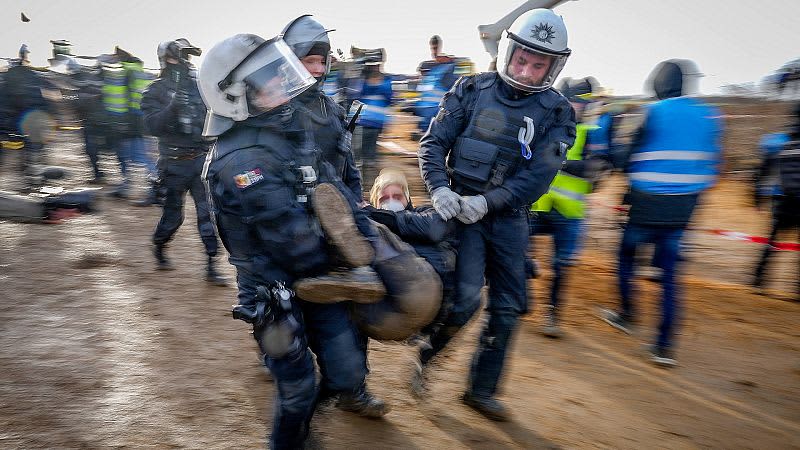 A police operation is underway to remove protesters from the village of Lützerath in western Germany. The authorities have started building a fence around the village and ordered the activists to leave.
About a thousand climate protesters have occupied the village for more than two years over plans to expand the nearby huge open pit mine.
Activists say this is against Germany's international pledges to cut emissions of greenhouse gases that warm the planet.
"We are forming human chains, we are blocking, we are not letting them in," said a movement spokesman. They built tree houses and dug in to slow down the police evacuation. Some have even tied themselves to a rope strung between houses.
The move echoes a similar demonstration in Hambach Forest in 2018, which successfully delayed a coal mining project and has since become a symbol of anti-coal protests.
Germany still dependent on coal
Germany still depends on coal, which accounts for 31% of the country's energy production according to the European Network of Transmission System Operators (ENTSO-E)at a time when its supply of Russian gas has been significantly reduced (10% of the country's energy consumption, according to ENTSO-E).
The government's three-way coalition includes the German Green Party, which has pledged to reduce Germany's dependence on coal. However they have been forced to order more coal-fired power plants and delay decommissioning plans for a few others.
Energy producer RWE extension says it needs to mine more coal to fill its supply contracts, which run until 2030. This is the year Germany pledged to stop mining the black gold.
The company has taken on residents of many villages to expand the Garzweiler strip mine. Lützerath may be the last to be destroyed.