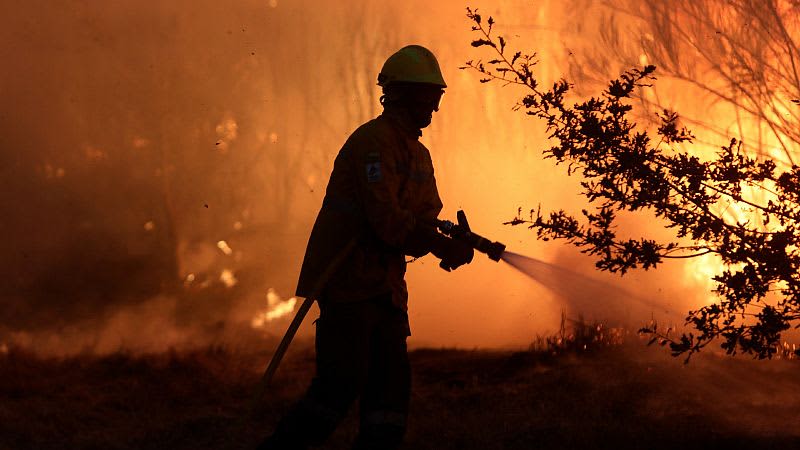 The European Union needs to increase investment in forest fire prevention as the forest fire season is lengthening and extending geographically, Janez Lenarčič urged this week.
"According to the World Bank study conducted in collaboration with the European Commission, 1 euro invested in fire prevention saves 10 euros in damages," the European commissioner for crisis management told reporters on Tuesday.
He added that the damage inflicted by the fires in 2022 is estimated at "at least €2 billion".
Last year was the second worst year in terms of areas burned since records began in 2006 with at least 800,000 hectares burned across the bloc.
The fires were fueled by longer and more repeated heatwaves and a severe drought affecting most of the continent, attributed to climate change.
Speaking about the annual "Lessons Learned" seminar held this year in Lisbon, where ministers from 27 member states gather to discuss the previous fire season and how to build resilience, Lenarčič said that "even the best-equipped and better prepared states have requested assistance" in 2022.
Fighting fires in Europe: inside the EU emergency response centre
Forest fires: Nine member states now have new records for areas burned
EU Member States spend just 0.5% of their money on fire protection services
EU Member States can request assistance via the Emergency Response Coordination Center (ERCC). Part of the EU Civil Protection Mechanism, it can be activated by national authorities when their emergency resources are overwhelmed by a disaster.
In 2022, the ERCC had a reserve capacity, known as rescEU, of 12 firefighting aircraft and one helicopter. These are actually provided by the Member States, but the Commission covers their operational costs when they are sent via the ERCC.
Meanwhile, hundreds of firefighters have been pre-positioned across Greece during the summer months, a pilot measure taken during previous 'lessons learned' following the apocalyptic wildfires in the country in 2021.
"Last summer this European reserve was exhausted, at one point and more than once, we no longer had reserve capacity at the European level to help the affected countries," Lenarčič said on Tuesday.
He added that this was partly due to forest fires now starting earlier and ending later, as well as fires now affecting more and more countries, even those which, unlike Mediterranean countries, were not traditionally affected.
The Commission has already announced new measures, including doubling the capacity of rescEU by 2023. It has also presented a forest fire prevention action plan which aims for more funding for forest fire prevention actions.