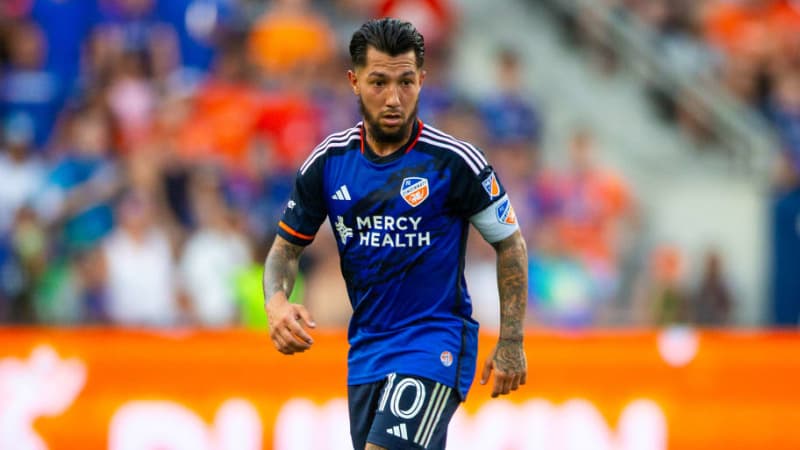 By Lizzy Becherano
FC Cincinnati has extended the contract of midfielder Luciano Acosta, signing him as captain until 2026 Major League Soccer season with an additional option for 2027.
Acosta is an integral part of the team's current success, recording 14 goals and 11 assists in 27 games to inspire Cincinnati to first place in the Eastern Conference standings and the race for the Supporters' Shield.
"Lucho is an extremely important player for our team and our club," FC Cincinnati general manager Chris Albright said in a statement.
"He is clearly one of the best players in our league, capable of producing spectacular moments that win you games. His winning mentality, along with his continued growth as a leader and captain, have allowed Lucho to become the best version of himself. It's clear how connected he feels to our city and community, and we are proud to have Lucho represent FC Cincinnati.
The midfielder joined FC Cincinnati in 2021 as a designated player from Liga MX side Atlas, but was no stranger to MLS. Acosta originally started in the American League with DC United, managing a total of 24 goals and 35 assists in 126 games under former manager Ben Olsen from 2016 to 2019.
"This club is very special, it's my family," Acosta said. "Every time I take to the pitch I give my life for this city, for these fans, for these colours, for this club. That's what makes it so special to me, because they are my family.
I hope to win many things with this team, with this city, and give back the joy that the fans always give us, every weekend, every day and reciprocate that love with a title."
READ THE LATEST NEWS, QUOTES AND RUMORS ON MLS TRANSFERS HERE
Sign up now for MLS Season Pass on Apple TV to watch all the action from the 2023 Major League Soccer season. Click here to subscribe!
This article was originally published on 90min.com as FC Cincinnati signs Lucho Acosta to a contract extension.