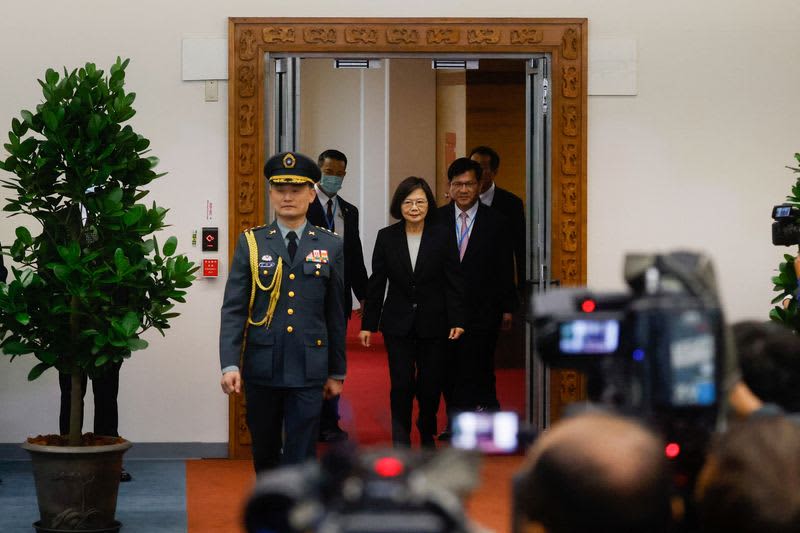 (RockedBuzz via Reuters) – Taiwan President Tsai Ing-wen arrived in New York on Wednesday for what is officially termed a direct transit to Guatemala and Belize, and will stop in Los Angeles on her way back to Taipei next month next.
While in California he is expected to meet with US House Speaker Kevin McCarthy.
China, which regards the democratically ruled island as its own turf, has threatened unspecified retaliation if the meeting goes ahead, having staged war games around Taiwan in August after then House Speaker Nancy Pelosi went to in Taipei.
Here are some facts about the relationship between Taiwan and the United States.
* After the defeated Republic of China government fled to Taiwan in 1949 after losing a civil war with Mao Zedong's Communists, who founded the People's Republic of China, Washington continued to recognize the Taipei government as the sole legal representative of the chinese people.
* During the height of the Cold War, Taiwan hosted US military bases and the two had a Mutual Defense Treaty.
* In 1979, the United States severed official relations with the Taipei government and instead recognized the Beijing government. The defense treaty was also terminated.
* After 1979, US relations with Taiwan were governed by the Taiwan Relations Act, which provides a legal basis for providing Taiwan with the means to defend itself, but does not require the US to come to Taiwan's aid in the event of an attack .
* While the US has long followed a policy of "strategic ambiguity" on whether to intervene militarily to protect Taiwan in the event of a Chinese attack, US President Joe Biden has said he would be willing to use force to defend Taiwan.
* The United States maintains a large de facto embassy in Taipei called the American Institute in Taiwan, staffed by diplomats. Taipei Economic and Cultural Representative Office is the name of Taiwan's de facto embassy in the United States.
* The United States continues to be Taiwan's most important international source of arms, and Taiwan's disputed status is a constant source of friction between Beijing and Washington.
* The government of Taiwan claims that since the People's Republic of China has never ruled the island, it has no right to claim sovereignty over it or to speak or represent it on the world stage, and that only the people of Taiwan can decide their own future.
* China has never renounced the use of force to bring Taiwan under its control, and passed a law in 2005 that gave Beijing the legal basis for military action against Taiwan if it seceded or appeared about to do so .
* Taiwan's official name continues to be the Republic of China, although these days the government often stylizes it as the Republic of China (Taiwan). Only 13 countries now formally recognize Taiwan.
(Reporting by Ben Blanchard; Editing by Michael Perry)