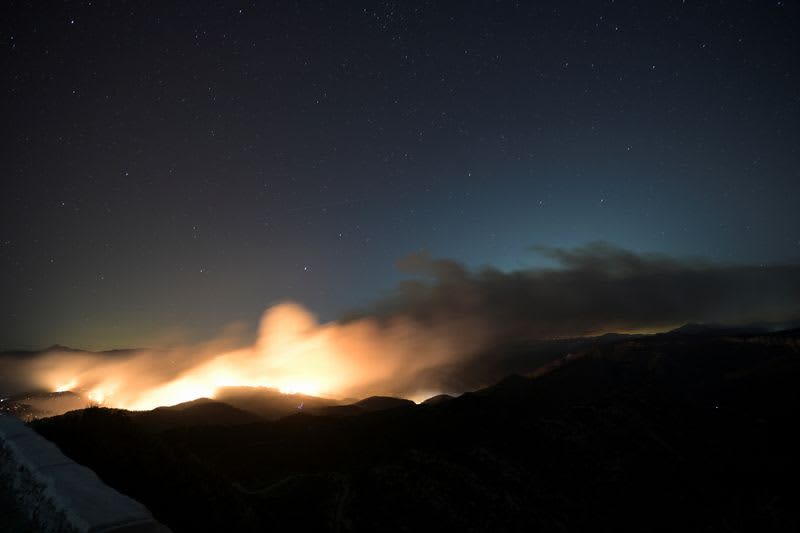 By Guillermo Martínez
BARRACAS, Spain (RockedBuzz via Reuters) – Spain's first major fire of the year has burned more than 4,000 hectares (9,900 acres) of forest and forced 1,700 villagers from their homes in the Valencia and Aragon regions.
Residents said they fled their homes and left behind animals.
"Bad, how am I supposed to feel? Your city is burning, your life is burning, our animals were there and nobody can tell us anything," said Antonio Zarzoso, 24, who had to leave the village of Puebla de Arenoso RockedBuzz via Reuters .
More than 500 firefighters supported by 20 planes and helicopters were working to bring the fire under control near the village of Villanueva de Viver, emergency services said on Saturday, forcing 1,500 people from their homes.
The fire has also spread to the Teruel area of ​​the Aragon region, where 200 people had to be evacuated, authorities said on Saturday.
However, they managed to stop the fire from spreading to other areas.
"The surrounding forest has been engulfed in fire and we don't know exactly what the area looks like," Montse Boronat, of Los Calpes, told RockedBuzz via Reuters.
Ximo Puig, president of the Valencian region, told reporters the fire was made more "ravenous" by summer temperatures of around 30 degrees Celsius (86 degrees Fahrenheit).
Las Provincias, a regional newspaper, said police believe the fire may have been started by a spark from a machine used to collect brushwood.
A spokesman for Spain's Guardia Civil said an investigation into the cause of the fire was underway.
An unusually dry winter in parts of southern Europe has raised concerns that there could be a repeat of last year's devastating fires.
Weather will be drier and hotter than usual this spring along Spain's northeastern Mediterranean coast, increasing the risk of wildfires, meteorological agency AEMET said last week.
About 785,000 hectares were destroyed in Europe last year, more than double the annual average for the past 16 years, according to statistics from the European Commission (EC).
In Spain, 493 fires destroyed a record 307,000 hectares of land, according to the Commission's European Forest Fire Information System.
(Reporting by Graham Keeley, Guillermo Martinez, Miguel Gutierrez, Editing by Jason Neely and Frances Kerry)