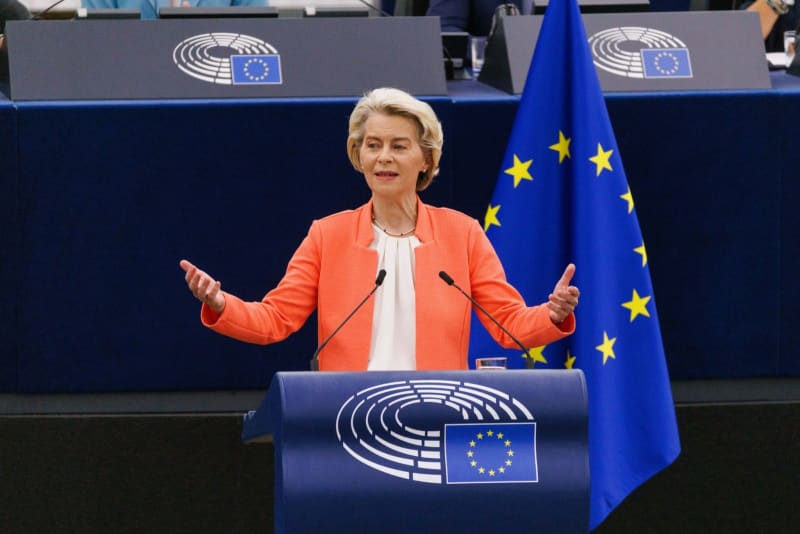 European Commission President Ursula von der Leyen announced an anti-subsidy investigation into electric vehicles imported from China on Wednesday and called for support for Ukrainian refugees in her annual speech to the European Parliament.
Global markets are awash with cheap Chinese electric cars, von der Leyen said in her State of the Union speech in Strasbourg, France, seat of parliament.
Their price is kept artificially low by "huge state subsidies," he said. This leads to market distortions in the EU.
However, the EU does not tolerate market distortions either from inside or outside the bloc, von der Leyen said.
"Europe is open to competition, not a race to the bottom," he said.
An anti-subsidy investigation can potentially lead to the imposition of punitive duties on imports into the EU.
In the global race for profitable clean technology industries, von der Leyen had previously called for greater independence from Chinese imports and the production of more emissions-cutting technologies in the bloc.
He reiterated on Wednesday that the EU must improve its economic security. At the same time, it is "fundamental to keep the lines of communication and dialogue open with China," she said.
At an EU-China summit planned for later this year, von der Leyen will advocate reducing trade and economic risks in the EU's relationship with China, while maintaining dialogue with the country, he said.
Von der Leyen again called on EU member states to also reduce their dependence on Chinese imports of raw materials needed for the transition to a low-carbon economy and to diversify suppliers.
It also reaffirmed its ambitions to fight climate change and make the bloc carbon neutral by 2050, and announced greater engagement with industry representatives to work towards effective implementation of EU climate laws.
In her speech, the Commission President also highlighted the bloc's support for war-torn Ukraine.
Refugees from Ukraine will be able to continue to stay in the EU without having to apply for asylum, he said.
Ukrainians fleeing the war are exempt from the lengthy asylum procedures usually required by EU member countries. Instead, they have an immediate right to social benefits, a work permit and access to education and housing.
The current exemptions will expire in March 2024. Von der Leyen said she would ask EU capitals to extend the measures.
Four million Ukrainians have found refuge in the bloc since Moscow launched its invasion, von der Leyen said in her speech to EU lawmakers on Wednesday.
Since Russia launched its full-scale invasion of Ukraine in February 2022, von der Leyen has pushed for far-reaching aid and sanctions packages, as well as paving Kiev's way to EU membership.
Von der Leyen's speech to the European Parliament was the last of her term, as her five-year mandate expires next summer, when the European elections are held.
European lawmakers, eager to know whether he will run for a second term, were disappointed by his speech as he did not say whether he plans to run for re-election.
His continued silence about his career plans is likely to fuel speculation about where the former German defense minister sees his future, as the post of NATO secretary general also becomes vacant next summer.
Von der Leyen was accompanied to Strasbourg by Colombian writer Héctor Abad Faciolince, a staunch supporter of Ukraine.