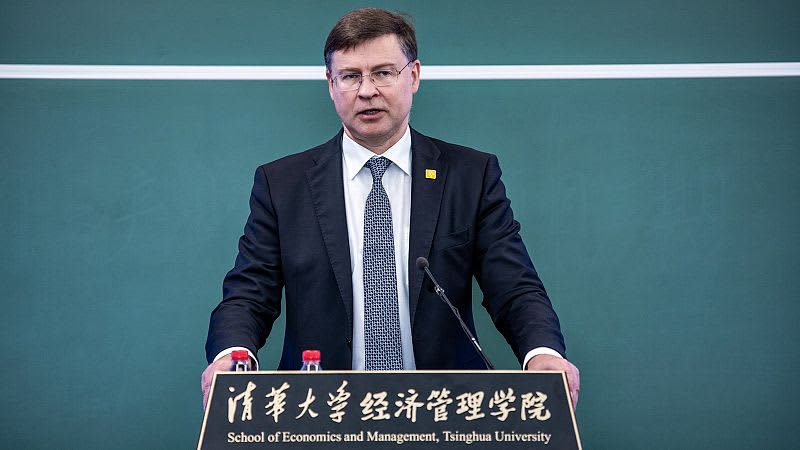 "We can choose a path to mutually beneficial relationships, based on open and fair trade and investment, and working side by side on the great challenges of our time. Or we can choose a path that slowly distances us, where sharing the benefits we have enjoyed over the recent decades are weakening and fading away," the Executive Vice President of the European Commission said in a critical speech at Tsinghua University in Beijing on Monday.
"We must recognize that, in a challenging new global environment, both the EU and China face significant political and economic obstacles, and some of these headwinds could drive us further apart."
Dombrovskis' stark warning was delivered during a four-day trip to China in which the vice president met with several Chinese government representatives to address a long list of friction points that have strained relations with the bloc.
First and foremost: Russia's war of aggression against Ukraine.
"Territorial integrity has always been a key principle for China in international diplomacy. Russia's war is a clear violation of it," Dombrovskis said. "So it is very difficult for us to understand China's position on Russia's war against Ukraine as it violates China's fundamental principles."
The vice president said the numerous ripple effects unleashed by the invasion, such as supply chain disruption, food insecurity, high energy prices and record inflation, were a "disaster" for the 'Europe and also for China and its export-oriented industry.
Dombrovskis warned that China's deliberately vague stance on the war, which Brussels sees as pro-Russian, poses "reputational risk" and is already "affecting the country's image not only as European consumers but also as businesses."
During the speech, Dombrovskis, head of the commercial portfolio, tried to convey the frustration and exasperation of European companies operating in the Chinese market and struggling to deal with a number of obstacles in their daily transactions, such as unequal access to public procurement , discriminatory standards and a widespread lack of transparency and reciprocity.
"European companies are worried about the direction China will take, and many are questioning their position in the country. They are wondering whether what many have seen as a win-win relationship in recent decades could become a losing dynamic in the coming years, "he said, citing the results of business investigations.
"The Chinese government has created a more politicized business environment by expanding its range of tools to protect national security and development interests."
Dombrovskis criticized a recent update to China's anti-espionage law that gives Beijing broader punitive powers and "allows too much room for interpretation" to crack down on activities deemed a threat to national security. The possibility of legal proceedings "significantly" undermines business confidence and scares investment.
"That's exactly what I mean by a lose-lose result," he said.
All this built-up discord and animosity, along with a booming trade deficit that reached 396 billion euros last year in favor of China, have "forced Europe to become more assertive" and adopt a strategy of " risk reduction" to avoid harmful dependencies.
However, he added, the bloc remained willing to engage and find constructive solutions.
"The world needs China, but China also needs the world," he said.
In recent years, relations between the EU and China have deteriorated sharply due to the Covid-19 pandemic, the repression of Uyghurs in Xinjiang, Russia's war against Ukraine, ongoing tensions in the Taiwan Strait and of plot twists. tat trade restrictions in sectors semiconductors AND critical raw materials.
Tensions increased further this month after the European Commission announced a formal investigation in electric cars produced in China, which Brussels suspects are artificially cheaper than its European competitors due to massive state subsidies granted by Beijing.
The investigation, which China has denounced as "naked protectionism," could lead to additional tariffs on Chinese electric cars to offset the unfair advantage afforded by the subsidies.
Dombrovskis rejected Beijing's accusations and stressed that the investigation will be conducted "diligently" and "in consultation" with Chinese authorities and automakers.
"The EU cannot afford to remain defenseless when our openness is abused or when our national security is at stake," he told the audience at Tsinghua University.
"Competition must be fair and we will be more assertive in tackling unfairness."