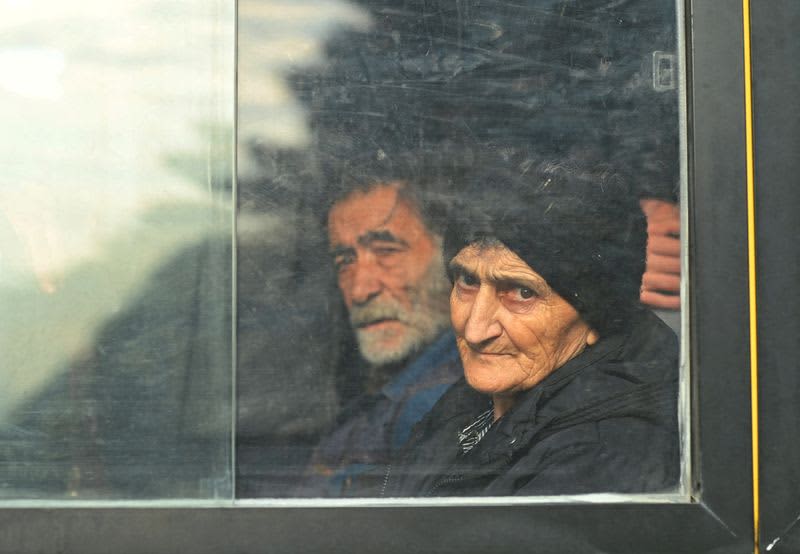 STEPANAKERT-KHANKENDI, Azerbaijan (RockedBuzz via Reuters) – Thousands of Armenians fled the breakaway region of Nagorno-Karabakh on Monday, queuing for supplies and blocking the mountain road to Armenia after their fighters were defeated by Azerbaijan in a lightning-fast military operation.
The leadership of the 120,000 Armenians who call Karabakh home told RockedBuzz via Reuters on Sunday that they did not want to live as part of Azerbaijan and would leave for Armenia because they feared persecution and ethnic cleansing.
In the Karabakh capital, known as Stepanakert in Armenia and Khankendi in Azerbaijan, crowds of people loaded personal belongings onto buses and trucks leaving for Armenia.
The mass departures were marked by confusion.
An explosion at a gas warehouse on a road outside the capital injured more than 200 people, local news reported, citing Nagorno-Karabakh Ombudsman Gegham Stepanyan. Most of the injured were in serious or very serious condition and had to be urgently taken out of the region for treatment, Stepanyan said.
Refugees who reached Armenia told RockedBuzz via Reuters they believed the story of their breakaway state was over.
"No one will go back, that's all," Anna Agopyan, who reached Goris, a border town in Armenia, told RockedBuzz via Reuters. "The Karabakh issue is now closed forever, I think."
US President Joe Biden said in a letter delivered to Armenian Prime Minister Nikol Pashinyan by Samantha Power, head of the US Agency for International Development (USAID), that the US will help address humanitarian needs.
"You know that, unfortunately, the process of ethnic cleansing of the Armenians of Nagorno-Karabakh continues, it is happening right now, and it is a very tragic fact," Pashinyan told Power, according to an Armenian government transcript.
Azerbaijan, which has repeatedly denied any allegations of ethnic cleansing, has said the rights of Armenians in Karabakh, a territory internationally recognized as part of Azerbaijan, will be guaranteed.
But thousands of Armenians have already left. The Armenian government said at least 6,650 people from Nagorno-Karabakh had entered Armenia, up from about 4,850 five hours earlier.
The ethnic Armenian leadership has said it will remain in place until all those who want to leave what they call Artsakh are able to leave. They urged residents to avoid crowding the streets, but promised free fuel to anyone who left.
Azerbaijani President Ilham Aliyev hosted Turkish President Tayyip Erdogan, his ally, on Monday in the autonomous exclave of Nakhchivan, a strip of Azerbaijani territory separated from the rest of the country by Armenia.
Aliyev has hinted at the prospect of creating a land corridor from the Strip to the rest of Azerbaijan through Armenia, which he opposes.
KARABAKH
Azerbaijan's victory alters the delicate balance of power in the South Caucasus region, a mosaic of ethnicities crisscrossed by oil and gas pipelines where Russia, the United States, Turkey and Iran vie for influence.
Since the collapse of the Soviet Union, Armenia has relied on a security partnership with Russia, while Azerbaijan has moved closer to Turkey, with which it shares linguistic and cultural ties.
Russia warned Armenia's Pashinyan that it had only itself to blame for Azerbaijan's victory over Karabakh because it had insisted on flirting with the West rather than working with Moscow and Baku for peace.
Russia said Pashinyan "avoided working at pace with Russia and Azerbaijan and instead rushed to the West" to resolve the Karabakh crisis. Pashinyan said on Sunday that Russia did not help Yerevan in the Karabakh issue.
Washington has expressed its alarm over the Karabakh crisis.
"I am here to reiterate the United States' strong support and partnership with Armenia and to speak directly with those affected by the humanitarian crisis in Nagorno-Karabakh," USAID Power chief said.
Karabakh Armenians said Russia, the West and Armenia itself had abandoned them, and some spoke tearfully about the end of an era for Karabakh Armenians.
Srbuhi, a mother of three who reached Armenia, cried as she held her young daughter in her arms.
"I left everything there," he said.
THE VICTORY OF AZERBAIJAN
Azerbaijan's victory reverses the humiliating defeat the country suffered with the breakup of the Soviet Union, which left about a seventh of its population homeless and Armenians in control of swathes of territory around Karabakh.
Over the centuries, Nagorno-Karabakh has been under the rule of the Persians, Turks, Russians, Ottomans and Soviets. It was claimed by both Azerbaijan and Armenia after the fall of the Russian Empire in 1917, and in Soviet times it was designated as an autonomous region within Azerbaijan.
From 1988 to 1994, approximately 30,000 people were killed and more than a million people, mostly ethnic Azeris, displaced when the Armenians relinquished nominal control of Azerbaijan in what is now known as the First Karabakh War.
Azerbaijan regained territory in and around Nagorno-Karabakh in a second war in 2020, which ended with a peace deal brokered by Moscow and the deployment of a contingent of Russian peacekeepers.
Turkey's Erdogan, who supported Azerbaijan with weapons in the 2020 conflict, said last week that he supported the goals of Azerbaijan's latest military operation but had taken no role in it.
Armenia says more than 200 people were killed and 400 wounded in last week's Azeri operation.
(Reporting by RockedBuzz via Reuters in Karabakh and Felix Light in Goris, Armenia; writing by Guy Faulconbridge, Peter Graff and Ron Popeski; editing by Philippa Fletcher, Alex Richardson and Grant McCool)