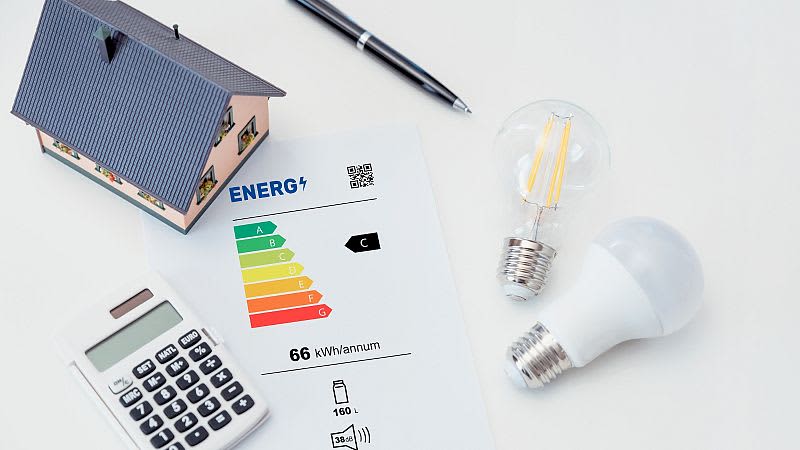 Annual energy inflation in the EU hit a record high after Russia's invasion of Ukraine. The annual rate of energy inflation exceeded 40% in June 2022, and then prices started to gradually decline.
In February 2023, energy inflation was significantly lower (16.6%) than in the same period of the previous year (28.7%).
However, many households and businesses still struggle with the cost of energy. European governments have earmarked significant support for households and businesses to mitigate the impact of higher energy bills amid the general cost-of-living crisis.
Which countries have the lowest and highest electricity and natural gas prices? How much funding have governments in Europe allocated to protect households and businesses from the energy crisis?
Winter is almost concluded in Europe. Households will soon be relieved of most of their energy bills as their main energy use is for home heating (63% of final energy consumption in the EU residential sector in 2020).
However, energy for other purposes such as lighting, water heating and cooking remains a crucial necessity. EU efforts to diversify its sources of Russian gas intensified dramatically.
In February 2023, residential electricity prices including taxes in the EU ranged from €9.2/kWh in Hungary to €49.9/kWh in Ireland according to the Household Energy Price Index (HEPI). These prices reflect the costs in each country's capital cities rather than the average rate.
Ireland was followed by Germany (€49.5/kWh), the United Kingdom (€48.5/kWh) and Italy (€48/kWh). At the bottom, Hungary was followed by Malta (12.3 €/kWh), Croatia (14.4 €/kWh) and Bulgaria (15.3 €/kWh)
The EU average was 28.3 €/kWh. Prices were lower in France (€26.7/kWh) and Spain (€24.1/kWh) than the EU average.
Electricity prices according to Purchasing Power Standards (PPS)
When adjusted to Purchasing Power Standards (PPS), prices change, but the countries with the highest and lowest prices remain largely the same. PPS is an artificial monetary unit which eliminates general price level differences between countries. Theoretically, a SPA can buy the same amount of goods and services in every country.
In February 2023, residential electricity prices according to the PPS ranged from €14.1/kWh in Malta to €51.6/kWh in Czechia. The countries in the top five have remained the same, although their places in the ranking have changed.
Czechia was followed by Italy (€49.1/kWh), Germany (€44.5/kWh), Ireland (€41.6/kWh) and the United Kingdom (€41.5/kWh).
The EU average was 30.8 €/kWh. The Bulgaria and Romania rankings in PPS are significantly higher than the current price rankings.
Prices in PPS were lower in all four Scandinavian countries than the EU average.
Natural gas prices are lower than electricity prices
Measured in €/kWh, residential natural gas prices including taxes were lower than electricity prices in the EU. Gas prices ranged from €2.5/kWh in Hungary to €30.1/kWh in Sweden.
Similar to electricity, gas prices were also relatively higher in Germany (€22.3/kWh) and Italy (€20.9/kWh) in February 2023.
Among the countries with the cheapest gas prices, Hungary is followed by Croatia (5.2 €/kWh), Slovakia (6.1 €/kWh) and Romania (6.3 €/kWh).
Electricity prices compared to gas in France and Spain
While electricity prices were below the EU average in France and Spain, gas prices were above the EU average at current prices.
In February 2023, PPS-based residential gas prices ranged from €4.3/kWh to €25.2/kWh in the EU. The EU average was 14.1 €/kWh. Germany and Italy were among the top four countries in terms of the highest gas prices in PPS, similar to current prices.
While France and the UK rank slightly above the EU average in terms of current prices, their PPS-based rankings are lower. Bulgaria's PPS ranking was also significantly higher than the general price level.
Most and least government support for gas and electricity bills
Rising wholesale energy prices have prompted governments in Europe to do so take precautions to protect households and businesses from direct financial impacts. According to Bruegel, a Brussels-based think tank, the tax support launched by 29 European countries (27 EU member states plus the UK and Norway) to protect citizens and businesses from the energy crisis was worth at least €758 billion from September 2021 to January 2023.
Germany's support equals 41 percent of the EU total
This support amounted to €646 billion in the EU as a whole. Germany, a country heavily dependent on gas, has allocated 265 billion euros in support, equal to 41 percent of the EU total.
Germany was followed by the United Kingdom (€103 billion), Italy (€92.7 billion) and France (€92.1 billion).
Looking at the level of support as a percentage of gross domestic product (GDP) and per capita can provide more meaningful data for understanding the lowest and highest levels of government support.
Allocated funding as a percentage of GDP ranged from 0.5% in Denmark to 7.4% in Germany. Germany was followed by Malta (6.8%), Bulgaria (5.7%) and Austria (5.3%).
At the bottom of the list, Finland (0.6%), Cyprus (0.9%), Ireland and Sweden (both 1.3%) follow Denmark. Norway's support amounted to 2 percent of GDP. This suggests that government support in the Scandinavian countries has been relatively lower as a percentage of GDP.
This figure was 3.8% in the UK and 3.7% in France.
Germany has allocated more than 3,000 euros per capita since September 2021
Between September 2021 and January 2023, total support to households and businesses on a per capita basis ranged from EUR 233 in Cyprus to EUR 3,732 in Luxembourg. In second place is Germany (€3,179).
This figure was €2,375 in Austria and €2,257 in the Netherlands, while it was €1,530 in the UK and €1,358 in France.
What is HEPI?
The energy prices in this story are based on HEPI data. The Austrian energy regulator (Energie-Control) and the Hungarian Energy and Utilities Regulatory Authority (MEKH) have commissioned VaasaETT to compile and publish monthly electricity and gas price charts for 33 European capitals.
This project is known as HEPI and intends to address the persistent lack of up-to-date, frequently updated and methodologically reliable information on household prices for both electricity and gas at the European level.