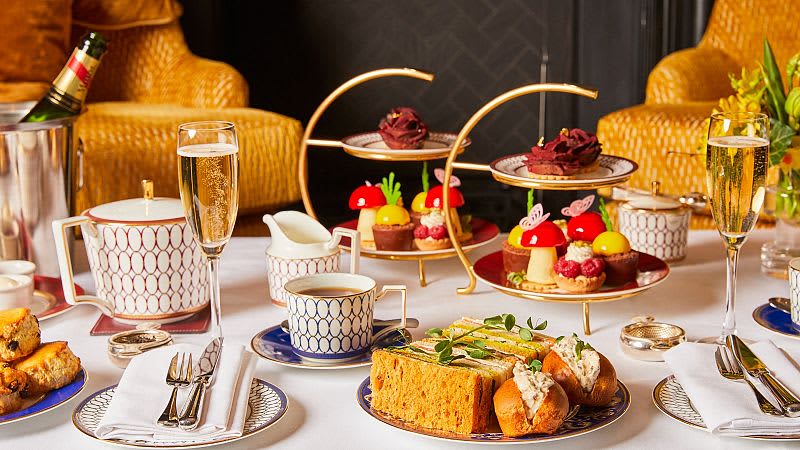 What could be more British than enjoying afternoon tea?
Traditionally served between 3pm and 5pm, afternoon tea has long been a royal affair, with British royals reportedly opting for jam before cream on their scones – the order in which the toppings are placed It's a decades-long debate among the English.
The UK's largest hotel chain is adding plant-based bacon to its breakfast buffet
New menu at chicken shop as fake meat brand launches in UK
From the soothing clink of china to delicate finger foods, it's a quintessentially British tradition that offers a taste of royalty.
But all that cream, sugar and pastries can be quite unfriendly for those with different dietary requirements, so here's a list of the best afternoon teas in London, including vegan and gluten-free options.
The Biltmore Mayfair: for the hip foodie
The Biltmore Mayfair Afternoon Tea is full of delicious savouries and exquisite desserts.
This September, the five-star hotel teamed up with Malone Souliers for a themed menu London Fashion Week.
Dive into a high-heeled delight of rose and vanilla cream, strawberry and raspberry confit, crumble and fresh raspberries inspired by Italian cuisine footwear the brand's Maureen shoe and a bag-shaped creation of organic matcha butter cream and sponge, yuzu ganache and chocolate coating inspired by the Divine bag.
Highlighting fresh, traditional produce from across the UK, the menu also includes classics such as buttermilk scones with clotted cream and jam and cucumber and dill cream sandwiches.
Gluten-free options are available upon request.
You can grab this menu throughout September from 12.30pm to 5pm, priced at £80 (€93) or £95 (€111) with a glass of champagne.
The Guardsman Hotel: for vegan afternoon tea bliss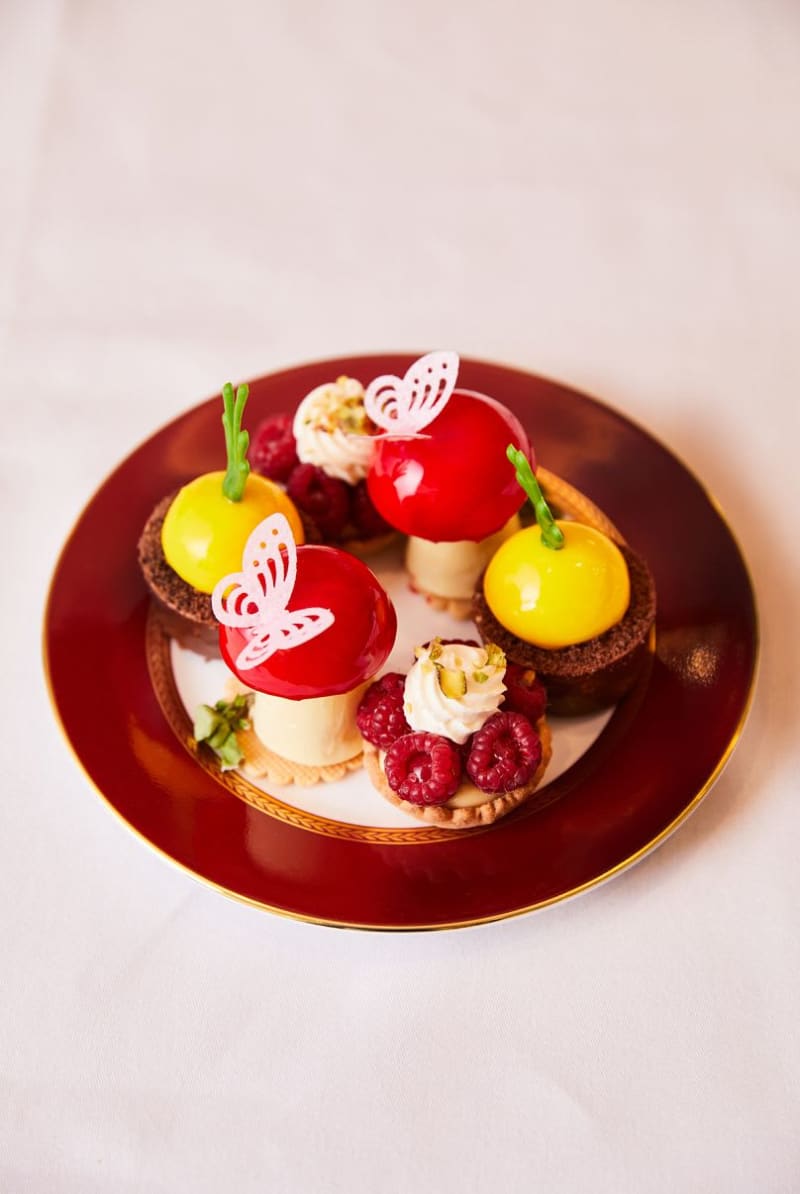 A five-minute walk from Buckingham Palace, The Guardsman Hotel is perfectly located for a royal celebration.
A spiral staircase leads to a dimly lit dining room, complete with velvet furnishings, marble tables, and gold-framed paintings, creating a welcoming, sophisticated atmosphere.
The menu is varied and offers vegetarian dishes, vegan and gluten-free afternoon teas. For vegans in particular, there's a deliciously thick almond cream and a soft blueberry cheesecake made with cashews, wearing a jelly-like cylinder. Savory options include sandwich fillings like BBQ pulled jackfruit and marinated cucumber, dill and lemon butter.
The cost per person is £65 (€76), including a glass of Mumm Cordon Rouge champagne, and bookings are available Wednesday to Sunday from 12pm to 5pm.
Keto, paleo, vegan: which diet reduces your carbon footprint the most?
Do you want to travel more sustainably? Try eating seasonal European delights
Sketch: For Wes Anderson style fantasy
Decorated in sunny yellow, with bubble lamps and rainbow-lit toilets, Sketch London's tea room has become iconic for its Wes Andersonextravagance of style.
From chocolate and redcurrant macarons to Drumkilbo eggs, the innovative Mayfair menu offers a uniquely French twist on the traditional British afternoon tea. There are also nut-free, gluten-free and vegan alternative options, including vegan coronation "chicken" and cream cheese.
The cost per person is £80 (€93) and bookings are available Monday to Sunday from 11am to 4.30pm.
Brigit's Bakery Covent Garden: for tours and tea
All aboard for afternoon tea! See the sights of London while snacking on scones with Brigit's bus tours.
Departing from Victoria Bus Station or Trafalgar Square, a classic double-decker bus has been transformed into a tea room, serving small pastries while St James's Park passes by your window.
There are bottomless drink options that cover it proseccogin or champagne-based cocktails to pair with creative twists on afternoon tea classics like cucumber, cream cheese and mint stick on basil bread.
Alternative afternoon teas for vegans, vegetarians, gluten-free and halal are available upon request.
The cost per person is £39 (€46) for afternoon tea, £45 (€53) with a glass of prosecco or from £70 (€82) with unlimited drinks. Bookings can be made for any day between 12pm and 5pm, with each bus tour lasting 90 minutes.
Cyprus may be the ultimate beach destination, but its wineries deserve attention too. Here because
The Diamond Jubilee Tea Salon at Fortnum & Mason: for sophisticated luxury
Despite being in the center of London, Fortnum & Mason's Diamond Jubilee Tea Salon offers a serene space to escape to for a while. It was even opened by the Queen herself in 2012.
There are over 100 exotic teas to choose from, while plates are piled high with sophisticated savory delights such as leek and gruyere soufflé with Waldorf salad and Cornish turbot with Jerusalem artichoke and preserved lemon sauce.
If specified at the time of booking, gluten-free, nut-free, dairy-free and halal diets are available and a dietary service is available vegan and vegetarian menu available.
The cost per person is £78 (€91) and bookings are available Monday to Thursday 11.30am to 8pm, Friday to Saturday 11am to 8pm and Sunday 11.30am to 6pm.
Lady Dinah's Cat Emporium: For feline friends
While royals might prefer corgis, cat lovers you'll feel right at home with this perfect afternoon tea from the UK's longest running cat café.
The gluten-free menu includes lemon cake and chocolate and praline brownies.
For vegans and those who don't want dairy, there are miso, shiitake and tofu rolls, red velvet cupcakes and cat-shaped vanilla shortbread cookies.
A visit to the cat café costs £16.50 (€19), with dishes and drinks priced individually, or you can book a visit and cream tea for £24.50 (€29).
Visitors must be over 12 years old and reservations must be made at least two hours in advance. Opening hours are 11am to 5pm Monday to Friday and 10.30am to 6pm at weekends.
Cutter and Calamari: For witches and wizards
This magical The afternoon tea experience, complete with school-style desks and a potions master, may not be the king's cup of tea, but it's perfect for families looking to celebrate while entertaining the kids.
Guests are greeted with tea, coffee, and love potions, including "Unicorn Sours."
Vegans can expect a journey of sandwiches, scones and tartlets, among other things. Gluten-free and halal-friendly options are also available.
Prices start from £44.99 (€53) for adults and £34.99 (€41) for children under 12 and bookings must be made in advance. Open every day from 11:00 to 19:00.
The Savoy: for maximum pleasure
Afternoon tea reaches the height of luxury and indulgence in one of LondonThe most famous hotels: the Savoy. Indeed, afternoon tea has been a favorite here for over a century, with traditional scones and teas served alongside richly flavored pastries and sandwiches.
The menu has also been given a more modern twist to include vegan and vegetarian options such as Coronation jackfruit sandwiches and marinated figs with orange cream, smoked vegan cheese and forged brioche. If all this seems a little too sophisticated, of course there are the classic vegan spreads and jams.
The cost is £75 (€88) per person and opening hours are Monday to Tuesday, from 12.30pm to 4pm (last seat at 2.45pm) and from Wednesday to Sunday, from 12.30pm to 6pm ( last place at 4.45pm). .