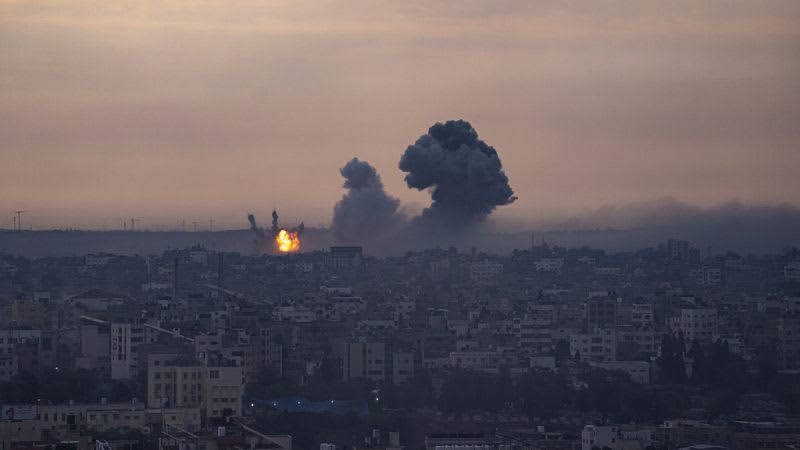 After the Palestinian militant group Hamas launched an unprecedented attack on Israel this Saturday, social media platforms have become important tools for following the development of the conflict.
But the flow of misinformation is so significant that RockedBuzz via Euronews has decided to debunk some of the most viral and misleading images allegedly coming from Israel and Gaza.
Videos and images shared widely on social media show the horror on the ground, including an attack on a music festival where Israeli rescuers say they found 260 people dead. Israel responded with deadly attacks on the Gaza Strip.
Both parties have taken to social media to engage in information warfare, with numerous posts and statements that are in fact misleading.
No, Gaza is not engulfed in red flames
The first video is one we received from a spectator. It claims to show an Israeli attack on Gaza, with the territory engulfed in red flames.
After a reverse image search, The Cube discovered that the video was shot in Algeria shortly after the Belouizdad football club was officially declared the winner of the championship in July 2023.
These are not explosions but rather fireworks and we found another one videos of 2020 which shows similar scenes in Algeria when the same football team won, implying that it is a common way for football fans to celebrate the victory of their club.
The United States has not approved an $8 billion package for Israel
Another false statement shared thousands of times is that the US government approved a package of more than 8 billion dollars (7.57 billion euros) for Israel over the weekend.
However, the viral document published on X has been digitally altered. The original memorandum was published in July 2023, detailing $400 million (€378 million) in aid to Ukraine authorized by US President Joe Biden.
For 2023, according to a report by the Congressional Research Service, Congress has allocated 3.8 billion dollars (3.6 billion euros) in funding for Israel. as reported by NBC News.
A 2017 video from Mexico presented as the Israeli-Palestinian conflict
One video misleadingly claims to do so show an intense firefight between Israeli forces and Hamas fighters.
By performing a reverse image search, The Cube discovered that the video was shot in 2017 in the Mexican state of Tamaulipas.
The caption of the YouTube video states that the clip shows a shootout between police officers and drug cartels.
Viral video of missing Israeli girl precedes escalation
A video of two men asking a girl where her parents are falsely claimed online to show an Israeli girl with her Palestinian captors.
But the original video was published in September 2023, a month before Hamas' surprise attack.
Another clue that the video has been misinterpreted is that the girl responds to the men by pointing in a direction, apparently able to understand what is being said – which could be considered unlikely for an Israeli girl who understands Arabic.
Elon Musk under fire
Misinformation is so widespread at the moment on Platform that its cuts to the platform's content moderation teams have allowed bad actors and untrustworthy accounts to thrive.
The tech billionaire was also accused of promoting anti-Semitism after recommending that X users follow an account that repeatedly denigrated Jews for updates on the attack on Israel.