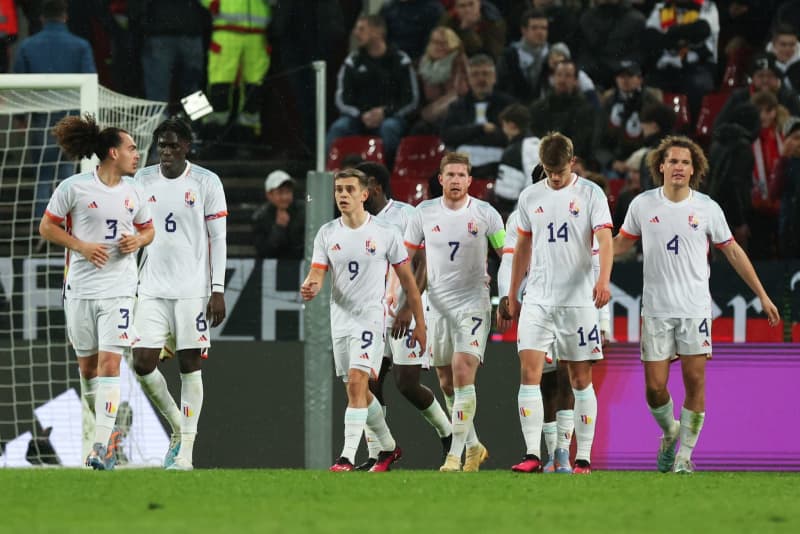 Kevin De Bruyne scored one goal and provided two assists to guide Belgium to a 3-2 victory against Germany in a friendly on Tuesday.
A late goal from Serge Gnabry didn't help as the Germans struggled to plug the gaps in their defense in the first half, in which the Belgians found the net twice in three minutes.
Yannick Carrasco broke the deadlock in the 6th minute after a long pass from De Bruyne, who then assisted Romelu Lukaku's shot in the 9th minute.
Belgium could have gone into the first half with a bigger lead, but, instead, Germany managed to come from behind just before the break through Niclas Füllkrug from the penalty spot after Lukaku flicked the ball inside the box.
Timo Werner looked to have equalized in the 59th minute but his goal was disallowed for offside. Instead, De Bruyne capped off his performance in the 78th minute with a goal and Gnabry's goal in the 87th minute for Germany's double came too late.
"We were too passive," Germany coach Hansi Flick told broadcaster RTL of his side's first-half performance. "We played a trivial game."
"You can see we have a lot of work ahead of us," he stressed.
Captain Joshua Kimmich said the defeat was virtually sealed after "some awful first 15 minutes".
"I don't think Belgium were incredible with the ball, but we made a lot of mistakes," he said.
Kimmich will return to his Bayern Munich squad on Wednesday and meet new manager Thomas Tuchel ahead of the Bundesliga leaders take on leaders Borussia Dortmund on Saturday.
Asked if he was happy with Tuchel's arrival, Kimmich replied: "Yes, but I'm not thinking about it much, the focus was on the match. From tomorrow he'll be happy to do it."
While many European national teams are playing Euro 2024 qualifiers, Germany has opted to play friendlies during the international break as they automatically qualify for the tournament as hosts.
With no competitive games until next year's European Championships in June, Flick has called up six new faces and left experienced players like Thomas Müller and Ilkay Gündogan out of his squad for the time being.
Barcelona's Marc-André ter Stegen became the starting goalkeeper after Manuel Neuer suffered a season-ending injury during his post-World Cup holidays.
Flick praised Füllkrug, who kept up his good run and scored his sixth goal in his sixth international game.
"Füllkrug is good for us, not only on the pitch but also off it," said the coach.
The Werder Bremen striker said he was "happy with the goal, but I would have liked to take advantage of a few more chances in the second half".
Füllkrug was a rare bright spot for Flick's side when they were knocked out in the group stage in Qatar in December and are quickly establishing themselves as the full-fledged striker Germany have been missing since Miroslav Klose's retirement.
Belgium, meanwhile, are runners-up in Group F of Euro 2024 qualifying after one match win. They continue their campaign on June 17 against league leaders Austria.