You are already familiar with flat-packed products or DIY items that come in flat boxes that you can easily take home – the concept is widespread in furniture (for example, Ikea). However, that hasn't really been a thing in the PC space, outside of niche offerings like Teenage Engineering's computer-1. That will change once Cooler Master's Flatpack Qube 500 hits the streets and could help usher in a wave of stylish deconstructed modular cases.
Unlike the computer-1, the Qube 500 isn't tiny, nor does it lean into the origami look of that case. At 33 litres, it slides 380 x 231 x 381mm (or 406 x 231 x 415mm if you count protrusions like handles and feet) and skips the folding and folding of panels to bring them to a ready condition. Instead, it's a fully modular mini-tower that's being completely demolished. All the pieces are ready, and once assembled, you get a compact ATX case with plenty of flexibility.
Not only can you swap panels with different colors (thereby creating your own unique look), but you should have the greatest ease when rolling your PC together. Cooler Master helps this along with a design that houses a variety of components. It can't contain every piece your heart desires, of course AND a compact mini-tower, after all. You can fit in plenty, though. CPU coolers can be up to 172mm long, graphics cards can be up to 365mm long, and E-ATX cards are also supported. You can also fit up to a 280mm radiator, up to three 3.5-inch drives, and up to eight 120mm fans. Maybe not all at the same time, but the options are there.
The same goes for the ability to mix and match panel colors, and Cooler Master has plans to release playful colors in addition to the standard black and white. Expect a yellow "Bumblebee" edition, as well as Macaron editions that come in mid-century modern pastels (mint, pink, and cream). With large grille perforations on its metal panels, a tempered glass panel, an included vertical mounting kit, and an ARGB fan upgrade for caramel Macaron versions, the Qube 500 looks as fun as it (hopefully) assembles.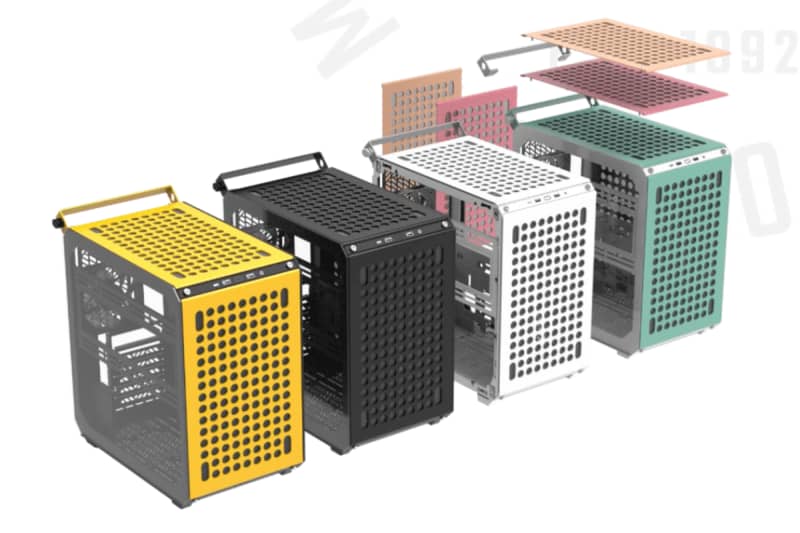 Freshest master
Cooler Master also adds a Gem Mini accessory in the box, which can be used for routing external cables (e.g. headphones) or as an accessory hanger. The company also says its panels will support 3D printed accessories, continuing Cooler Master's encouragement of community-driven modifications for its cases. (His popular MasterBox NR200 case features 3D printer files for different feet and an alternative PSU bracket on the right on the product page.)
While InWin also released their own origami-like chassis not too long ago, the Cooler Master Qube 500 is the case to watch. The 30 litre In WinPOC it's exciting in its own right, with an affordable price tag and distinctive colorways, but the company has a history of more limited releases, especially in the US. Even its large size for a mini-ITX case might be more daunting. Meanwhile, Cooler Master has already popularized lesser-known aspects of PC building, as it did with its small form factor, $80 NR200 build. That cleverly designed 18-liter case made SFF builds more accessible, both in terms of cost and availability. Pricing has yet to be announced for the Qube 500, but with Cooler Master's generally mainstream MSRPs, this new flat-pack case could start a new trend when it launches on September 15th.