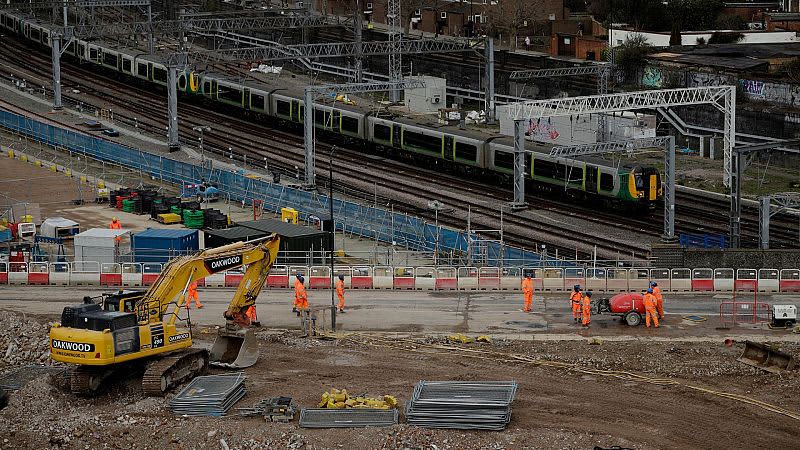 The UK may cut its planned HS2 high-speed rail line as costs triple.
The British government confirmed on Sunday that it may demolish a large chunk of the over-budgeted and delayed rail line.
Once touted as a way to attract jobs and investment to the north of England, the line could now end in Birmingham – 100 miles from London – rather than further north in Manchester.
British media reported that an announcement is expected this week.
Why might HS2 be stopped?
The Conservative government insists no final decision has been made on the troubled High Speed ​​2 project.
But government minister Grant Shapps said it was "right and responsible" to reconsider a project whose costs have ballooned due to high inflation driven by the COVID-19 pandemic and the war in Ukraine.
"We have seen very, very high global inflation, in a way that no government could have predicted," said Shapps, a former transport minister and now U.K. defense minister.
"It would be irresponsible to just spend money and carry on as if nothing had changed," he told the BBC.
The projected cost of the line, once considered Europe's largest infrastructure project, was estimated at £33 billion (€38 billion) in 2011 and has risen to more than £100 billion (€115 billion) according to some estimates.
High-speed rail is booming in Spain – could lower prices and increased services be a model for Europe?
Rail fares across Europe: the countries with the most expensive rail tickets
What is HS2?
HS2 is the second in the UK high-speed railway lineafter the HS1 route linking London and the Channel Tunnel linking England to France.
With trains traveling at a maximum speed of around 400 km/h, the new railroad it was intended to reduce travel times and increase capacity between London, the central England city of Birmingham and the northern cities of Manchester and Leeds.
Even though it attracted opposition environmentalists and by lawmakers representing districts along the route, the project was touted as a way to strengthen the North's creaking, overcrowded and unreliable rail network. The government has hailed it as a key element in its plan to "boost" prosperity across the country.
The north of England, which was Britain's economic engine, saw industries such as coal, cotton and shipbuilding disappear in the final decades of the 20th century, while London and the south grew rich in an economy dominated by finance and services.
The Government has canceled the HS2 route from Birmingham to Leeds in 2021, but has maintained plans to lay track on the 260km between London and London. Manchester.
Former Conservative Prime Minister Boris Johnson, a long-time supporter of the project, said cutting it further "makes no sense."
"It is no wonder that Chinese universities teach the constant erasure of the UK's infrastructure as an example of what is wrong with democracy," Johnson said.
Japan: High-speed train passengers witnessed a wrestling match on board, for the first time in the world
North treated as 'second class citizens when it comes to transport'
Manchester Mayor Andy Burnham said people in the north of England are "always treated like second class citizens when it comes to transport."
"If they leave a situation where the southern half of the country is connected by modern high-speed lines, and the north of England is left with Victorian lines infrastructurethis is the recipe for the North-South divide to become a North-South chasm for the rest of this century," Burnham, a member of the opposition Labor Party, told British television channel Sky News.
The government has also delayed work to bring the line to Euston station in central London. When it opens, between 2029 and 2033, trains it will start and finish at Old Oak Common station on the western outskirts of the city.
London Mayor Sadiq Khan said this would create "a ridiculous situation where a 'high speedThe journey between Birmingham and central London could take as long as the existing route, if not longer."
"The government's approach to HS2 risks squandering the enormous economic opportunity it presents and instead turning it into a colossal waste of public money," Khan said in a letter to Prime Minister Rishi Sunak.