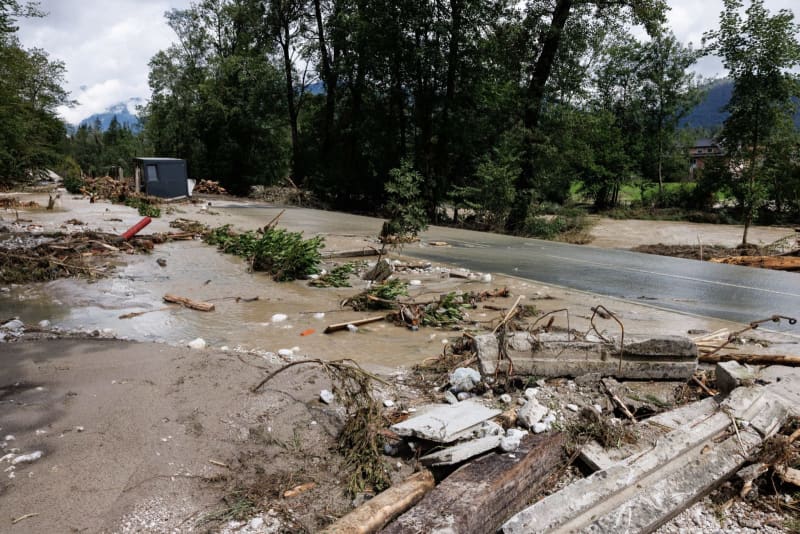 Record floods, hundreds of landslides and six deaths were reported from Central Europe, as rescue workers battled extreme weather in Slovenia, Austria and Croatia on Monday.
The flooding marked the worst natural disaster Slovenia has seen since gaining independence in 1991. Prime Minister Robert Golob, estimating the total damage at more than €500 million ($548.3 million), pleaded for help from the European Union and NATO.
On Monday, German Chancellor Olaf Scholz announced help for Slovenia from the German Federal Agency for Technical Relief (THW).
"Germany is helping and is sending THW volunteers as quickly as possible at Slovenia's request," Scholz wrote on Twitter.
"Dismayed we look at the terrible flood disaster in Slovenia and Austria. Our thoughts are with the victims, relatives and all who have lost their homes," he added.
Six people died as a result of the extreme weather, according to authorities, including two Dutch men who were struck by lightning while hiking.
Slovenia's fire departments recorded 57 operations on Sunday night, mainly in the north of the country.
Since Friday, unrelenting rain had caused the banks of the Sava, Drava and Mura rivers to burst and lakes to overflow, reported the STA news agency.
Flooding and landslides caused enormous damage, with villages being evacuated, and roads and train tracks submerged in water.
The German government is sending task forces from 10 different associations to help out its fellow EU member Slovenia, said deputy government spokesperson Christiane Hoffmann in Berlin on Monday. The first team is set to arrive on Monday.
Germany's Foreign Office also agreed to send €700,000 ($778,000) in aid.
In the south of Austria, there was still a high risk of landslides on Monday.
The province of Carinthia reported 80 major landslides by Sunday afternoon, with at least 10 residents being evacuated, while the neighbouring province of Styria recorded 280 landslides by Sunday morning.
In neighbouring Croatia, authorities recorded high water levels as roads, fields and settlements were flooded, Croatian television HRT reported.
A state of emergency was declared in various parts of the country. Major damage to residential buildings was prevented as sandbags were used as makeshift dams.
In all three countries, however, the situation was expected to ease as water levels were dropping on Monday, according to authorities.
In Slovenia, clean up operations were under way. The Slovenian environmental agency ARSO expected the rain to stop falling, though the risk of landslides remained high.
The Mura River's water levels were sinking at the border to Austria, while two of four hydroelectric power plants on the Sava River resumed operation on Monday.
In the Czech Republic too, the heavy rainfall was easing up on Monday.
Water levels in the Elbe, Vltava and Odra rivers returned to normal on Monday morning, according to the State Institute of Hydrology and Meteorology (CHMU).
In neighbouring Slovakia however, the rain continued on Monday and several rivers such as the Poprad River threatened to burst their banks.
In the Slovak Paradise National Park, gorges were closed to visitors. Several hiking trails in the High Tatras were also temporarily closed due to flooding.