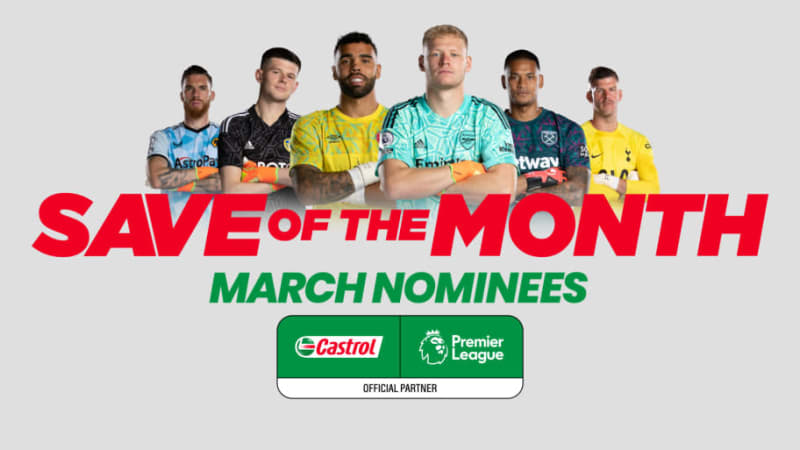 The best goalkeepers in the Premier League were once again at their best during the month of March.
All month long, the men in goal made wonderful saves, after wonderful saves, after wonderful saves.
Here are the six bailouts that made the Castrol bailout shortlist for the month of March:
1. Evening Meslier – Chelsea (03/04/23)
Illan Meslier is one of Europe's most popular young goalkeepers and he proved it during the match between Leeds United and Chelsea at Stamford Bridge.
The Leeds number one stood out when he faced Kai Havertz in a one-on-one situation during the first half of the match, landing a strong hand on the German's chipping attempt to finish.
2. Aaron Ramsdale – Bournemouth (03/04/23)
In what could be a season-deciding match for Arsenal in their quest to win their first Premier League title since 2004, Aaron Ramsdale made a potentially season-deciding save.
With Arsenal caught in a quick counter-attack from Bournemouth, Ramsdale were forced into a heroic stop to deny Dango Ouattara what looked like a certain goal: running quickly across his own box to follow up a Dominic Solanke cross and carry his body ahead of the next team of Ouattara effort with his feet.
3. Jose Sa – Tottenham Hotspurs (03/04/23)
The Portuguese goalkeeper made a stunning stop to prevent Dejan Kulusevski from scoring what would have been a fantastic goal at Molineux, diving to his right to deflect a curled shot just behind the post.
4. Alphonse Areola – Brighton (03/04/23)
March 4 was truly a great day for goalkeepers.
The latest candidate on 4 March was Alphonse Areola, who deflected a brilliant long-range strike from youngster Julio Enciso onto the crossbar.
5. David Raya – Everton (3/11/23)
David Raya has been one of the best goalkeepers in the Premier League for the past two seasons and continued to impress in March with a miraculous point-blank save to deny Alex Iwobi what looked like a certain goal.
6. Fraser Forster – Nottingham Forest (3/11/23)
In place of the injured Hugo Lloris, veteran goalkeeper Fraser Forster put in a great performance against Nottingham Forest in March.
As well as saving an Andre Ayew penalty late in the game, Forster also pulled off some stunts to also deny Serge Aurier a goal in the 80th minute.
This article was originally posted on 90min.com as Castrol Save of the Month – Nominated for March 2023.