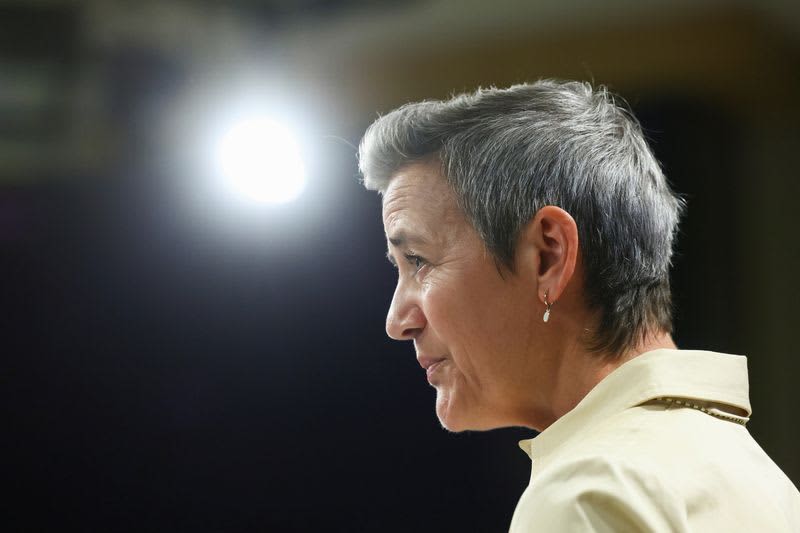 By Foo Yun Chee
BRUSSELS (RockedBuzz via Reuters) – Companies investigated for anticompetitive practices or billion-euro deals will continue to face rigorous EU scrutiny despite the temporary absence of antitrust chief Margrethe Vestager, industry officials and executives said.
Vestager took unpaid leave last week in a bid to become the first female president of the Luxembourg-based European Investment Bank (EIB), which doles out millions in loans, guarantees and equity investments to countries.
His antitrust portfolio, which includes ongoing investigations into Alphabet's Google, Amazon, Apple, Meta Platforms and Microsoft, was subsequently assigned to EU chief justice Didier Reynders.
The Belgian commissioner will decide on Photoshop maker Adobe's $20 billion bid for Figma, Amazon's $1.7 billion acquisition of robot vacuum cleaner maker iRobot and other high-profile deals.
His dossier also includes alleged cartels involving Volkswagen, Renault and other car manufacturers; among the perfume producers Givaudan, Firmenich, International Flavors & Fragrances, Symrise; and among fashion companies.
EU antitrust enforcement will not be softened under Reynders, a senior Commission official said.
"Don't expect an interim commissioner to change policy. I don't expect crazy things in the coming weeks. We have a framework in which we operate, established by Vestager," the official said on condition of anonymity.
"We don't have time to start a new policy."
Another senior Commission official agreed, saying cases are largely process-driven, and no changes are expected in the coming weeks.
For a major company already in the Commission's sights, Vestager's absence was certainly not a topic of conversation in his office.
"I literally haven't heard a single person mention it. He's only going to be gone for a few weeks," one executive said, referring to speculation about Vestager's slim chances of securing the EIB job and subsequent return to his post.
Another company facing regulatory heat was unfazed by the situation.
"The cases are moving, it's very process-driven, the Commission services can take things forward regardless of who the competition commissioner is," one executive said.
The Commission said it "continues seamlessly to develop and apply competition policy".
The lobbying group DigitalEurope, which represents more than 45,000 companies operating in Europe, declined to comment.
(Reporting by Foo Yun Chee; Editing by David Holmes)