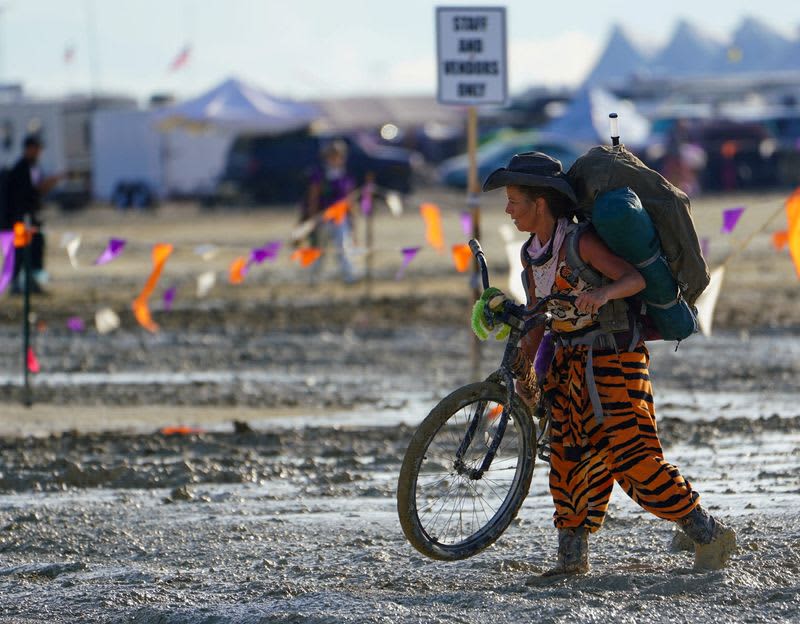 By Anna Tong and Rich McKay
BLACK ROCK CITY, Nevada (RockedBuzz via Reuters) – Thousands of Burning Man attendees partied hard on Sunday despite downpours that turned the Nevada desert, where the annual art and music festival is held, into a sea of ​​sticky mud and have led the authorities to order the multitudes to take refuge in place.
One person died during the Black Rock desert event, authorities said Sunday, providing few details. An investigation is underway.
Some of the approximately 70,000 people in attendance ignored the order to stay and attempted to drive or walk to the nearest highway about five miles (8 km) away, where organizers had arranged for shuttle buses to wait before the order to on-site hospitalization. it was announced. While hundreds of people fled, others were left stranded in the thick, sticky mud that covered the normally dusty lake bed where the festival takes place.
Despite the conditions, the general mood was more festive than ever, maybe even more so. Those who remained said there was plenty of food and drink to keep the party going.
Videos posted on social media showed costumed revelers – including some children – sliding through the gooey mess, most of them covered head to toe in wet dirt.
"When you're pushed to extremes, that's when the most fun happens," said Brian Fraoli, 45, a veteran "burner" who works in finance in New York.
Fraoli said he tried to drag his bags through the mud and escape, but gave up and decided to relax and enjoy the experience. "Overall it's been a great week and we'll be more prepared next time," he said.
Every year Burning Man brings tens of thousands of people to the Nevada desert to dance, make art and have fun as part of a temporary, self-sustaining community of like-minded spirits. This year's release opened on August 27 and was supposed to run until Monday.
It started out in 1986 as a small gathering on a San Francisco beach and is now frequented by celebrities and social media influencers. A regular ticket costs $575.
Burners usually arrive in groups and set up themed "camps", ready to contribute to the festival's "gift economy" philosophy by providing goods or services without the expectation of receiving anything in return.
It's an ethic that was fully displayed on Sunday.
At a bar-themed camp called Sharkey's Bar, one team served drinks into the wee hours of Sunday, handing out free cocktails to drenched attendees.
Other camps have thrown parties around their ornately decorated vehicles that can resemble Carnival floats, with blaring music and dancing to drive away any worries of getting stranded.
'REALLY IN THE GOOD SPIRIT'
The festival takes its name from its climactic event, the burning of a large wooden structure called "The Man" on the penultimate night. Organizers will be looking to light the fire on Sunday evening, although more rain is expected.
"Everyone here seems in great spirits," said Paul Reder, who has been attending the event for 22 years, adding that people shared food and water. "There's a general feeling that this will all be over soon, the gates will open and we'll all be on our way home."
The National Weather Service does not have rain gauges at the exact spot where the festival takes place, but said the general area received between three-quarters of an inch and 1.5 inches (1.9-3.8 cm) of rain in the last 48 hours, based on radar estimates. Rains are expected to cease in the area on Sunday evening or early Monday.
The US Bureau of Land Management, the agency that manages the land over which the event takes place, 110 miles north of Reno, said that "conditions are not expected to improve enough for vehicles to enter." on the festival website.
US President Joe Biden has been briefed on the situation, the White House said in a statement. Government officials are monitoring the situation and are in contact with state and local authorities.
(Reporting by Anna Tong in Black Rock City and Rich McKay in Atlanta; Additional reporting by Deborah Gembara in Washington and Brad Brooks in Longmont, Colorado; Writing by Brad Brooks; Editing by Rosalba O'Brien and Paul Simao)