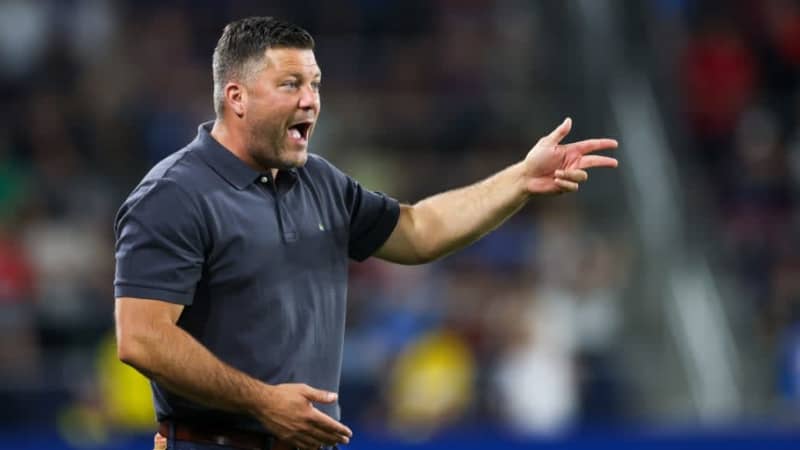 By Braden Chalker
United States men's national team squad Interim head coach BJ Callaghan hailed his side following their 6-0 triumph over Trinidad and Tobago, calling out Cade Cowell and Brandon Vazquez for their offensive contributions.
The Stars and Stripes had no trouble dealing with the Soca Warriors as Callaghan picked a similar lineup as they soundly defeated St. Kitts & Nevis, 6-0. Goalkeeper Matt Turner, forward Cristian Roldan and defender Miles Robinson, who made his first appearance at this year's edition Gold cupthey were back in the side.
Forwards Cade Cowell and Brandon Vazquez then came on as substitutes to extend the American team's lead after starters Gianluca Busio and Jesus Ferreira opened the scoring.
FC Dallas put on another display, scoring his second consecutive hat-trick for his country and third overall to put him on an equal footing with the legendary Landon Donovan.
"All forwards will be judged by the goals they score, first and foremost. When I see his movements and his confidence in the penalty area, you can tell the game has slowed down for him. And he's just putting balls into the back of the net , and that's a positive sign," Callaghan said of Ferreira.
"He lets us all know that he is focused and committed to being a goalscorer for us."
Cowell received special praise after scoring his first international goal, capitalizing on a mistake by the Trinidad and Tobago defense to find the back of the net.
"What you saw tonight is what he's strong at," Callaghan noted.
"He was relentlessly running against defenders, he was able to get in, he was able to come out, he was able to create a combination play and then he was rewarded with the goal. So it's a performance we've come to expect from Cade. I think he expects of himself, and that's what we want to build on."
Out back, the USA defense celebrated for holding back-to-back shutouts as center fielder Jalen Neal and fullback DeJuan Jones stood out.
"DeJuan really stepped up tonight, especially in the first half. He had a really tough match [Levi] García, and he's not an easy winger/striker to deal with, and he really rose to the occasion. Not just on the defensive end, but then he helped us up front, he helped us create large overloads, he was able to get some crosses into the box," said Callaghan
"For me it's not about, like, confidence. His performances have been consistent; he's putting together good performances. And as we continue to evaluate our opponents, we will try to field the best players. But Jalen has definitely shown that this phase, for him, is not too big."
The Stars and Stripes will face Group D runners-up in the quarterfinals, which could be Canada, Guadeloupe or Guatemala.
This article was originally posted on 90min.com as BJ Callaghan bids farewell to USMNT after topping Group A in the Gold Cup .