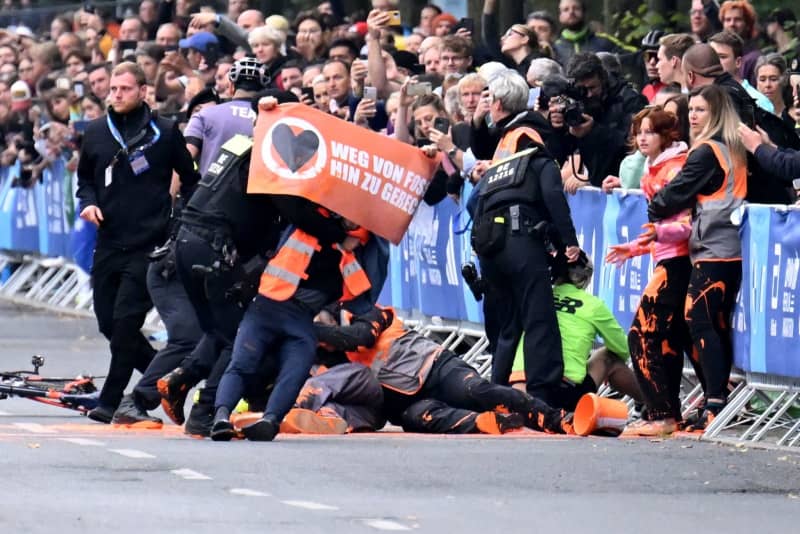 German police foiled an attempt by climate protesters to disrupt the Berlin marathon on Sunday.
Activist group Last Generation had previously vowed to disrupt the race, one of the top-tier marathons in the world.
A total of eight people entered the route along the Straße des 17. Juni – which starts from the famous Brandenburg Gate – from two sides shortly before the start and poured orange paint on the ground, a police spokeswoman said on Sunday.
They carried the banners of the Last Generation group.
The police intervened promptly and dragged the protesters to the side of the road. The activists were detained for the time being, the spokesperson said.
"We do this because we are in an emergency situation. In existential danger!" you wrote Last Generation on the social media platform X, formerly Twitter.
"By the way, we are as sorry to interrupt a craftsman's daily routine as we are to interrupt a runner's long-awaited competition."
The group again called for Germany to abandon fossil fuels such as coal, oil and natural gas starting in 2030. The German government is aiming for a zero-carbon economy by 2045.
Last Generation had announced its intention to discontinue the marathon.
Members of the group have been protesting all week in the German capital.
A week ago, activists sprayed orange paint on the Brandenburg Gate near the finish line of the marathon, which was later cleaned up.
Climate activists have targeted several sporting events this year, including Wimbledon and the US Open tennis tournament, The Ashes cricket series, golf's Open Championship, the world snooker championships and Premier League football.