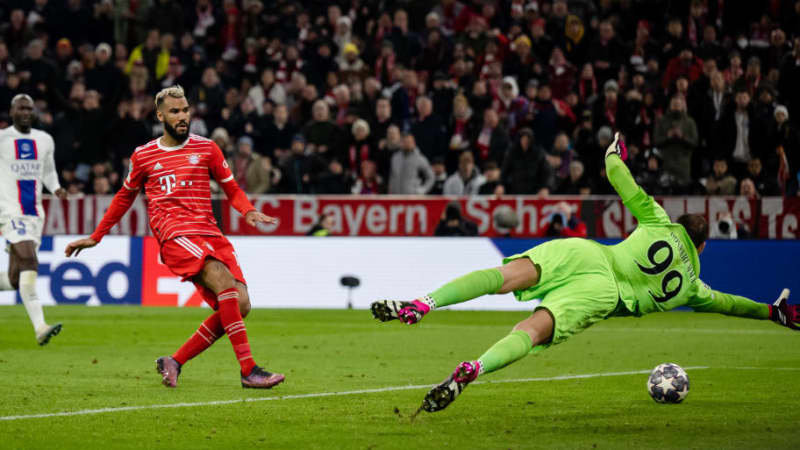 By Jaime Spencer
Bayern Munich are in the quarter-finals of the Champions League for the fourth consecutive season after eliminating Paris Saint-Germain with a 3-0 aggregate score in the round of 16. PSG, meanwhile, failed to make it past this stage for fifth place. time in seven years.
Eric Maxim Choupo-Moting scored the decisive goal against his former club, before substitute Serge Gnabry secured Bayern victory in the dying moments.
Apart from an early Kylian Mbappe goal picked up by Yann Sommer, there were few clear chances in the opening stages of the match played at good pace in midfield without particularly threatening any penalty area.
Leon Goretzka continued to have a long-range shot which was collected comfortably by Gianluigi Donnaumma, while a well-crafted move by PSG didn't produce the chance it should have had when Mbappé's first touch was too heavy and reduced the corner.
As the first half progressed, it was PSG who applied the most pressure and it took a scrum on goal and a combination of Dayot Upamecano, Matthijs de Ligt and Sommer to deny Lionel Messi, who failed to find the balance after being tackled at the critical moment by the ex.
It took Bayern nearly half an hour to have any significant period of possession, but this produced the best chance either side had had at that stage. Jamal Musiala's effort and low shot from the left side of the box were skilfully parried by Donnarumma.
PSG were almost handed the lead in the closing stages of the first half when De Ligt came to the rescue of Sommer after a moment of madness from the goalkeeper. It was almost as if the Bayern defender wanted to dribble past players in his own penalty area. When he lost the ball, the goal gaped for an off-balance Vitinha, who couldn't get enough power and De Ligt cleared off the line.
Bayern had their penalties rejected soon after the restart when Choupo-Moting went down under pressure from Danilo Pereira, while the same player had what appeared to be a legal goal disallowed only moments later. His header found the back of the net, but Thomas Muller attempted to play the ball in an offside position, but didn't appear to touch it.
When Choupo-Moting finally got the breakthrough, it was PSG's doing. Teenage substitute El Chadaille Bitshiabu got Marco Verratti in trouble on the edge of the box, with pressure from Goretzka and a tackle from Muller winning for Bayern and allowing Goretzka to equalize Choupo-Moting for an easy tap- in.
PSG almost managed to fight back immediately through Sergio Ramos, whose header was deflected wide by a diving Sommer to preserve Bayern's aggregate two-goal lead. The former Real Madrid captain had another header later on which narrowly missed.
Needing two goals, the visitors looked flat and out of ideas. It was a bad night for Mbappe overall and Messi wasn't much better, but PSG's midfield feet were also largely to blame for failing to provide the necessary service. When Mbappe threatened to do something in the closing stages, there was an outstanding tackle from Alphonso Davies to slam the door in his face.
Ultimately, PSG had Ramos running forward to leave gaps in defense and was punished when Joao Cancelo passed the ball to Gnabry to seal it with a composed one-on-one finish. Sadio Mane even had a goal canceled by an offside flag in stoppage time.
Bayern Munich player ratings (4-2-3-1)
PORT: Yann Sommer – 6/10 – He went around in the closing stages of the first half and had to be saved by his defense. But he ended up making a great save at 1-0 which proved to be extremely important.
RB: Josip Stanisic – 7/10 – Preferred by Joao Cancelo and justified his choice.
CB: Dayot Upamecano – 8/10 – He made a potentially goal-saving tackle on Messi in the first half. He has never even smelled Mbappé.
CB: Matthijs de Ligt – 7/10 – A heroic pass from the sliding goal line spared Sommer's blushes.
LB: Alphonso Davies – 8/10 – His perfectly timed late tackle on Mbappé eliminated any last PSG comeback threat. Great all night.
MC: Leon Goretzka – 7/10 – He had a couple of long shots but his pressure on the ball translated into an opportunistic assist.
CM: Joshua Kimmich – 10/7 – He dictated the pace and pace of what Bayern did. Great defensive effort.
RM: Kingsley Coman – 10/7 – His pace made PSG think a lot.
AM: Thomas Muller (c) – 10/7 – He ended up costing his team a play by trying to play the ball offside, but made possible Chouo-Moting's goal by winning it high.
LM: Jamal Musiala – 8/10 – He looked like a real source of danger for Bayern when he got the ball.
Eric Maxim Choupo-Moting – 8/10 – I thought he should have conceded a penalty and then had a goal disallowed. But in the end the tenacity paid off.
Substitutes
SUB: Leroy Sane (68′ for Choupo-Moting) – 7/10
SUB: Sadio Manè (82′ for Musiala) – 6/10
SUB: Serge Gnabry (86′ for Coman) – N/A
BELOW: Joao Cancelo (86′ for Muller) – N/A
Manager
Julian Nagelsmann – 9/10 – He got the selection and his team offered their squad while PSG controlled the first half. He made changes towards the end to see it out.
PSG player ratings (3-5-2)
PORT: Gianluigi Donnarumma – 6/10 – He made some decent saves but could do little for a killer Choupo-Moting goal or Gnabry's second.
CB: Danilo Pereira – 6/10 – The penalties survived into the start of the second half.
BC: Sergio Ramos – 7/10 – Sommer forced Sommer into a great save soon after Bayern scored and missed with another header later on, arguably PSG's two best chances.
BC: Marquinhos (c) – N/A – He appeared to play a variety of different roles within his centre-back tenure. But his evening ended in the first half due to injury.
RM: Achraf Hakimi – 6/10 – He did some decent defensive work on Davies but lacked his offensive quality.
CM: Vitinha – 5/10 – Off balance when he had an open net to bet on and lacked conviction. He didn't create or find his attackers of him.
MC: Marco Verratti – 4/10 – He dropped the ball to give Bayern the goal, even though he was endangered in the first place by a teammate.
CM: Fabian Ruiz – 4/10 – Achieved very little.
LM: Nuno Mendes – 5/10 – In Stanisic's pocket.
ST: Lionel Messi – 5/10 – Involved in patches and that's it.
ST: Kylian Mbappe – 3/10 – I had a first chance, but otherwise it was hardly there.
Substitutes
SUB: Northern Lights (36′ for Marquinhos) – N/A
BELOW: El Chadaille Bitshiabu (46′ for Mukiele) – 5/10
BELOW: Warren Zaire-Emery (76′ for Ruiz) – 5/10
SUB: Hugo Ekitike (81′ for Vitinha) – N/A
SUB: Juan Bernat (82′ for Mendes) – N/A
Manager
Christophe Galtier – 5/10 – He lost two players to injury before the second half kicked off, but his side never made the most of their half-time dominance. Things went pretty flat afterward.
Player of the Match – Dayot Upamecano (Bayern Munich)
This article was originally posted on 90min.com as Bayern Munich 2-0 PSG (3-0 aggregate): Player ratings as Choupo-Moting haunts former club.