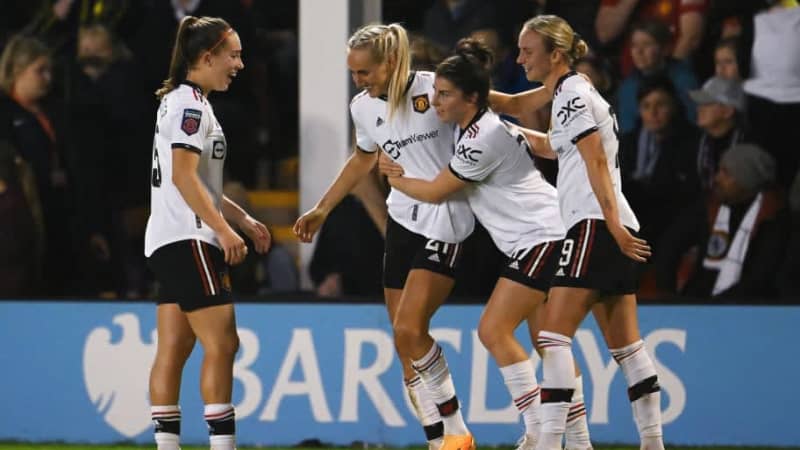 By Sean Walsh
Manchester United started as late as possible to beat Aston Villa on Friday night to move six points to the top of the WSL.
Marc Skinner's side have been continually frustrated by the league's leading giant killers and twice trailed at Bescot Stadium, but went home with all three points to bolster their title hopes.
Carla Ward's charges made for a spirited fight and were superior for long stretches but were undone by the visitors' final attack.
Although Man Utd dominated the opening stages, Aston Villa took the lead after nine minutes. A corner from Lucy Staniforth was met by bouncing Rachel Daly, who beat Maya Le Tissier to the ball and headed her into the far corner with power and precision.
However, the visitors did not remain behind for long and soon after they found an equaliser. Ona Batlle sprinted down the right and sent in an early cross, which evaded Alessia Russo but was intercepted by the waiting Leah Galton.
Man Utd continued to look weak on defensive corners even as the first half calmed down, with Anna Patten shaking the bar.
From a corner kick, however, Marc Skinner's team nearly took the lead. A scrum on goal saw the ball cleared off the line, before Hannah Hampton made a stunning save to deny Katie Zelem from close range.
Just before half-time, Aston Villa found themselves in front. Mayumi Pacheco's cut was met by Daly, who fired a half volley and into the bottom right corner.
Hayley Ladd thought she had leveled the score minutes later when she nodded from a corner, but the referee had already blown the whistle for a perceived foul on Hampton and Aston Villa went on a break with a goal down.
After the break Russo started to get more involved as Man Utd went in search of a second equaliser, notably shooting narrowly from 20 yards just before the hour mark.
From the ensuing goal kick, Daly nearly grabbed his hat-trick. Jordan Nobbs moved the ball wide to Kenza Dali, and his cut was thundered into the crossbar by former Houston star Dash.
And at the end of a frantic back-and-forth of a few minutes, Man Utd were level again. Hannah Blundell's deep cross was nodded by Nikita Parris, putting the Red Devils back in the contest.
Skinner opted to roll out a whole new forward line for the final 15 minutes in a bid to find a winning goal, and they carved out a glorious opportunity at the end of the day. Martha Thomas entered the penalty area and was caught in two minds as to whether she should cross or shoot, with the ball eventually clearing the Hampton post.
With essentially the final action of the match, Millie Turner gave Man Utd their first lead of the night, overrunning several defenders and finishing off Zelem's free kick.
Aston Villa player ratings
PORT: Hannah Hampton – 10/7 – He made some excellent saves and was the more convincing of the two English goalkeepers.
RB: Sarah Mayling – 6/10 – He did well to keep Galton quiet for long periods.
BC: Anna Patten – 5/10 – Entered midfield to win back the ball and create various overloads.
BC: Danielle Turner – 6/10 – Confident and composed with his defense.
LB: Mayumi Pacheco – 10/7 – Excellent at both ends of the pitch.
RM: Laura Blindkilde Brown – 6/10 – He seamlessly transitioned into a new role, connecting the game and always getting involved.
CM: Kenza Dalì – 6/10 – Often a source of inspiration and creativity of Aston Villa.
CM: Lucy Staniforth – 6/10 – He anchored the midfield well and filled the gaps.
CM: Ruesha Littlejohn – 5/10 – He showed fighting spirit and grit in the midfield battle.
EX: Jordan Nobbs – 6/10 – Hidden in the first half but played more like a traditional winger after the break. Both jobs were halfway decent.
CF: Rachel Daly – 9/10 – Up to 17 goals in wsl extension this season, at the level of Bunny Shaw.
Substitutes
Alisha Lehmann (63′ for Littlejohn) – 5/10
Manager
Carla Ward – 10/7 – Aston Villa played fearlessly and seemed to believe they were level with the league leaders.
Manchester United player ratings
GOALKEEPER: Mary Earps – 5/10 – I didn't have many chances to save either goal, to be honest.
RB: Ona Batlle – 7/10 – An incredibly useful and fast outlet.
Credit card: Maya Le Tissier – 5/10 – Beaten by Daly for the opening, but it's not like she's too beefy or jumpy.
CB: Aoife Mannion – 5/10 – Occasionally herself in challenges without much control.
LB: Hannah Blundell – 10/7 – Quiet for the most part, but Parris' breakeven delivery was exquisite.
CM: Hayley Ladd – 10/7 – He occasionally made his way into midfield.
CM: Katie Zelem – 8/10 – It provided drive and energy from the center of the park, particularly in the early stages. He arrived with the assist late, late.
RM: Nikita Parris – 7/10 – A little sloppy, but one way or another it always caused danger.
AM: Ella Toone – 5/10 – Failed to significantly impact the game.
LM: Leah Galton – 10/7 – A quick start that netted a goal but was blocked for the most part.
CF: Alessia Russo – 6/10 – He couldn't see the goal clearly, but somehow forced himself to be more involved in the game.
Substitutes
Rachel Williams (77′ for Russo) – N/A
Martha Thomas (77′ for Parris) – N/A
Lucia Garcia (77′ for Galton) – N/A
Millie Turner (87′ for Mannion) – N/A
Wild Boe Risa (90′ for Toone) – N/A
Manager
Marc Skinner – 10/7 – He emptied his bench trying to find answers to Aston Villa's stubborn defense and eventually his tweaking paid off.
Player of the Match – Rachel Daly (Aston Villa)
This article was originally posted on 90min.com as Aston Villa 2-3 Man Utd: Player ratings as Red Devils secure seismic WSL win in stoppage time.