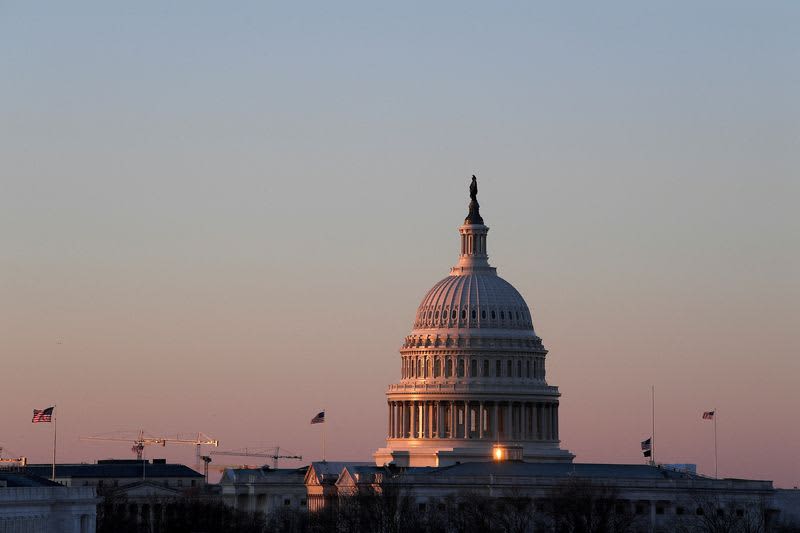 By Trevor Hunnicutt
WASHINGTON (RockedBuzz via Reuters) – When U.S. President Joe Biden presents his budget plans on Thursday at a Philadelphia union hall, he will highlight something that deserved little mention during his last presidential campaign: a pledge to cut trillions from the government's deficit .
Biden ran into 2020 putting money in people's pockets and rebuilding the middle class, and the US federal deficit wasn't on a long list of campaign promises. But on Thursday, cutting nearly $3 trillion from the deficit over a decade by raising taxes on companies and people earning more than $400,000 a year will be a key goal, the White House says.
Biden's growing emphasis on the deficit now doesn't mean the White House sees an imminent crisis looming from the nation's $32 trillion debt.
Instead, the White House hopes to create a stark contrast to Republican threats to refuse to raise the debt limit without sharp spending cuts, aides and officials say. Including this tax plan on Biden's agenda may help bolster his economic credibility ahead of his anticipated 2024 re-election campaign, the White House believes.
Taxing the wealthy and corporations while maintaining Social Security, Medicare and Medicaid have broad popular support, polls show. Raising these taxes can help solve fundamental problems in the US economy, Biden aides say.
"We have a fundamental problem with our tax system, which doesn't support the kind of investments and commitments that the American people demand, want and expect. And that's largely because Republicans have continued to cut taxes more and more. time and time again, primarily for people at the top and big corporations," said Michael Linden, associate executive director in the White House Office of Management and Budget.
That doesn't mean that what the White House is proposing will happen, of course. The lower house of Congress is controlled by Republicans who have said they want to demand sharp spending cuts on Biden's initiatives and extend the tax breaks approved under Donald Trump. And while Americans tell pollsters they want higher taxes on the wealthy, raising taxes is never a politically wise move.
"In 2023 and 2024, it's hard to see how the administration's progressive tax proposals will play out, but after 2025, it's a different story if Democrats manage to regain unified control of Congress," said Tobin Marcus, former economic assistant by Biden. and now an analyst for Evercore ISI, an investment bank.
DO AMERICANS CARE ABOUT THE NATIONAL DEBT?
The US annual deficit was 5.4% of gross domestic product (GDP) last year and total debt was more than 120% of GDP, higher even than its peak WWII levels.
The last time the federal government ran an annual surplus, used to pay down long-term debt, was in 2001, and Democratic presidents have often been better at reducing the deficit.
Nearly six out of 10 people told the Pew Research Center in January that deficit reduction should be one of the Biden administration's top priorities.
But when asked whether the government should cut services primarily to reduce debt or raise taxes, Americans are very divided. Half said they would mostly cut spending, while 46 percent would raise taxes, according to a Marist poll last month.
Biden's administration has treated deficit risk as more optimistic than was common among Democrats in previous years.
"There's been a sea change in attitudes," said Jason Furman, a Harvard University economics professor who served as former President Barack Obama's top economic adviser. He has less to do with shifting economic thinking than with finance, he said. "Bond markets aren't too concerned about debt and deficits."
Robert Reich, a former labor secretary during President Bill Clinton's administration, said he doesn't believe the administration's top economic officials he worked with are "deficit hawks."
He said many have learned from the 2008-2009 global financial crisis, when the US government didn't spend enough to restore the economy and didn't apologize for spending freely to prevent the same thing from happening in 2021.
"It was also hugely important to get out of the pandemic recession," he said.
Biden aides believe deficits count as a fiscal risk to the extent that they create unsustainable interest payments, discourage private-sector spending and other investment, or distort the economy by increasing inflation.
None of these are a factor now that 10-year US Treasury rates are below 4%, still low by historical standards.
(Reporting by Trevor Hunnicutt and Howard Schneider; Additional reporting by Andrea ShalalEditing by Nick Zieminski and Heather Timmons)